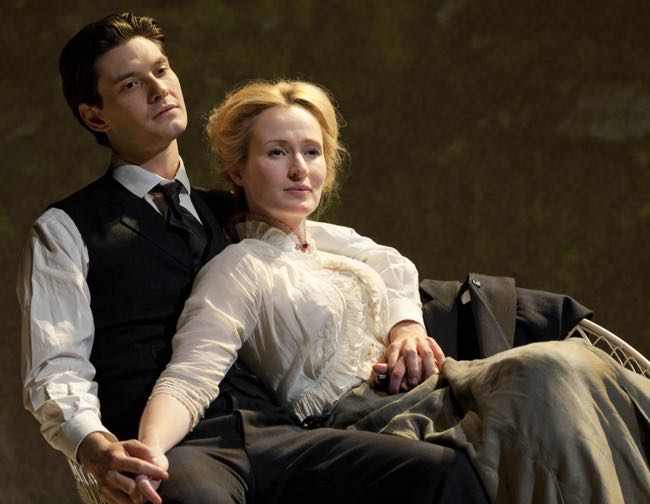 By Ray Bennett
LONDON – A vibrant love story and the searing experience of World War I in the trenches are combined successfully in British novelist Sebastian Faulks' bestseller "Birdsong." It has thwarted filmmakers so far but young playwright Rachel Wagstaff makes a decent effort in a new stage production directed by Trevor Nunn.
Like the book, it follows a young Englishman, Stephen Wraysford, played by Ben Barnes, best known as Prince Caspian in the "Narnia" films, as he lands in pre-war rural France to learn about the world.
He's supposed to get an education in manufacturing from factory owner Rene Azaire (Nicholas Farrell) and he does learn from the brutish man a good deal about how not to treat people. But his real learning comes in the arms of Azaire's beautiful and unhappy wife Isabelle (Genevieve O'Reilly, pictured above with Barnes).
Their love affair is described vividly and erotically in the novel but Wagstaff and Nunn rush the pair quickly offstage at moments of heightened excitement. The scenes between the two with neighbors and factory workers, being full of suppressed desire, serve to make the point although much of this section of the story has to be related by Wraysford speaking to the audience as he writes his diary.
Once war begins, designer John Napier's set of trenches, makeshift rooms and underground tunnels creates a startlingly claustrophobic backdrop to the drama. Wraysford, his senior officer (also Farrell), and the men he commands, including cheerful Jack Firebrace (Lee Ross), go through various kinds of hell in the worst battles of the Somme.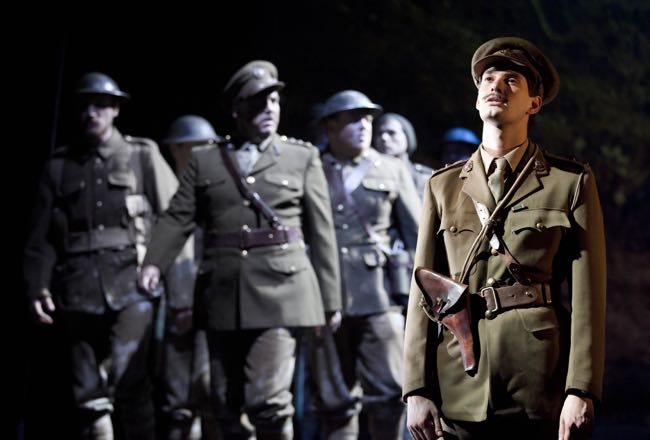 It's a handsome production throughout but the scenes of terror resonate especially thanks to good acting and Nunn's staging but also the evocative contributions of lighting designer David Howe and sound designer Fergus O'Hare.
Barnes makes the transition persuasively from callow youth to joyous lover to bitter combat officer, and the lovely and subtle O'Reilly, in the early scenes and later flashbacks, makes it clear why Wraysford falls in love so completely. Farrell, as the boorish husband and a dutiful army Captain, and Iain Mitchell, who also has two roles as a tiresome neighbor and a genial soldier, make their characters distinct and impressive. Ross resonates most strongly as a stalwart Tommy who can entertain his mates with a song and dance, brave the darkest bomb-threatened tunnels, and talk about his sick son at home with simple clarity absent of sentiment.
He's the one who takes the play closest to the moving power of the classic "Journey's End" by R. C. Sherriff, who, unlike Faulks, wrote about the trenches from having survived them.
Venue: Comedy Theatre, runs through Jan. 15; Cast: Ben Barnes, Lee Ross, Genevieve O'Reilly, Nicholas Farrell, Florence Hall, Iain Mitchell; Playwright: Rachel Wagstaff, based on the novel by Sebastian Faulks; Director: Trevor Nunn; Set designer: John Napier; Costume designer: Emma Williams; Lighting designer: David Howe; Sound designer: Fergus O'Hare; Projection: Jon Driscoll & Gemma Carrington; Music: Steven Edis.
This review appeared in The Hollywood Reporter. Photo by Johan Persson.