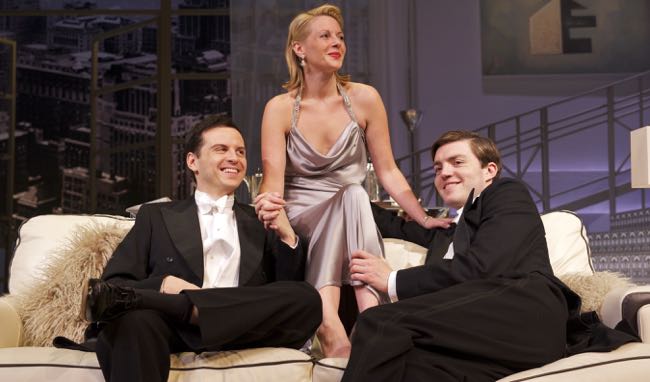 By Ray Bennett
LONDON – Noel Coward's provocative play "Design for Living" caused more than a few corks to pop when it debuted in 1933 on Broadway with a recipe for happiness defined by a hedonistic menage-a-trois.
The new Old Vic production takes a while to build up fizz, but it becomes a bubbly concoction with a pleasing aftertaste thanks to Coward's gift for infectious dialogue delivered by a cast adept at blithe sophistication.
Lez Brotherston's lavish sets make the transition from bohemian Paris to London's Mayfair to a penthouse in Manhattan an enjoyable journey as we follow the adventures of a colorfully decadent threesome.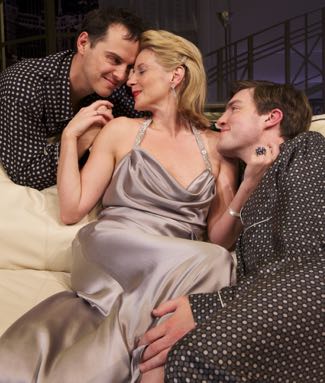 Lisa Dillon is Gilda, an interior decorator living in Paris with artist Otto (Tom Burke, right in the photos) but susceptible to the overtures of playwright Leo (Andrew Scott) when left alone. The first of three acts over nearly three hours sees art dealer Ernest (Angus Wright) drop by to see Gilda and Otto, only to discover Leo there instead.
When Otto bursts in, the merry-go-round begins: While Ernest shakes his puritanical head in disgust, the woman's two lovers make it clear that besides Gilda, they too have a history together.
In London, the situation is reversed as Gilda shares her home with Leo, and it's Otto who steals into her bed when the artist is away. Add housekeeper Miss Hodge (Maggie McCarthy) to those who disapprove sniffily of the shenanigans, while Ernest entreats Gilda to leave both of her partners.
The third and final act finds Gilda married to Ernest in a splashy but sterile penthouse with tiresome socialite friends when who should crop up? Otto and Leo, keen to whisk her away.
Director Anthony Page encourages Burke and Scott to deliver carefree performances as Otto and Leo, and they leap to it with abandon. Scott is in especially gleeful form, his voice rising at moments of heightened anxiety and giving way to the giggles whenever bourgeois propriety surfaces.
The two men are riotously funny in a scene when they drown their sorrows in brandy over Gilda's departure, and Wright gives a master class in outraged frustration when Gilda makes her final decision. Dillon raises the stakes of Coward's frivolity by grounding Gilda in a sensibility of intelligence and understanding of the insubstantial but gratifying lifestyle she embraces.
Venue: The Old Vic, runs through Nov. 27; Cast: Lisa Dillon, Andrew Scott, Tom Burke, Angus Wright; Playwright: Noel Coward; Director: Anthony Page; Set/costume designer: Lez Brotherston ; Lighting designer: David Hesey; Sound designer: Paul Groothuis.
This review appeared in The Hollywood Reporter.