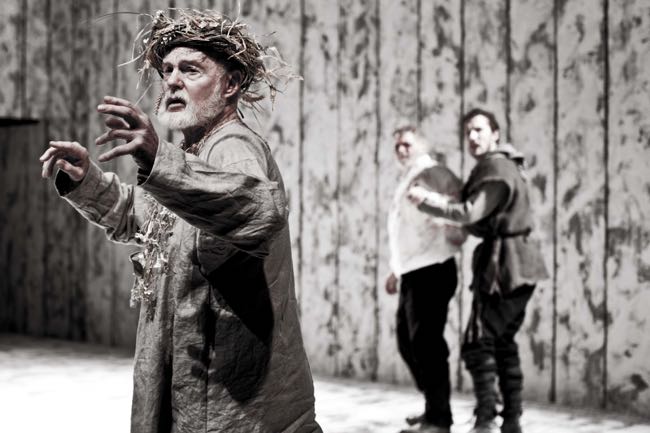 By Ray Bennett
LONDON – It's always an event when a great actor decides finally to take on "King Lear" and, at 72, stage veteran Derek Jacobi, also known for film roles and TV series such as "I, Claudius" and "Cadfael," has taken his time. It was well worth the wait.
Directed by Michael Grandage on a stage of whitewashed planks at the Donmar Warehouse, Jacobi claims the heart of a role that demands fiery rage, addled bewilderment and tender acts of forgiveness.
Filled with anger, betrayal, blinding and murder by poison, rope and blade, "King Lear" is the original horror story as Shakespeare depicts a timeless family rife with jealousy, greed and a craving for power.
The king embodies it all having fathered two daughters who inherited every vile and callous trait, and only one who reflects the loyalty and love that resides within. Gina McKee as Goneril and Justine Mitchell as Regan are siblings from hell as they hide their rabid ambition beneath cloaks of femininity and grace. McKee gives Goneril the air of a woman superior in guile and the ability to bend men to her will while Mitchell lights up in giddy fever given the chance to take out the eyes of the loyal Gloucester. Pippa Bennett-Warner makes young Cordelia the picture of long-suffering innocence.
Paul Jesson brings credible bluster to the gullible Gloucester as his illegitimate son Edmund, a swaggering Alec Newman, conspires to take his land and title, and older son Edgar, made almost nakedly savage by Gwilym Lee, seeks refuge in the wild countryside. Director Grandage is aided greatly by Christopher Oram's simple wooden design, which allows Neil Austin's lighting to flare through the cracks to vivid effect. Composer Adam Cork's sound design provides all the sweep and crash of battles and storms, and the blessed relief of birdsong in the morning.
All the elements combine brilliantly when Jacobi delivers Lear's speech in the storm – "Rage! Blow! You cataracts and hurricanoes." Rather than bluster at full voice, the actor speaks in a harsh but clear whisper illuminated from below. The effect is to heighten the king's intimation of the madness that becomes soon manifest as Goneril remarks, "Old fools are babes again."
Jacobi captures that insanity with whimsy and the simplest of kind gestures made ragged by sudden impulses as when he gives imaginary cheese to a mouse that's not there and then stomps on the non-existent creature.
In total command, he raises his tone to the rafters in anger and then swoops it down peacefully to a vocal caress. In banter with his Fool, played by Ron Cook with the utmost sadness, and when he holds the dying Cordelia in his arms, Jacobi defines the uncomprehending muddle that is mankind.
Venue: Donmar Warehouse, runs through Feb. 5; Cast: Derek Jacobi, Gina McKee, Justine Mitchell, Pippa Bennett-Warner, Michael Hadley, Paul Jesson, Alec Newman, Ron Cook, Gwilym Lee; Playwright: William Shakespeare; Director: Michael Grandage; Set designer: Christopher Oram; Lighting designer: Neil Austin; Music and sound designer: Adam Cork.
This review appeared in The Hollywood Reporter.