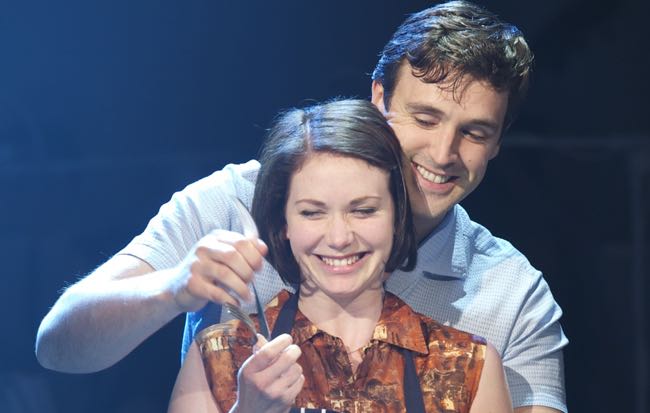 By Ray Bennett
LONDON – Those for whom Arthur Hiller's 1970 tearjerker "Love Story" is the hallmark of mawkish manipulation will be amazed to learn that Erich Segal's original novella has been turned into a delightfully elegant and satisfying stage musical.
The show put together at the Chichester Festival Theatre by composer Howard Goodall and lyricist Stephen Clark is elegant, tasteful and thoroughly rewarding. Now moved to London's West End with its original cast and the impeccable Emma Williams and Michael Xavier (pictured) as the leads, it fashions a pig's ear into a gorgeous silk purse.
It remains a weepy and therefore anathema to those not in touch with their softer side, but anyone open to lyrical and heartfelt expressions of love and loss should be captivated. The singing is lovely throughout with Williams especially able to act as she sings and so make the contrivances credible. The show's success in not slipping into cringe-making syrup owes a great deal to the backbone she puts into her dying character.
Veteran British composer Goodall provides intricate and pleasing melodies with witty and inventive lyrics by fellow Brit Clark, who studied with Stephen Sondheim. Their songs are less Broadway show tunes than finely crafted chamber music, and that is reinforced with musical director Stephen Ridley at the piano onstage with a septet of strings. Francis Lai's Oscar-winning theme for the movie is acknowledged briefly in a recital scene.
Peter McKintosh's designs favour white and light with a table, desk, bed, and in a very amusing turn, most of a kitchen, rolled easily on and off centre stage. The kitchen allows Williams and Xavier to actually make some pasta Bolognese while singing the joys of Italian cooking.
Williams plays Jenny Cavilleri, the spirited but doomed piano-playing Radcliffe girl from a poor Italian background who falls in love unexpectedly with rich preppy Harvard hockey player and future lawyer Oliver Barrett IV (Xavier).
The production, which runs 100 minutes without an interval, sets the scene following the young woman's funeral as her husband, father and friends share their memories solo, in harmony and then unison: "What do you say about a girl who seems to run before she walks?" her dad laments. Jenny's character is further established as her spirit emerges to complain, "It's such a shame I can't be there to hear my wake!"
Then in flashback the two lovers meet cute in a library and while she calls him a preppy bastard and he calls her a bitch, they proceed through the trials of meeting the family, getting a job, postponing dreams, marriage and contemplating children before her leukaemia is discovered.
Segal handed them a hackneyed tale, but the show's two writers focus on the loving couple, and director Rachel Kavanaugh knows when to dwell on small moments of sensuous lovemaking, joyful cooking, and reflective music-making, and when to speed things along.
Venue: Duchess Theatre, London (through March 30); Cast: Emma Williams, Michael Xavier, Peter Polycarpou, Richard Cordery, Jan Hartley; Book and lyrics: Stephen Clark, based on the novella by Erich Segal; Music and lyrics: Howard Goodall; Director: Rachel Kavanaugh; Set designer: Peter McKintosh; Lighting designer: Howard Harrison; Sound designer: Matt McKenzie.
Photo by Manuel Harlan