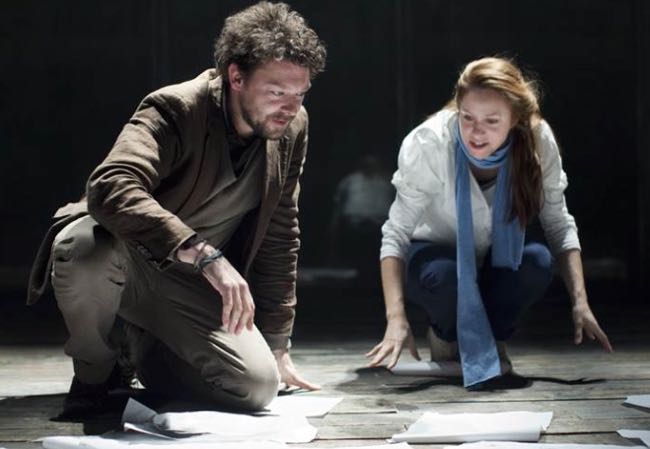 By Ray Bennett
LONDON – British writer Mark Haddon, whose 2003 novel "The Curious Incident of the Dog in the Night-Time" told of a boy with Asperger syndrome, turns his attention to a young woman with bipolar disorder for his first play, "Polar Bears," with mixed success.
Directed with startling simplicity by Jamie Lloyd at the Donmar Warehouse on a set overlooked by a ceiling with jagged tears in it much like the woman's mind, the play is insightful but in seeking resolution to an insoluble problem it opts for depressing pessimism.
The play's characters never learn that attempts by a loved one to help someone whose mental state resembles the physical one of a burn victim mean that the expression of love and caring is received like a well-meant but searing caress on burned skin.
Jodhi May is touchingly credible as Kay, a woman whose grip on reality slips and slides with no seeming relation to any observable stimulus. Richard Coyle (pictured with May), as her philosopher husband John, wins and then loses sympathy as his character's obvious love for his wife gives way to frustration and his own kind of madness.
The play begins with John confessing to his brother-in-law, Sandy (Paul Hilton), in hysterically comic terms that he has murdered his wife. Subsequent scenes over 90 minutes show what has led to this predicament.
Kay and Sandy were clearly traumatized by the suicide of their father, who hanged himself in the family home when they were young, but the siblings have dealt with it in different ways not helped by a mother (Celia Imrie) who has been left docile and needy. Sandy has turned into a brash and acquisitive businessman while Kay's attempts to find peace of mind veer from writing children's books successfully while painting abysmally and striving for a happy home interrupted by sudden flights of casual promiscuity.
Characters, including a former lover and Jesus played by David Leon, show up but might be only in Kay's mind. The players all do well with Haddon's complex lines, and May is especially skillful in conveying the woman's dramatic mood swings. It's a powerful piece but its failure to leave any glimmer of hope is disappointing.
Venue: Donmar Warehouse, runs through May 11; Cast: Richard Coyle, Paul Hilton, Celia Imrie, David Leon, Jodhi May; Playwright: Mark Haddon; Director: Jamie Lloyd; Designer: Soutra Gilmour; Lighting designer: Jon Clark; Music and sound design: Ben and Max Ringham.