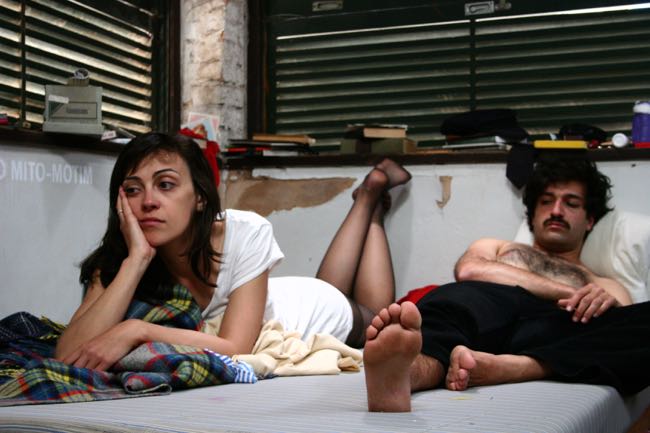 By Ray Bennett
BERLIN – Brazilian multimedia filmmaker Tiago Mata Machado's "The Resident" is a collection of didactic sketches performed by a group of men, women and children in protest at the demolition of a building.
The film is made up of energetic scenes of performance art, statements direct to camera, jokes, mimes and songs with messages to do with ethics, aesthetics and politics. While perhaps resonant in Portuguese, the English-language subtitles fail to convey what might well be significant.
Appreciation of the onscreen activity is therefore diminished greatly and much of it is incomprehensible. The film is not likely to attract attention beyond the home market's arts audience.
With no helpful voice-over or narrative, it appears to be a peaceful demonstration that mirrors what would happen on the streets if the protestors were to take up arms for their cause. In one sketch, the members of the troupe mime shooting automatic weapons and throwing hand grenades.
That is a considerably better approach than the real thing, it must be said, but the result is more confusing than informative or entertaining.
Venue: Berlin International Film Festival, Forum; Cast: Melissa Dullius, Gustavo Jahn, Jeane Doucas, Simone Sales de Alcântara, Dellani Lima, Roberto de Oliveira, Geraldo Peninha, Cassiel Rodrigues, Paulo César Bicalho; Director, screenwriter: Tiago Mata Machado; Screenwriters: Cynthia Marcelle, Emilio Maciel; Directors of photography: Aloysio Raulino, Andréa C. Scansani; Production designer: Cinthia Marcelle; Music: André Wakko, Juan Rojo, David Lansky, Vanessa Michellis; Editors: Joacélio Baptista, Tiago Mata Machado; Production: Katasia Films; Sales: 88 Films; Not rated; running time, 120 minutes.
This review appeared in The Hollywood Reporter.