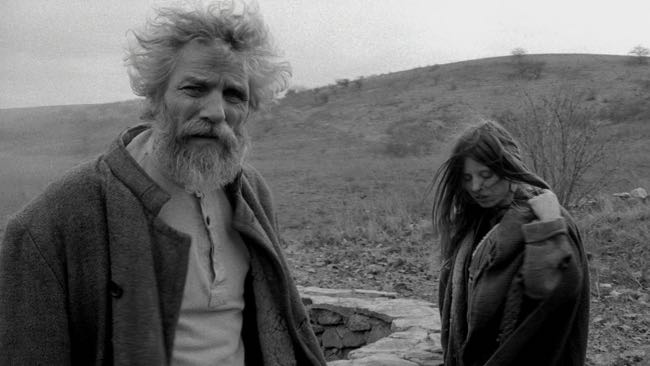 By Ray Bennett
BERLIN – Hungarian director Bela Tarr's somnolent drama "The Turin Horse" tells of an ageing father and his grown daughter who lead lives of relentless tedium in a shabby dwelling on a bleak and windswept plain. Towards the end of the film, they appear to lose the will to live, and they are not alone.
Monotonous and repetitive, the black-and-white production runs 146 very long minutes as the two of them go about their mind-numbing daily routines accompanied by a sonorous musical dirge that is as relentless as the ferocious winds outside.
Fans of Tarr's sombre and sedate films will know what they are in for and will no doubt find the time well spent. Others might soon grow weary of the measured pace of the characters as every day they dress in their ragged clothes, eat boiled potatoes with their fingers, fetch water, clean their bowls, chop wood and feed the horse, accompanied by Mihaly Vig's score of deep doleful strings.
The title horse is apparently one mentioned in a brief narration at the start about the time when Friedrich Nietzsche sobbed over a mistreated equine in the Italian city of the title. The animal is prone to stubbornness and shows a reluctance to move, which will have a severe impact upon the man and woman who live in such remote circumstances.
The story, if it can be called that, covers six days in their lives with each one numbered although they are each pretty much the same as the day before. Janos Derzsi, as the rugged old man, has a wonderfully craggy, white-bearded physiognomy that bears up to considerable scrutiny, which is a good thing since he doesn't say much. But neither does Erika Bok as his long-suffering and industrious daughter.
Along about Day 4, the well goes dry and it seems like a good time to find someplace else to live, but then the storm kicks up even more and it's back to the old routine.
By this time, cinematographer Fred Kelemen's mostly stationary camera has revealed about all there is to see in a fine array of textures in such things as the wooden table, the rough floors, the walls of stone, the ropes on the horse, and the skin on the boiled potatoes.
That does not, however, make up for the almost complete lack of information about the two characters, and so it is easy to become indifferent to their fate, whatever it is.
Venue: Berlin International Film Festival; In Competition; Cast: Erika Bok, Janos Derzsi; Director, screenwriter: Bela Tarr; Co-director, editor: Agnes Hranitzky; Screenwriter: Laszlo Krasznahorkai; Producers: Gabor Teni, Marie-Pierre Macia, Juliette Lepoutre, Ruth Waldburger, Martin Hafemann; Director of photography: Fred Kelemen; Music: Mihaly Vig; Costume designer: Janos Breckl; Production: T. T. Filmmuhely, MPM Film, Vega Film, Zero Fiction Film; Sales: Films Boutique. Not rated; runing time, 146 minutes.
This review appeared in The Hollywood Reporter.