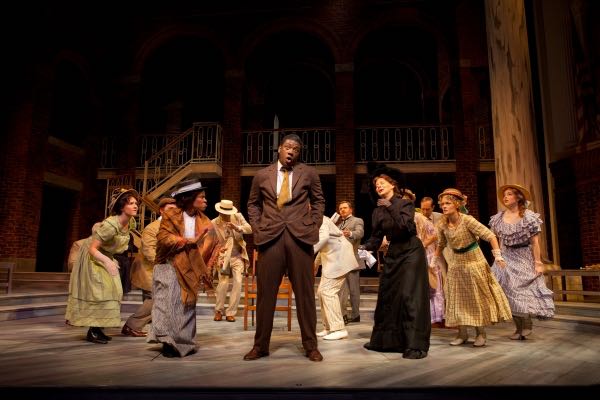 By Ray Bennett
LONDON – Tony-winning choreographer Rob Ashford's Donmar Warehouse revival of the 1998 American musical "Parade," which is based on the notorious 1913 murder trial of Leo Frank, is an enthralling testament to the wisdom of revisiting strong material with a fresh vision.
With a rich variety of musical influences including ragtime, gospel, folk, and blues, Jason Robert Brown's songs illuminate all the raging emotional and political currents of the period and his lyrics rank with Stephen Sondheim's. The acting and singing are splendid and Ashford's choreography makes great use of the small Donmar stage.
The show, co-conceived by Harold Prince, won Tony Awards for its book by Alfred Uhry ("Driving Miss Daisy," "The Last Night of Ballyhoo") and music and lyrics by Brown ("Urban Cowboy," "The Last Five Years"). But it had just 85 performances at the Lincoln Theater Center's Vivian Baumont Theatre and received lukewarm reviews.
The story of Leo Frank, a Jewish bookkeeper from Brooklyn who was convicted of murdering Atlanta girl Mary Phagan and subsequently lynched, became a national scandal just before World War I.
It spawned a great many books and was the basis of a highly regarded 1937 feature film titled They Won't Forget directed by Mervyn LeRoy. A miniseries, The Murder of Mary Phagan, starring Jack Lemmon, Richard Jordan, Robert Prosky, Charles S. Dutton and Kevin Spacey, was a hit on NBC in 1988.
The musical, named for events that take place on Georgia's celebration of Confederate Memorial Day, was criticised in America for its loaded emphasis on the martyrdom of an innocent man hanged by bigots without providing the necessary context, and for the muted attention it paid to the love story of Frank and his wife Lucille.
In directing the revival, Ashford (who was assistant choreographer on the original New York production) has done much to illustrate time and place. He uses Brown's excellent songs to portray a volatile Deep South era that mixed Civil War regret with unresolved racism and the influx of Jewish immigrants from Poland and Russia.
While the tragedy and horror of Leo Frank's fate are rendered fully, Ashford's staging also puts the marriage of Leo and Lucille at centre stage, which allows Bertie Carvel and Lara Pulver to balance the story's grim elements with the soaring optimism of genuine love and devotion.
Carvel makes Frank appear cold and distant until late in the play and Pulver is heartbreaking as Lucille. Escoffery delivers a sly and powerful chain-gang blues song and Stuart Matthew Price makes Mary's jealous boyfriend seem both innocent and sinister.
The basic facts of the case were simple. New Yorker Frank had moved unhappily to Atlanta to take a job at his southern Jewish wife's uncle's factory where he fussed over every dime. When young Mary Phagan (Jayne Wisener) went to pick up her pitiful paycheck, he was the last to see her before she was found murdered.
Astonishingly for that time and place, a black witness named Jim Conley (Shaun Escoffery) was believed when he accused Frank of the girl's murder. Ambitious local politicians and ruthless newspapermen conspired to ramp up emotions with the evil rationalisation that it would make a change to hang a Jew rather than a black man.
The aftermath of the Leo Frank case saw the re-emergence of the Ku Klux Klan and the founding of the Jewish Anti-Defamation League. In 1986, the state of Georgia pardoned Frank on the grounds that the state had failed to protect him. Society's tendency to rush to judgment and the media's willingness to fan the flames remain, however, and the final scenes of Parade are all the more powerful for being still so sadly topical.
Venue: Donmar Warehouse, runs through Nov. 24; Cast: Lara Pulver, Bertie Carvel, Britt Craig, Gary Milner, Jayne Wisener, Shaun Escoffery, Stuart Matthew Price; Book: Alfred Uhry; Music & lyrics: Jason Robert Brown; Co-conceived by: Harold Prince; Director: Rob Ashford; Choreographer: Rob Ashford; Designer: Christopher Oram; Lighting designer: Neil Austen; Musical director: Thomas Murray; Sound designers: Terry Jardine and Nick Lidster for Autograph; Orchestrator: David Cullen; Piano & percussion: Thomas Murray; Violin: Shelley Van Loen; Viola: Lesley Wynne; Cello: Ben Trigg; Bass: Stephen Warner; Clarinets: Steve Pierce; Horn: James Palmer; Percussion & drums: Neil Rowland; Accordion & piano: Ian Watson.
This review appeared in The Hollywood Reporter