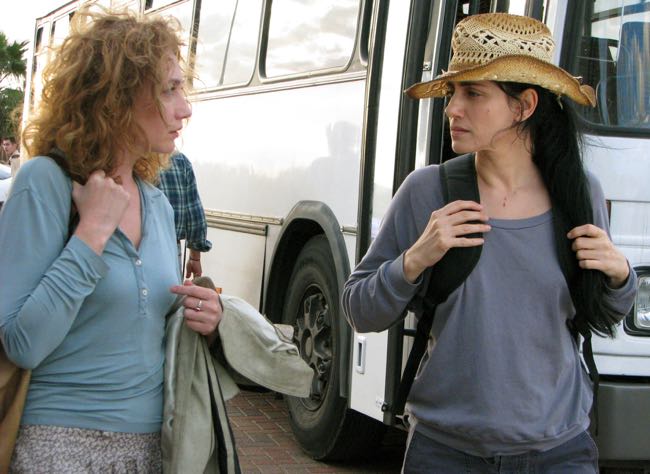 By Ray Bennett
BERLIN – Two women linked only because they were victims of rape by the same man 20 years earlier meet by chance and reveal how the trauma continues to affect their lives in Israeli filmmaker Michal Aviad's well-intended but unremarkable drama "Invisible."
The film makes the point that 1-in-5 women around the world will suffer rape or attempted rape in her lifetime. The two women, played with typical assurance by celebrated actresses Evgenia Dodina and Ronit Elkabetz (picture), exemplify the damage done by sexual assault but the director's even-handed approach robs the story of any power.
Instructive for those unaware of the shameful statistics and ramifications of rape, the film's lack of dramatic impact limits box office potential.
Lily (Elkabetz) and Nira (Dodina) meet at a Palestinian protest that activist Lily is involved with and film editor Nira's boss is filming. Recognition sparks Nira's interest in researching the crimes of a man who was labelled the "polite rapist" by newspapers because of his insistence that victims caress him while being violated.
She goes to see the policemen who worked on the case, collects newspaper clippings and interviews others among the rapist's 16 known victims. Gradually Lily becomes interested too, and they reveal what has happened to them as wives and mothers in the two decades since.
Their biggest outrage is that the criminal involved spent just 10 years in jail, small punishment for each violation, and while it's clear they will not act on it, they relish what they would do to the man if they could. It's too bad the passionate and understandable savagery of their imagined revenge did not infuse the film as a whole.
Venue: Berlin International Film Festival, Panorama; Cast: Ronit Elkabetz, Evgenia Dodina; Director, screenwriter: Michal Aviad; Screenwriter: Tal Omer; Producer: Ronen Ben-Tal; Director of photography: Guy Raz; Production designer: Adi Sagi-Amar; Costume designer: Laura Sheim; Editor: Era Lapid; Production: Plan B Productions; Sales: West End Films; Not rated; running time, 90 minutes.
This review appeared in The Hollywood Reporter.