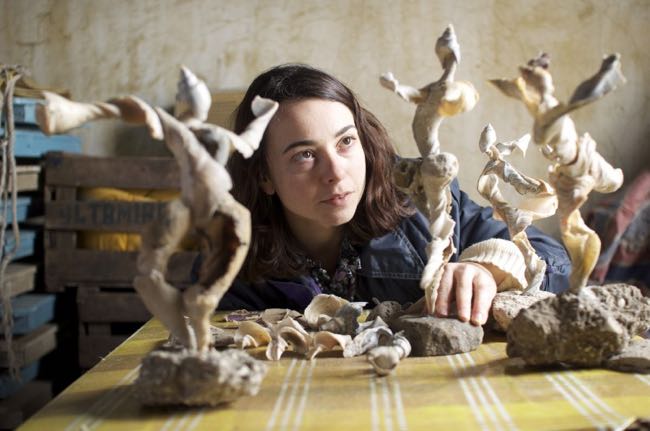 By Ray Bennett
BERLIN – The cold, bleak seashore of Argentina in winter matches the powerfully lurking threat of fascism in Paula Markowitch's autobiographical Competition film "The Prize" about a young mother and her infant daughter in hiding from nameless dread.
Slow-paced and somber, the film boasts remarkable performances by first-time actress Paula Galinelli Hertzog as Cecilia, a freckle-faced 7-year-old, and Laura Agorreca as her mother Lucia, who tries to keep her safe as she waits to hear from the girl's father, who has disappeared and is feared dead.
The film eschews the polemics of many films about a society overtaken by those who would tell people how to live and what to think and so it is unlikely to make a commercial mark. It's a warm reminder, however, of how vulnerable and short-lived childhood innocence can be and it should gain considerable festival attention.
The long opening sequence sets the tone for the rest of the picture: A little girl in a winter coat on a wide stretch of isolated beach attempts to roller-skate in the sand much as a free spirit attempts to fly in a fascist state and with similar results. In another sadly apt scene, the girl dances from bed to chair to table as her mother attempts furiously to sweep out water that floods in beneath the front door.
"What is a pessimist?" Cecilia asks her mother after she glimpses a telegram that contains precious little information about her missing Dad. Markowitch discloses information very slowly as the mother and child go about trying to survive by the ocean in a rundown cabin that lets in the fierce winds and torrential rain.
An urchin with lively eyes that can narrow in suspicion or widen with an open smile, the girl is keen to go to school and so joins a local class with firm instructions to reveal nothing about her home life. She takes it to extremes, and when other pupils ask questions, she always replies, "My father sells curtains; my mother is a housekeeper".
She makes friends with another little girl, Silvia (Sharon Herrera), and the two play games in the sand with a dog she calls Jim and a local boy named Walter (Uriel Lasillo). She shines in class but makes the mistake of helping Walter with a test that their teacher knows he couldn't possibly have passed without help.
The teacher, Rosita (Viviana Suraneti) punishes the entire class until Silvia names Cecilia as the one who helped Walter cheat, and she makes her stand out in the cold as further punishment. The next day, Rosita praises both girls. She tells them it is patriotic to inform when someone does something wrong so that next time that person will do right.
The teacher's sense of how to get along in a state-controlled society is tested when the class has to write essays in praise of the army but Cecilia writes things such as "the army is bad", "soldiers are crazy", "they killed my cousin". Lucia is mortified when Cecilia shows her a copy and she knows she must try to get the essay back before the army sees it.
The tension in the film grows menacing very slowly enhanced by cinematographer Wojciech Staron's washed-out images of the child by the sea as waves and sand change constantly. Hertzog's freshness and Suraniti's naturalistic acting combine to make the pair thoroughly credible, and Markovitch draws equally fine performances from the rest of the cast.
Venue: Berlin International Film Festival, In Competition; Cast: Paula Galinelli Hertzog, Sharon Herrera, Laura Agorreca, Viviana Suraniti, Uriel Lasillo; Director, screenwriter: Paula Markovitch; Director of photography: Wojciech Staron; Production designer: Barbara Enriquez; Music: Sergio Gurrola; Editor: Lorena Moriconi; Producer: Izrael Moreno Production: Kung Works, Chiapas 31, Col. u Mex Roma, Alex Cuantémoc; Sales: Umedia; Not rated; running time, 123 minutes.
This review appeared in The Hollywood Reporter.