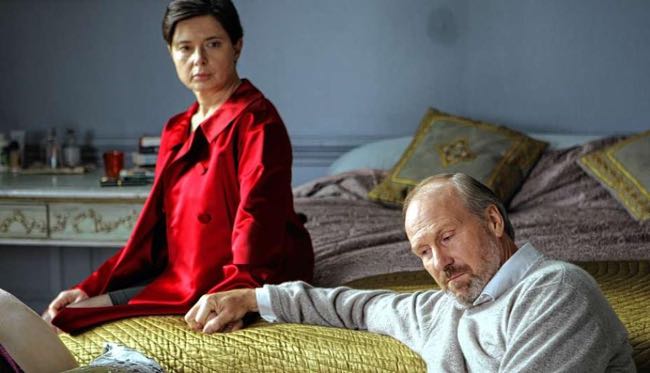 By Ray Bennett
BERLIN – William Hurt and Isabella Rossellini (pictured) play a couple whose long marriage runs into the bumps caused by intimations of mortality in Julie Gavras's lightweight "Late Bloomers" but while it's pleasant to watch these two professionals at work, there are no dramatic fireworks.
A snapshot of two people who must learn to face the realities of aging, it offers no surprises or particular insights and will probably settle more comfortably into TV and DVD release.
Hurt plays Adam, a top architect whose major achievements have been in designing airports but who is tempted now to tackle the design of a new museum in London's disused Battersea Power Station. One of the spurs towards this is that among the young designers at his firm who are keen on the challenge is an attractive and flirtatious young woman named Maya (Arta Dobroshi).
Adam's wife Mary (Rossellini), meanwhile, is alarmed by a couple of moments of forgetfulness and finds that little things she does to make life a little easier on aging limbs and eyes only annoy Adam. He starts working late at the office while she joins an exercise club at a swimming pool run by a handsome man named Peter (Hugo Speer).
Soon, Adam starts sleeping at the office and the pair's three grown children start plotting ways to keep them together. The situation is further complicated by money problems at the firm with a client (Simon Callow) who demands designs for hospices rather than a museum.
There's sick grandmother and assorted little ones, and the conversations cover predictable ground about families, generations and mid-life crises. Callow relishes some bright lines about how a hospice is much like a transportation terminal – somewhere people go on the way to somewhere else.
Joanna Lumley also shines as Mary's breezy best friend, a do-gooder who confesses that she wishes she'd put more energy into a marriage than into her charitable work.
The film is shot like a TV movie with plenty of light and bright colors. Hurt mixes charm with Adam's fear of waning talent and vigor while Rossellini plays against her beauty as a woman who finds she needs reassurance about her appeal. They are genial company, but will hardly be remembered by tomorrow.
Venue: Berlin International Film Festival, Berlinale Special; Cast: William Hurt, Isabella Rossellini, Joanna Lumley, Simon Callow; Director, screenwriter: Julie Gavras; Screenwriter: Oliver Dazat; Director photography: Natalie Durand; Production designer: Eve Stewart; Music: Sodi Marciszewer; Costume designer: Marianne Agertoft; Editor: Pierre Haberer; Producers: Sylvie Pielat, Bertrand Faivre; Production: Les Films du Worso; Sales: Gaumont; Not rated; running time, 95 minutes.