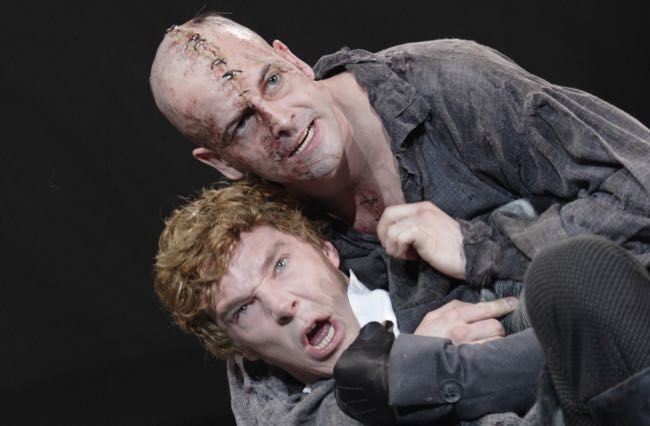 By Ray Bennett
LONDON – Fans of Danny Boyle's movies such as "Slumdog Millionaire" and "127 Hours" will not be surprised to learn that his return to the stage directing a new play at the National Theatre based on Mary Shelley's "Frankenstein" is a breathtaking mix of intimate drama and spectacular imagery.
Benedict Cumberbatch (pictured as the doctor), from BBC-TV's new "Sherlock" series, and Jonny Lee Miller ("Eli Stone") star on alternate nights as Victor Frankenstein and the Creature in a play by Nick Dear that grabs attention in the first minute and never lets go.
Cumberbatch has the edge in both roles due to his ability to convey by expression and voice a degree of madness that is just beyond Lee Miller. Cumberbatch nails Frankenstein's air of innate superiority and he makes heartbreaking the Creature's aching search for wisdom and compassion. Both performances are well worth seeing in a two-hour show that has shocks and surprises, some considerable horror and moments of great tenderness.
The play will be streamed to movie theaters across the U.K. on March 17 and 24 and also will be available in other countries including the United States and Canada, although dates might vary. Boyle, who attended First Night, told me he is not involved in the screen version, which is handled by the National Theatre.
The stage presentation has such invention and vitality that it should make a terrific impression on screen and the performances of the two leading actors are so precise and involving that they should only be enhanced by close-ups.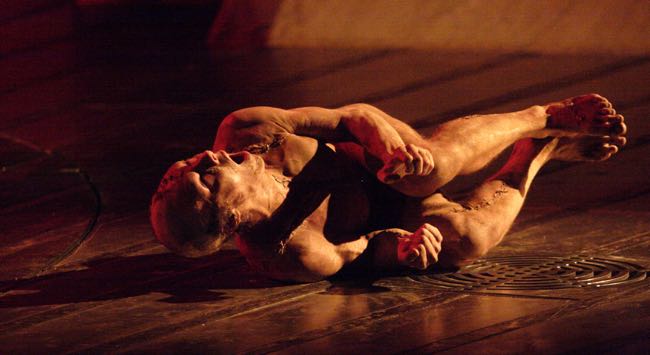 The National's vast Olivier stage is overhung by two large rectangular panels from which hang myriad lights that strike like lightning at the moments when the creature emerges from what he comes to think of as a cesspool of broken bones. For this Creature is a sentient individual who can assimilate information rapidly and the tale is really one of innocence corrupted.
At the beginning, a tall and wide circle of pulsing fabric strapped to a wooden rack becomes womb-like as it parts to reveal a man-sized newborn who falls to the ground and flaps like some nameless thing that Darwin might have discovered.
For more than 10 minutes, the fully naked creature struggles to stretch and stand; to gain motor control of limbs and how to walk and run. Exultant in his discoveries, he embraces the warming sun and cooling rain, and the simple pleasures of grass and soaring birds.
But soon his creator abandons him and strangers greet him with horror and beatings. Wandering, he discovers an old man, De Lacey (Karl Johnson), who is blind and generous, and who fills his hungry mind with literature, philosophy and general knowledge. That again ends badly, and the lonely creature goes off to seek his creator to ask him to make him a female partner. Frankenstein is a self-important scientist who believes himself a genius and is so obsessed with being the first man to create another that he ignores his lovely bride-to-be, Elizabeth (Naomie Harris), who only wants to give him babies.
When the Creature finds him, Frankenstein agrees to travel to a remote Scottish island where he will make a perfect being, but as his genius flows so does his fear, and soon the two are locked into a fate that will entwine them forever.
Set designer Mark Tildesley uses simple tracks of wood and grass for scenes in the open, brings up whole rooms and buildings from the basement of the rotating stage and others descend from the rafters.
Boyle early on introduces a raging contraption like a full-scale locomotive with huge wheels spitting flames and sparks to suggest the industrial turmoil that is the backdrop to the story. It leaves a bitter taste in the air that underpins the tragedy of a creator who has lost his way and a Creature unsure of why he is here and what he is supposed to do but directed by a man who knows exactly what he's up to.
Venue: National Theatre, runs through May 2; Cast: Benedict Cumberbatch, Jonny Lee Miller, Naomie Harris, Karl Jognson; Playwright: Nick Dear, based on the novel by Mary Shelley; Director: Danny Boyle; Set designer: Mark Tildesley; Costume designer: Suttirat Anne Larlarb; Lighting designer: Bruno Poet; Music and sound score: Underworld.
This review appeared in The Hollywood Reporter. Photos by Catherine Ashmore.