By Ray Bennett
BERLIN – Thunska Pansittivorakul's documentary "The Terrorists" is a message picture about the way the government in Thailand persecutes and exploits minorities. Oh, here's one now, a pretty young man who happens to be naked, soaping himself in the shower.
The film commences with titles that excoriate and curse the Thai government for serious abuses and proceeds without narration to scenes accompanied by poetry or political invective. Many of them involve young men in the nude bathing or sleeping.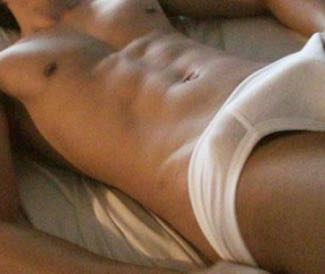 It appears aimed at a gay audience that would need to be remarkably tolerant of inept camerawork and unexplained sequences, and be prepared to listen to lectures about an oppressive society. The title of the film is intended to be ironic but if the filmmakers wish to have their opinions considered widely, this does not seem to be the best way to go about it.
The film begins with a group of languid young men in shorts on a fishing boat at night; then a bound and blindfolded young man is stripped, and masturbated by male toes and fingers; young men in shorts load sheets of rubber onto a flatbed truck; a young man sleeps naked in various stages of arousal; and another young man is heard complaining about his father while he bathes nude in a mountain stream.
One unexplained sequence shows some kind of unrest on an urban street with police in riot gear with guns and tear gas, and cowering locals, and another shows a young man tapping trees for sap at night. It's very dark so it's not clear if he's naked.
Venue: Berlin International Film Festival, Forum; Director: Thunkska Pansittivorakul; Producer: Jurgen Bruning; Director of photography: Thunska Samart Vorakorn; Sales: Jurgen Bruning Filmproduktion; Not rated; running time, 103 minutes.
This review appeared in The Hollywood Reporter.