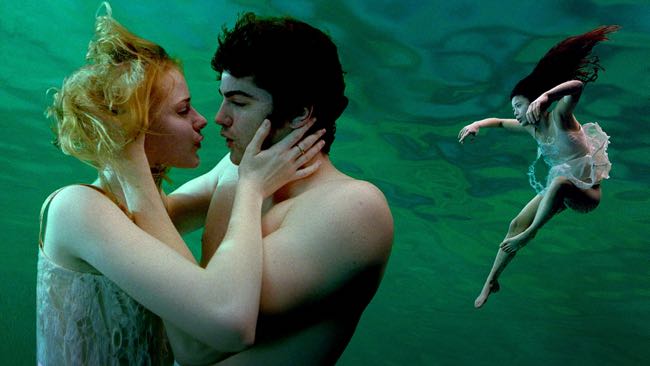 By Ray Bennett
Julie Taymor's "Across the Universe" is a sparkling treat for anyone with an appreciation of how popular music became the soundtrack for so many people's lives.
That was never so true as in the '60s when Beatles songs dominated the airwaves around the world. Critics of the film, which opened in the U.K. Friday, seem to view it as a failed attempt at interpreting the Beatles lyrics but it's much more fun than that.
Although filled with colorful images and affectionately punning dialogue by Dick Clement and Ian La Frenais that evoke the songs, it's more about the way pop music, especially by the Beatles, informs the romantic aspirations of youngsters.
It's a blast as Taymor, creator of the stage version of "The Lion King" and director of films such as "Frida" and "Titus," displays her customary visual flair. The songs are sung by the cast, which includes Jim Sturgess, as a Liverpudlian who visits the U.S. to find his estranged father, Evan Rachel Wood ("Thirteen," 2003) as the girl he falls in love with, and Joe Anderson as a down-to-earth rich boy who becomes his best friend. Joe Cocker, Eddie Izzard and Bono have cameos performing iconic Beatles numbers.
Three superb music producers, composer Elliot Goldenthal, T-Bone Burnett and Teese Gohl, combined on the 31-song soundtrack. Goldenthal, of course, is the director's domestic and professional partner, an A-list composer who won the Academy Award for "Frida" and he provides the score for "Across the Universe."
Burnett has been responsible for some of the best song soundtracks of recent times including "Walk the Line," "Cold Mountain" and "O Brother, Where Art Thou?" Gohl is partnered with Steve McLaughlin in the U.S.- and U.K.-based film music production company, gohlmclaughlin, with credits including "Stardust," "Layer Cake" and "Closer."
Interscope has put out a soundtrack CD but it contains only 16 tracks from the film. Some fine numbers are missing including "If I Fell" by Wood, "I Want You" by Anderson, and "Because," by the whole cast. Crucially missing are some great tracks by costars Dana Fuchs and Martin Luther and Goldenthal's fabulous end-title orchestration of "Flying" with the Secret Machines. Perhaps if the film is a success then Interscope will release an album with the rest of the music. boomer nostalgia.