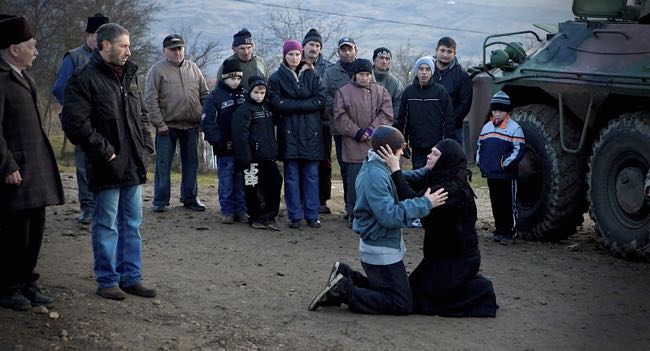 By Ray Bennett
LOCARNO, Switzerland – Despite its ungainly title, "The Human Resources Manager" is a typically humane and observant drama from Israeli filmmaker Eran Riklis about a personnel officer who goes beyond the call of duty for a deceased employee.
When a young Romanian woman is killed in a suicide bombing in Jerusalem, the HR manager at the bakery where she worked takes on the job of making sure her body makes its way back to her faraway home.
The film has wit and character, and the central mission sees many unexpected complications before Riklis and screenwriter Noah Stollman arrive at a warm and compassionate conclusion. Following the director's successes with "The Syrian Bride" and "Lemon Tree," it will travel far and wide to appreciative audiences and pick up some prizes along the way.
Mark Ivanir plays the title character at an industrial sized Jerusalem bakery where the bread is fine but many employees tend to remain anonymous. When his boss calls late at night to say that an unidentified woman killed in a blown-up bus had a pay check from the bakery but did not appear to work there, he must investigate.
It turns out that the night supervisor was having an affair with the woman and had fired her when his wife found out but kept her on the payroll. With the woman's body lying ignored at the morgue, a tabloid newspaper reporter (Guri Alfi) runs a story indicting the bakery for inhumane behavior.
The HR man's boss decides she needs some much better press so she orders him to sort it out, which involves tracing where the dead woman lived and the discovery that she has a bitter ex-husband (Bogdan Stanoevitch) and a troubled son (Noah Silver) in Romania, neither of whom is permitted legally to identify her.
It means he must ship the body to her home village 1,000 kilometers deep into rural Romania so that her mother can make the formal identification. That's especially awkward because he has promised to accompany his young daughter on a dance trip in a couple of days' time. Bad weather prevents flying, so he sets off in a van with the coffin on top accompanied by the helpful Israeli Vice-Consul, the unruly son, the weasel reporter, and an ageing chauffeur.
The motley crew argue and fight, and must deal with awful weather and a surprising change of vehicle as they make their way into increasingly grim-looking parts of the former Soviet Union.
Rainer Klausmann's cinematography takes full advantage of the mix of bleak wintry landscapes and some unusual resting places while French composer Cyril Morin contributes a jaunty and teasing score that draws smartly on gypsy influences.
Clashes between generations, creeds and cultures all surface as the mission progresses and Riklis lets his cast find riches in their characters that help illuminate a thoughtful and well-crafted tale.
Venue: Locarno International Film Festival, Piazza Grande; Cast: Mark Ivanir, Guri Alfi, Noah Silver, Rozina Cambos, Julian Negulesco, Bogdan Stanoevitch; Director: Eran Riklis; Writer: Noah Stollman; Director of photography: Rainer Klausmann; Production designers: Dan Toader, Yoel Herzberg; Music: Cyril Morin; Costume designers: Li Alembik, Adina Bucur; Editor: Tova Ascher; Producers: Tudor Giurgiu, Thanassis Karathanos, Talia Kleinhendler, Haim Mecklberg, Elie Meirovitz, Estee Yacov-Mecklberg; Production company: 2-Team Productions; Sales: Pyramide International; Not rated; running time, 103 minutes.
This review appeared in The Hollywood Reporter.