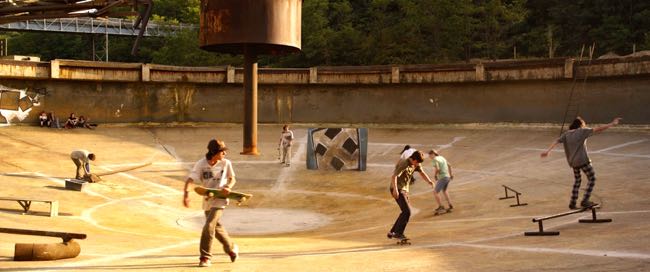 By Ray Bennett
LOCARNO, Switzerland – An almost documentary look at the wasted summer of a group of youngsters in a defunct mining town in Serbia, "Tilva Rōs" strives for bright spirits but ends up being simply depressing.
First-time feature director Nikola Lezaic takes on most of the filmmaking chores following a local gang of skateboarders who swear and gesture like rappers and videotape themselves attempting stupid pranks inspired by the likes of "Jackass."
The region's dark war-torn past and economic problems are a stark backdrop to the pointless shenanigans of kids who appear to have little ambition beyond getting a video on YouTube. The film's prospects beyond local markets appear slim.
Best buddies Toda (Marko Todorovic) and Stefan (Stefan Djordjevic) lead the pack of pretty inept skateboarders and are the most keen to punish each other for a lark. They stick assorted pins in their cheeks and noses, leap off high places, punch and beat one another and generally abuse themselves, while a video recorder haphazardly captures their antics.
Dunja Kovacevic plays Stefan's sometime girlfriend and while their parents are involved mostly in protesting the closure of the copper mines, the kids idle between school and college or work with little to do except drink, party and make each other bleed.
There's no story, just a sequence of rather dull events including a mass attack on a junk car, a swarming attack on a supermarket and a street march supporting the industrial action.
The three non-professional leads have some presence and charm but Lezaic makes few demands upon them besides urging on their stunts. It's all a bit sad.
Venue: Locarno International Film Festival, Sidebar: Cinema of the Present; Cast: Marko Todorovic, Stefan Djordjevic, Dunja Kovacevic; Director, writer, producer, editor: Nikola Lezaic; Director of photography: Milos Jacimovic; Production designer: Nikola Bercek; Producers: Uros Tomic, Mina Dukic; Production company: Film House Kiselo Dete; Sales: Visit Films; Not rated; running time, 103 minutes.
This review appeared in The Hollywood Reporter.