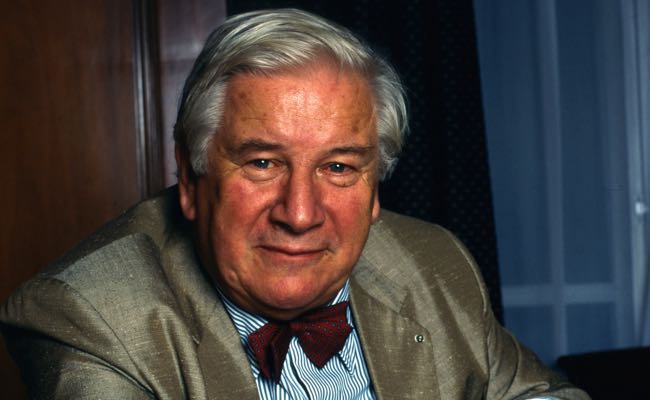 By Ray Bennett
LONDON – Playwright, filmmaker, actor and raconteur Peter Ustinov, who was born 100 years ago today and died on March 28, 2004, was convincing in movies playing many different nationalities. One reason for that was because he was a wonderful mimic. I first met him at a cocktail party in the mid-80s in Toronto when he was promoting 'Death On the Nile', his first outing as Hercule Poirot with that strange Belgian/French accent. Given the vast range of dialects he had mastered, I asked him what had been the most difficult accent to imitate. Ustinov thought for a moment and said, 'A Glaswegian Chinese man'  and he proceeded to give an hilarious example.
He displayed his uncanny gift on many television shows and on Sept. 9, 1999, he gave a dazzling display at the Park Lane Hotel ballroom in London where the late Stanley Kubrick was honoured by the Directors Guild of Great Britain. He mimicked several of the characters in "Spartacus" – from Kirk Douglas to Laurence Olivier to Jean Simmons to Charles Laughton to Tony Curtis to Kubrick himself – as he described what it was like to work with the director. It brought the house down.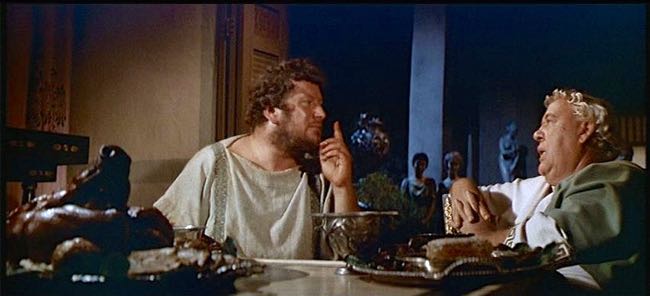 A double Oscar-winner as best supporting actor in "Spartacus" (pictured above, 1960) and "Topkapi" (pictured below, 1964), Ustinov won a Golden Globe for best supporting actor in "Quo Vadis" (1951), three Primetime Emmy Awards, a Grammy Award and Bafta's Britannia Award for lifetime achievement.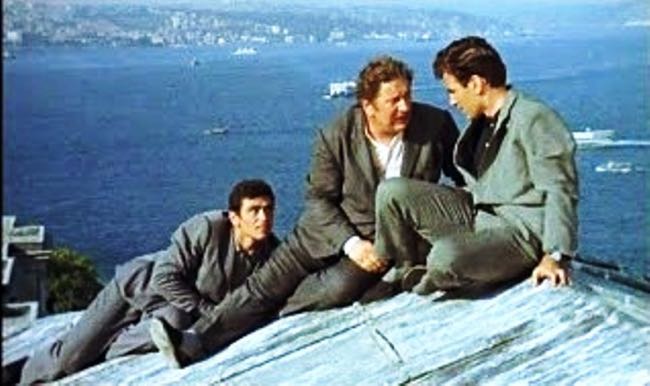 Born in London of a rich mix of Eastern European stock, he was a theatre and opera director, stage designer, author, newspaper and magazine columnist, radio broadcaster and TV presenter. He was knighted by Queen Elizabeth II in 1990 and had honours from more than a dozen other nations plus citations from UNICEF, which he represented for many years.
Many of his films are forgotten now but there are several that warrant attention for film buffs willing to dig for them. Here are 15 to watch out for.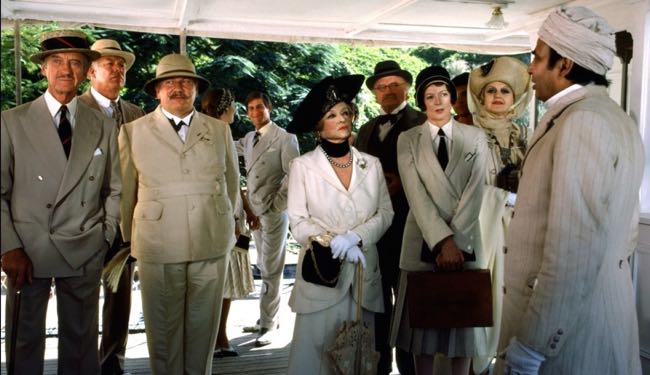 Agatha Christie's Death on the Nile (above, 1978): Ustinov's first appearance as detective Hercule Poirot is very entertaining and the villain actually comes as a surprise. A fine cast has fun on a cruise ship as Poirot seeks the murderer of a pompous millionairess played by Lois Chiles. Bette Davis is a posh American socialite with Maggie Smith as her downtrodden companion; Angela Lansbury plays a writer with a taste for alcohol, Jack Warden is a manic Swiss doctor, I.S. Johar is an offbeat ship's manager; Jon Finch plays a Bolshie upstart and David Niven plays Poirot's No. 2, Col. Race.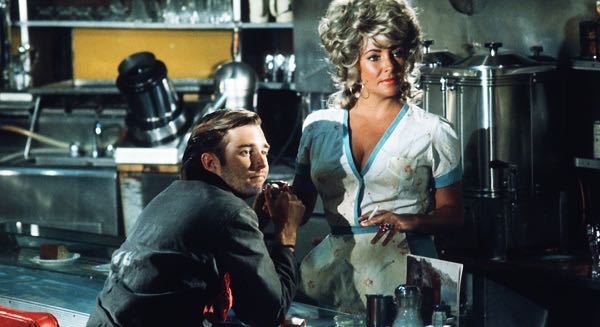 Hammersmith is Out (1972): Trashed by most critics, it's a variation on the Faust legend as Richard Burton plays a mental patient who promises the world to a gullible young man (Beau Bridges, pictured above with Elizabeth Taylor) if he will help him flee the institution where he has been placed. Ustinov directs and plays a doctor while Taylor plays one of the young man's greatest temptations. Roger Ebert said it was "one of the year's best comedies. It is also, while it's at it, one of the year's best satires, but it doesn't lay the satire on very heavily."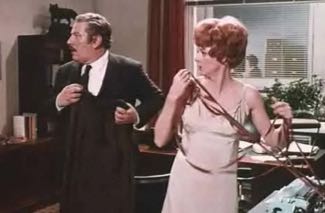 Hot Millions (1968): Pleasing comedy about a con-man (Ustinov) released from jail who scams his way into an insurance firm's computer system and sends himself claim checks. His life is complicated when he falls for a clumsy clerk played by Maggie Smith (pictured). Stanley Kauffmann wrote in the New Republic that while the film did not make him laugh out loud, at the end he realised he had been smiling for almost two hours.
The Comedians (1967): One of Graham Greene's finest novels comes unstuck in the film version, which the novelist adapted for director Peter Glenville. Lots of cynicism and sex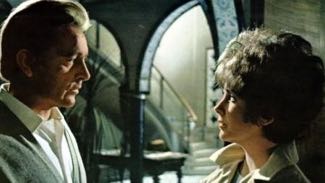 in Haiti during the reign of violent dictator Papa Doc Duvalier. It's fascinating, though, to see a wonderful cast struggle with the material including Richard Burton, Elizabeth Taylor, Alec Guinness, Paul Ford, Lilian Gish, Georg Stanford Brown, Roscoe Lee Browne, and James Earl Jones. Ustinov plays Ambassador Manuel Pineda. Time Magazine said there are enough moments of "transcendant drama" to make it worthwhile and to be forgiven easily for its other sins.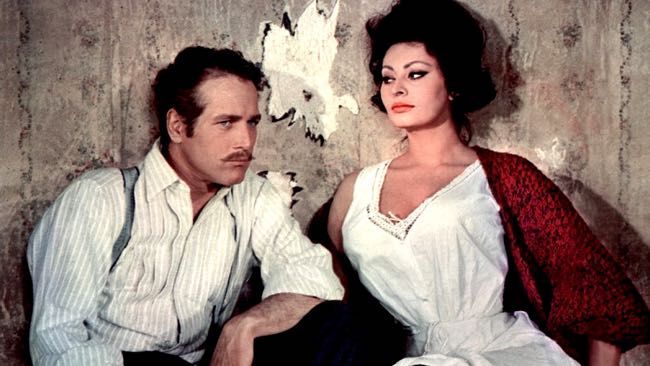 Lady L (1965): Ustinov writes and directs a colourful saga from Romain Gary's novel about an elegant older woman played by Sophia Loren who reflects on her many dalliances with an assortment of men over a long, lusty career. Paul Newman (pictured with Loren) and David Niven co-star with Ustinov in a cameo as Prince Otto of Bavaria.
Topkapi (1964): Greek filmmaker Jules Dassin directs an entertaining and suspenseful caper movie about a raid on the Istanbul museum to steal a precious dagger. Co-written by Eric Ambler, based on his 1963 novel "The Light of Day", it stars Ustinov with Merlina Mercouri, Maximilian Shell, and Robert Morley.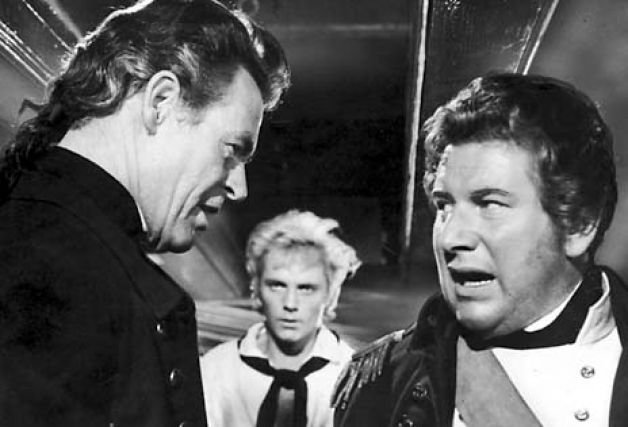 Billy Budd (1962): Splendid, atmospheric tale of cruelty on the high seas as Ustinov directs and co-writes with Dewitt Bodeen and uncredited Robert Rossen, based on the play by Louis O. Coxe and Robert H. Chapman. Ustinov plays Royal Navy Post Captain Edwin Fairfax Vere who wavers as ruthless taskmaster Robert Ryan, as Master of Arms John Claggart, demands the death of innocent merchant seaman Billy Budd, played by Terence Stamp in his second film. Melvyn Douglas is the sailmaker and Paul Rogers, John Neville and David McCallum play ship's officers.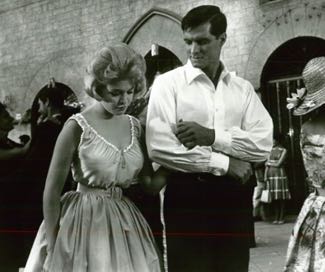 Romanoff and Juliet (1961): Ustinov directs a screen version of his own play and stars as the representative of a middle-European country at the United Nations during the Cold War. John Gavin and Sandra Dee (left) play modern versions of Shakespeare's fated couple.
The Sundowners (1960): Fred Zinnemann directs a rambunctious family drama about travellers in the Australian outback during the first part of the 20th century. Ustinov stars with Deborah Kerr and Robert Mitchum (pictured below), Glynis Johns, and Aussie star Chips Rafferty.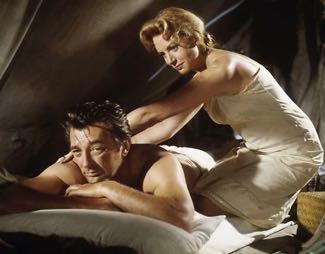 Spartacus (1960): Stanley Kubrick's intelligent epic has stood the test of time with Kirk Douglas, Laurence Olivier, Jean Simmons, John Gavin, Tony Curtis, Herbert Lom and Charles Laughton (pictured with Ustinov).
We're No Angels (1955): Delightful, if sentimental, yarn directed by Michael Curtiz ("Casablanca") with Humphrey Bogart, Aldo Ray and Ustinov (below) as three escapees from Devil's Island who are taken in by a kindly villager and do their best to repay his kindness despite their penchant for criminality.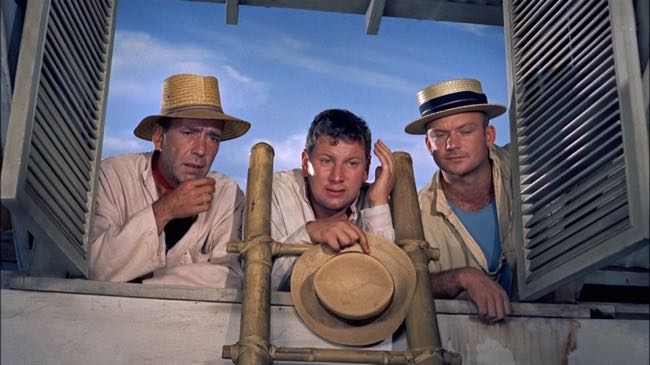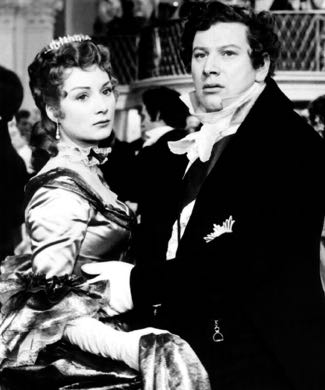 Beau Brummel (1954): Glossy adventure with Stewart Granger as the 19th century dandy who insults the Prince of Wales (Ustinov) and is surprised when the neurotic prince takes him on as an advisor to spite the yes-men that surround him. Mostly, it's a romance between Granger and Elizabeth Taylor with Robert Morley as King George III and a very young Rosemary Harris (pictured with Ustinov left).
Quo Vadis (1951): Opulent Roman epic directed by Mervyn LeRoy about a general (Robert Taylor) in love with a Christian hostage (Deborah Kerr) in the face of despicable behaviour by the Emperor Nero (Ustinov, below).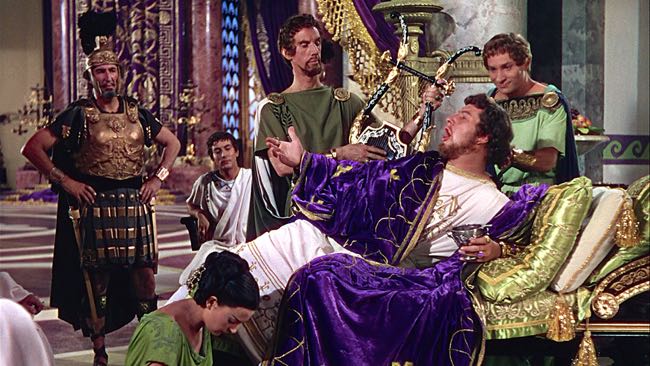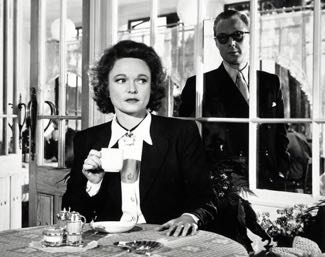 Odette (1950): True-life war story of a legendary woman, played by Anna Neagal (right), who risks her life when she joins the resistance during the Nazi occupation of France and undergoes torture to make her reveal her accomplices. Ustinov co-stars with Herbert Wilcox, Trevor Howard and Marius Goring (pictured with Neagal) as a Nazi intelligence officer.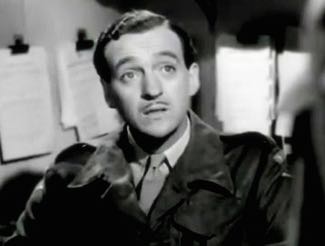 The Way Ahead (1944): Highly praised film that was made to boost the U.K. war effort although it wasn't released until D-Day 1944. Directed by Carol Reed ("The Third Man"), the script by Ustinov and novelist Eric Ambler follows a group of men called up for the infantry at the outbreak of war. David Niven (left), Stanley Holloway, James Donald, and John Laurie lead the cast. Ustinov plays a cafe owner. New York Times critic Bosley Crowther called it "a splendid picture" and " a warm and touching tribute to the British Army infantryman".