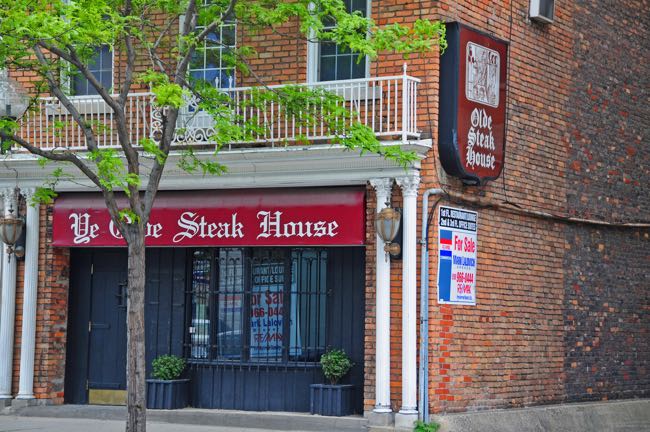 By Ray Bennett
I've eaten in a great number of restaurants in my life, good, bad and indifferent, but only two ever captured my heart.
One is Dan Tana's on Santa Monica Boulevard, the most enjoyable dining establishment in Los Angeles. The other is Ye Olde Steak House in Windsor, Canada, which has served its last meal after 41 years.
Kurt and Irma Deeg ran the place expertly with reliably good food and friendly service, attracting customers from around Ontario and Michigan, being situated across the river from Detroit.
I was a regular in my time at The Windsor Star newspaper in the late 1960s and '70s, and Kurt even allowed me an account, taking a huge risk with a newspaperman in those days, or at any time.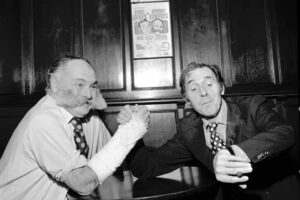 I took English comics Jimmy Edwards and Eric Sykes (left) to lunch at Ye Olde Steak House in 1976 when they were in Detroit performing their classic comedy 'Big Bad Mouse'. They declared the steak & kidney pie a great success, which it invariably was.
Lunches with colleagues from the newspaper could turn into all-afternoon affairs. Sunday nights were a favorite time for me with a quiet steak and bottle of wine. No return visit to the city was ever complete without a meal there.
The Deegs served great steaks prepared perfectly and a damned fine French onion soup. The servers knew your taste and the bartenders knew your drink. It could be raucous or romantic; a place for friends, love and laughter.
Windsor won't be the same without it.