By Ray Bennett
LONDON — Noel Coward's brittle and pathetic self-portrait of the matinee idol as the center of the universe is preserved more or less under glass in the National Theatre's glossy new production.
The play is set in 1939, but the outbreak of World War II doesn't add up to a hill of beans compared to the life and loves of Garry Essendine (Alex Jennings), who is king, and possibly sometimes queen, of all he surveys in his tightly sycophantic and highly theatrical world.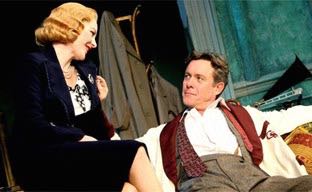 "Present Laughter" is the kind of dated, middle-class artifice in which someone says, "Cynthia, darling, it's Daphne. I'm at Garry's," and it's supposed to mean something.
Daphne (Amy Hall) is what would later be called a groupie, but as the play was written in the days when British theater was heavily censored, she has spent the night at the boulevardier's house only because she lost her own "latch key," and even then stayed in the spare room.
Little does she know that she has entered a well-oiled and predictable environment in which the grand seducer is coddled and fussed over by a coterie that includes secretary, housekeeper, valet and an estranged but not quite ex-wife. The latter, Liz (Sara Stewart), is of course still in love with Essendine and is always there to help him brush off his conquests.
The fading lothario swans through life with labored insouciance and a carefully manufactured air of indifference to the malicious fate that has caused him to be so handsome, charming and desirable. Cosseted by his entourage of adoring women — and men — he is a star required constantly to twinkle.
But when Joanna (Lisa Dillon), the sexpot wife of a hapless friend, sets her decolletage at him, and an intense young man named Roland (Pip Carter) shows up peddling his serious writing, Essendine unleashes a torrent of snide and condescending derision on everyone.
Set in a huge, bookish room designed by Tim Hatley that suggests more Victorian Conan-Doyle than art-deco Coward, the production features all the polished style that you would expect at the National. Jenny Beavan's costumes suggest 1930s glamour on the downslide, while director Howard Davies keeps the dialogue coming at a lively pace.
The trouble is that Coward has little to say that's relevant today. The drollery isn't very funny, and the insults appear lame. Sarah Woodward makes the most of seen-everything secretary Monica, and Stewart plays ex-wife Liz with sensible poise.
Hall is a bit too gushy as Daphne, while Dillon makes her plump little trollop reminiscent of mid-career Elizabeth Taylor. Carter turns highbrow writer Roland into a buffoon, and Tim McMullan and Simon Wilson struggle with the under-written roles of friend and cuckold.
It's left to Jennings to carry the evening as Essendine, and he does it with great flair. Flouncing, sighing or raining down invective, he pays Coward the highest compliment of acting as if his slick and empty words really mean something.
Venue: National Theatre; Cast: Alex Jennings; Amy Hall; Anny Tobin; Tony Turner; Sarah Woodward; Sara Stewart; Pip Carter; Simon Wilson; Tim McMullan; Lisa Dillon; Frances Jeater; Playwright: Noel Coward; Director: Howard Davies; Set designer: Tim Hatley; Costume designer: Jenny Beavan; Lighting designer: Hugh Vanstone; Sound designer: Paul Groothuis; Music: Dominic Muldowney; Keyboard: Anne Kavanagh; Alto saxophone: Simon Harare