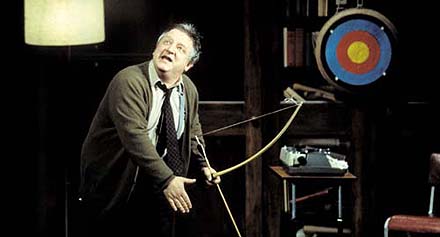 By Ray Bennett
LONDON – A professor of moral philosophy named George, played superbly by Simon Russell Beale (pictured) dictates his arguments for a speech in defense of the existence of God while, in the adjacent ballroom-sized lounge of his Mayfair flat, a wild party is going on.
Star of the party is the professor's champagne-addled wife Dorothy (Essie Davis), erstwhile first lady of musical theater, whose entertainment includes a troupe of acrobats called Jumpers, one of whom falls dead from a gunshot wound.
If that's not the start to a farce, it's hard to know what is. First produced in 1972, Tom Stoppard's "Jumpers" has lost none of its zest and ability to enthrall. The Jumpers of the title are in fact fellows of the professor in academe, being led by the college's vice-chancellor, an unctuous chap named Archie Jumper, who holds doctorates in medicine, law and gymnastics, and may also be Dorothy's lover.
The question of who shot the dead Jumper, although it forms a sort of mystery basis for the play, is of little consequence. Like everything else in "Jumpers,'" it is simply a vehicle for Stoppard's deft wit. In this case, the joke is on the audience, which is led to care more about the fate of a tortoise and a hare named Thumper, which George intends to use as illustrations in his speech.
Stoppard sets the earnest waffle of George's lecture on goodness –"What is so good about 'good'?" — against Dorothy's sentimental reaction to men walking on the moon and Archie's cynical pragmatism and the contrasts pay off hilariously.
George is the faculty's "tame believer," a man ready to argue the existence of God but afraid he's regarded as a "joke vicar." While capable of invoking Cantor's Proof and Thomas Aquinas' five proofs of the existence of God, George also finds himself asking if the question should be "Is God?" or "Are God?"
"Is God what?" asks the no-nonsense policeman Bones, called in to investigate the murder, and George is at a loss to explain. Stoppard fires on all cylinders in George's speeches, and it is a measure of Simon Russell Beale's wonderful performance as the professor that he makes him an intelligent as well as a well-meaning figure.
Essie Davis, who spends a considerable amount of time onstage either naked or next to it, is thoroughly diverting as Dorothy whether bewildered, in a tantrum, or spooning for the moon. Jonathan Hyde as Archie and Nicholas Woodeson as Bones are pitch-perfect.
There is little slack in David Leveaux's direction over two hours, plus a 20-minute interval, and the action keeps pace with Stoppard's flights of fancy, well matched by Vicki Mortimer's moonstruck sets.
He's been knighted since and become an Oscar-winning screenwriter ("Shakespeare in Love"), but "Jumpers" is a delightful reminder of Stoppard's maxim that, as a character here says, "language is only an approximation of meaning."
Venue: National Theatre, runs through Sept. 9; Cast: Simon Russell Beale, Essie Davis, Jonathan Hyde, Nicholas Woodeson, Eliza Lumley, John Rogan, Jean-Felix Callens, Jonothan Campbell, Leo Kay, Robert Barton, Gary Cross, Karl Magee, Dodger Phillips, Phil Seaman, Ashley Stuart, Lewis Young; Playwright: Tom Stoppard; Director: David Leveaux; Set designer: Vicki Mortimer; Costume designer: Nicky Gillibrand; Lighting designer: Paule Constable; Music: Corin Buckeridge; Choreographer: Aidan Treays; Music director/keyboard: Ian Townsend; Double bass: Rutledge Turnland; Drums: Michael Gregory.
This review appeared in The Hollywood Reporter.