By Ray Bennett
LONDON – When the curtain goes up in the new West End production of William Wycherley's Restoration sex comedy "The Country Wife," Toby Stephens, as a priapic young stud named Horner, is standing alone with his back to the audience grinning and stark naked.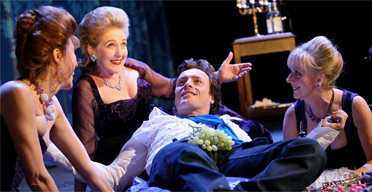 At first night this week, I was sitting just in front of his mother, actress Maggie Smith. A companion whispered to her, "Were you expecting that?" and received in reply a shocked "No!"
Smith's delighted laughter could be heard along with the rest of the audience throughout the production, not least for her son's performance but for everyone including Fiona Glascott as the titular young wife, Margery. Smith played the role at the Chichester Festival Theatre in 1969. In the same row a few seats along, also having a good time, sat Judi Dench, who played Margery in 1966.
Many great actresses have played the young wife including American Ruth Gordon ("Harold and Maude") in 1936 with Michael Redgrave as her husband, Joan Plowright in 1956 with Laurence Harvey as Horner, and Helen Mirren in a 1977 BBC production with Bernard Cribbins as the husband.
The play might have been shocking in 1675, but its tale of lustful men and wanton women mocking the veneer of polite society is played for rollicking laughs in director Jonathan Kent's new production at the Theatre Royal Haymarket.
Cynical and bawdy, it assumes that every wife is ripe for plucking and every husband is destined to be a cuckold. It could be taken as misogyny except that the women give as well as the men and the betrayed husbands are a pious bore and a jealous buffoon.
Dressed in blue jeans and frock coats to blur the time frame, three young men – Horner (Toby Stephens), Harcourt (John Hopkins) and Dorilant (Tristan Beint) – spend their time drinking beer, playing pool and planning their next conquests.
Horner devises a scheme whereby his doctor will declare him a eunuch following a bout of the pox, the idea being that husbands will trust him with their wives and leave him to exploit the circumstances as he will. Invariably, the objects of his attention are all too willing to enjoy the deception.
Chief among these is Lady Fidget (Patricia Hodge), who is always on the lookout for a wayward male and the opportunity to test his honour, as Wycherley puts it. Horner is up for anyone at any time, and he also is particularly taken with Margery (Fiona Glascott), the pretty, giddy young wife of a furiously overprotective older man named Pinchwife (David Haig).
Margery is from the country and longs for the attention of the city gallants while her husband goes to great lengths to keep her away from temptation. Pinchwife's sister, Alithea (Elisabeth Dermot Walsh), is engaged to marry a foppish dimwit named Sparkish (Jo Stone-Fewings), though his friend Harcourt is doing his best to displace him.
Kent, in the first production of his yearlong season at the Theatre Royal Haymarket, moves things along at a gloriously lusty pace. Paul Brown's sets involve plenty of doors for miscreants to dive through and hide behind while the actors relish Wycherley's ribald dialogue, which is rich with euphemisms for sexual dalliance and doesn't sound dated at all.
All the performances are entertaining. Stephens is a touch too cocky for a man pretending to be a eunuch but he's full of dash and eager to please. Hodge makes Lady Fidget a sly and knowing conspirator and Walsh and Hopkins contribute some sense of propriety with great poise and charm.
The real crowd-pleasers, however, are Glascott as the winsomely irritating country wife and Haig as her combustible green-eyed spouse. Glascott is sexy, innocent and maddening in the role.
Haig is a master of farce, and he frets, blusters and comes as close to exploding as John Cleese at his best. It's a witty and boisterous performance that will send packed audiences out onto the Haymarket laughing happily well past Christmas.
Venue: Theatre Royal Haymarket Company; runs through Jan. 12;  Cast: Toby Stephens, Patricia Hodge, David Haig, Fiona Glascott, David Shaw-Parker, Timothy Bateson, Nicholas Day, Lucy Tregear, Liz Crowther, John Hopkins, Tristan Beint, Jo Stone-Fewings, Elisabeth Dermot Walsh, Catherine Bailey, Janet Brown; Playwright: William Wycherley; Director: Jonathan Kent; Set designer: Paul Brown; Lighting designer: Mark Henderson; Sound designer: Paul Groothuis; Costume designer: Paul Brown; Music: Steven Edis.
A version of this review appeared in The Hollywood Reporter.