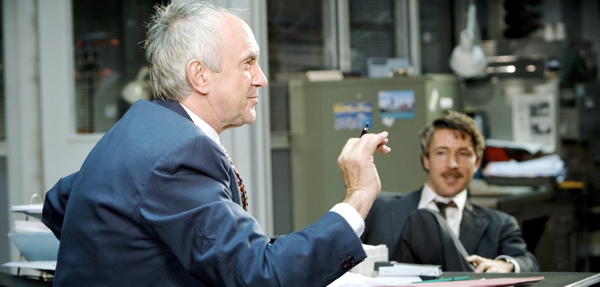 By Ray Bennett
LONDON – David Mamet's already spare drama "Glengarry Glen Ross" has been pared to the bone in a scintillating revival that stars Jonathan Pryce (pictured left) , who shows that spending time on such light Hollywood fare as the "Pirates of the Caribbean" series has not affected his dynamic stage presence.
The 1984 Pulitzer Prize-winning play is set among ruthless real estate salesmen in Chicago but their petty grasping and merciless in-fighting could happen in any business and political situation where greed and desperation go hand in hand.
Director James Macdonald takes a brisk 80 minutes in two acts to stage Mamet's masterful dissection of men whose job involves prying money from gullible dreamers longing for a place in the sun.
Pryce plays Shelly Levene, a man who spits out words before they've assembled meaning as sentences in his mind but whose gift for the gab is failing him. He was once top dog in an office run like a kennel with the hounds offered scraps to chase and sink their teeth into. The scraps, called leads, are the names of potential customers handed out with savage selectivity by icy manager John Williamson (Peter McDonald).
Levene's name isn't often on the big board of top sellers these days and with a sick wife and a daughter in school, he's getting increasingly frantic. Tough economic times increase the pressure from the company's absentee owners so that the manager's leads become ever more important to Levene and his fellow salesmen.
Even rising star Richard Roma (Aidan Gillen, pictured right) is reduced to pitching a sale to a hapless guy named Lingk (Tom Smith) he meets in a restaurant. Salesman Dave Moss (Matthew Marsh) conspires with old-timer George Aaronow (Paul Freeman) to stage a burglary to steal the leads and sell them to a rival agency.
The characters are introduced in two-handed sequences in the 35-minute first act set in a restaurant with Mamet's skill at imparting information through syncopated dialogue never better. Tony Award-winner Pryce nails Levene's faltering expertise at persuasion as he begs Williamson for some top-flight leads. His antic pleading is met with implacable indifference, well portrayed by McDonald, who stepped into the role at the last minute.
Roma's encounter with the credulous Lingk enables Gillen to get under the skin of the swaggering young man with his ability to appear ingratiating and trustworthy. Marsh and Freeman complete the set-up with a conversation in which one never gets to finish a sentence while the other gulls him into contemplating robbery.
The 45-minute second act reveals designer Anthony Ward's meticulously detailed set of a crowded office torn apart by burglars. As Mamet leads his characters into further duplicity and plot twists, director Macdonald allows the fine cast to get to grips with the playwright's percussive fluency.
Gillen (TV's "The Wire") has the flair and body language of Al Pacino, who played Roma in James Foley's 1992 film version, but he brings his own astute comprehension of a slick operator who senses in Levene intimations of his own demise.
Pryce, who played Lingk in the 1992 film version – which starred Jack Lemmon as a more sentimental Levene – captures expertly Levene's nastiness as well as the charm he can manufacture and his escalating anxiety. His description of overcoming one couple's reluctance in order to nail down a sale is like watching a great jazzman at work.
"Glengarry Glen Ross" has an illustrious production history beginning in 1983 at the National Theatre when Evening Standard critic Milton Shulman praised the playwright's speech patterns for their "glib, breathtaking momentum."
It had a run in Chicago before it opened in New York in February 1984 with Robert Prosky as Shelly Levene and Joe Mantegna as Richard Roma for a run of 378 performances. The late, great Lane Smith played Lingk. It won Tony Awards for best play and best featured actor, Mantegna.
James Foley's 1992 film version was scripted by Mamet and starred Al Pacino as Roma, Alan Arkin as Aaronow, Ed Harris as Moss, Kevin Spacey as the cold office manager Williamson and Alec Baldwin as a character devised for the film. Lemmon was named best actor at the Venice International Film Festival and Pacino pulled Oscar and Golden Globe nominations as best supporting actor.
The play was presented again on Broadway in 2005 and picked up another Tony Award as best revival. Alan Alda as Levene, Gordon Clapp as Moss, and Liev Schreiber as Roma were nominated as featured actors and the prize went to Schreiber, who was nominated this year as best actor for "Talk Radio."
Venue: Apollo Theatre, runs through Jan. 12; Cast: Jonathan Pryce; Aidan Gillen; Paul Freeman; Matthew Marsh; Peter McDonald; Tom Smith; Shane Attwooll; Playwright: David Mamet; Director: James Macdonald; Designer: Anthony Ward; Lighting designer: Howard Harrison; Presented by Mark Rubinstein, Ron Kastner, Jeffrey Richards, Jerry Frankel, Jam Theatricals and Patrick Myles.
A version of this review appeared in The Hollywood Reporter. Photo by Johan Persson.