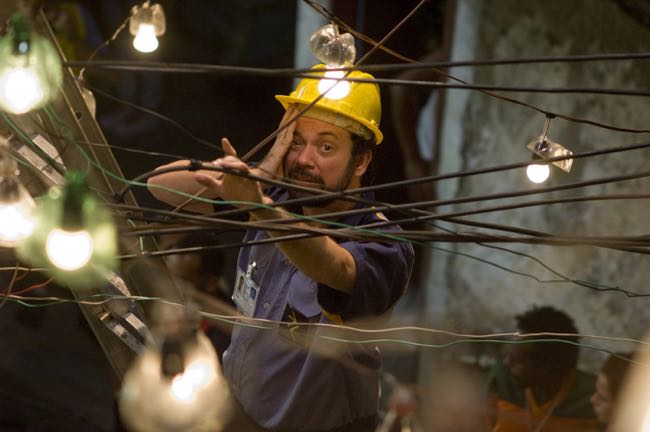 By Ray Bennett
CANNES – Five short films set in the hillside slums of Rio de Janeiro and directed by young filmmakers who live there make up a film titled "5 by Favelas: Now By Ourselves" that renews faith in the kind of moviemaking that lives and breathes and reflects the human spirit in all its colours.
It's the result of a project set up by Brazilian producers Carlos Diegues and Renata De Almeida Magalhaes that involved 200 youngsters in filmmaking workshops and master classes by such directors as Nelson Pereira dos Santos, Ruy Guerra, Fernando Meirelles and Walter Salles.
Made using the same crew, the films reflect the experiences and vision of the youngsters, whose work offers an unblinking view of life in the favelas where poverty rules. Hopes are often dashed there and lives can be short but the talent on display in the mix of grim reality and everyday kindness gives cause for optimism.
The pace of life in the favelas shown in the films combines cheerful camaraderie and fearful suspicion with gangs rampant, police corrupt and neighborhoods protective.
The first short, titled "Source of Income", directed by Manaira Carneiro and Wagner Moraes, shows a decent young man winning a place at law school only to find that he cannot afford the bus fare, let alone textbooks. Rich classmates automatically assume that living in the favela gives him access to drugs and, to prevent his mother resorting to a loan shark, he decides to start dealing with near catastrophic results.
In "Rice and Beans", directed by Rodrigo Felha and Cacau Amaral, a small boy decides to give his father a rare treat on his birthday by earning enough to buy a chicken for the dinner table. With a buddy, he washes a car and clears horse manure from the street but the car owner says he cannot pay until the next day and local bullies take their other earnings. They decide to steal a chicken but a story related later by the father makes the son decide to make up for his actions.
The harshest tale is "A Violin Concert", directed by Luciano Vidigal, in which three childhood friends end up on opposite sides of the law. One man is now a police officer and the other a gangster who involves his musician girlfriend in a violent gang war. The punishment meted out when rival tribes clash is shockingly brutal and leaves the cop with only one terrible way to keep his friends from suffering.
"Let It Fly", directed by Cadu Barcellos, is reminiscent of "The Kite Runner" as boys fly kites from rooftops. But when one kite is cut and lands in another favela, a boy must risk his life to go and retrieve it.
A favela community faces a blazing hot Christmas Day without electricity in "Let There Be Light", directed by Luciana Bezerra. With food to cook, beer to chill, and decorative lights to be plugged in, family and friends are anxious for one frightened lineman to fix things. It doesn't look good until the man decides to break the rules.
The final image of one patch of light on a dark mountain seems to sum up what the project means and suggests that the future of Brazilian filmmaking is in good hands.
Venue: Festival de Cannes, Out of Competition; Cast: Silvio Guindane, Gregorio Duvivier, Hugo Carvana; Juan Paiva, Pablo Vinicius, Flavio Bauraqui, Thiago Martins, Cintia Rosa, Samuel De Assis, Feihao,Victor Carvalho, Joyce Lohanne, Luis Fernando, Marcio Vito, Joao Carlos, Dila Guerra; Directors: Manaira Carneiro & Wagner Moraes, Rodrigo Felha & Cacau Amaral, Luciano Vidigal, Cadu Barcellos, Luciana Bezerra; Production designers: Pedro Paulo, Rafael Cabeca; Music: Guto Graca Mello; Editor: Quito Ribeiro; Production: Luz Magica; Sales: Elle Driver; Not rated; running tme, 103 minutes.
This review appeared in The Hollywood Reporter.