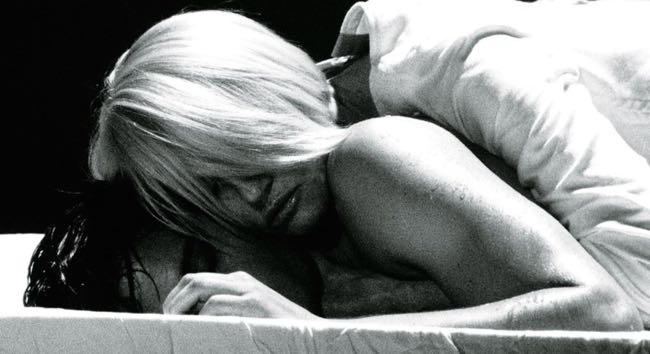 By Ray Bennett
CANNES – Ellen Barkin looks pretty good in black and white, but that's about all that can be said for California director Cam Archer's vacuous "Shit Year," which practically demands the observation that the title is one word too long to be strictly accurate.
Slim, blonde and sardonically expressive, Barkin loiters about elegantly in a series of sequences having something to do with a famous actress named Colleen West getting lost in the woods and her own delusions after deciding to retire.
Interest in the picture will be mostly from the occasional festival and art house, however many fans Barkin has these days, and those who are for some reason captivated by meaningless black and white images on a big screen.
Surrealistic and impenetrable, the film shows the languid woman having flashbacks, flash forwards and merely flashes as she contemplates the long and successful career she's walked away from. She also toys with a pretty boy (Luke Grimes) who looks a bit like the young Elvis but when invited to speak says either "I don't know" or "I'm not sure."
Walks in the sparse woods with a chatty neighbor (Melora Walters) who apparently doesn't go to the movies so doesn't recognize the star; imagined conversations with an analyst (Theresa Randle) in some kind of limbo facility; and reminiscences with the actress's older brother (Bob Einstein) serve to make things no clearer.
Venue: Festival de Cannes, Directors' Fortnight; Cast: Ellen Barkin, Melora Walters, Bob Einstein, Luke Grimes, Theresa Randle; Director, writer: Cam Archer; Director of photography: Aaron Platt; Production designer: Elizabeth Birkenbuel; Music: Mick Turner; Editor: Madeline Tucek; ; Producer: Lars Knudsen, Jay van Hoy Production: Parts and Labor; Sales: Match Factory; Not rated; running time, 95 minutes.
This review appeared in The Hollywood Reporter.