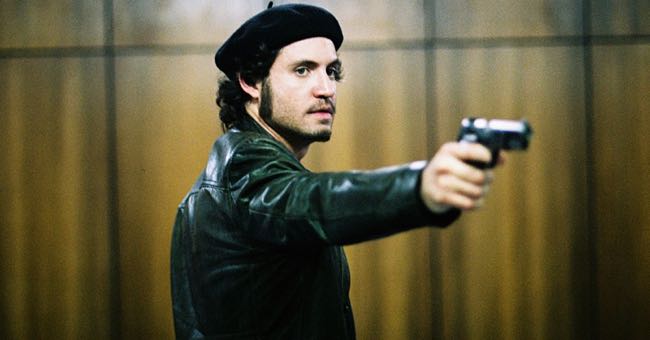 By Ray Bennett
CANNES – Long, but illuminating and engrossing, "Carlos" directed by Olivier Assayas, details the extraordinary career of the international terrorist known as Carlos the Jackal.
Shot in three parts for television, the five-hour and 33-minute production was screened in full at the Festival de Cannes and it will air on the Sundance Channel in the United States.
It is a tremendous achievement that shines a light on the way many countries use criminals to further their domestic and international goals. Politically informative, it also offers great drama with excitement and suspense, and no little tragedy. It will attract viewers and cinema audiences around the world.
Based on extensive research by Assayas, co-writer Dan Franck and producer Daniel Leconte, the film is presented as fiction because so much of the life of Ilich Ramirez Sanchez, who became known as Carlos, remains unknown.
The man, who is serving a life sentence in a French prison for murder, remains an enigma despite a dynamic performance in the title role by Edgar Ramirez (pictured). His violent activities as a killer for hire at the service of assorted nations and secret service agencies made headlines throughout the 1970s and '80s until his arrest in 1997.
With full cinematic production values, Assayas relates his story covering many locations in Europe, South America and the Middle East. There are a great number of characters involved on both sides of the law and the director introduces them and follows their machinations with remarkable clarity.
Born in Venezuela to a lawyer who espoused Marxism, the man who became Carlos was educated in England and the Soviet Union before joining the Popular Front for the Liberation of Palestine in Beirut in 1970. Over the next two decades, he organized and carried out bombings, hostage takings and murders from London to the Hague to Paris and Vienna. In Austria in 1975, he led a group of terrorists in a raid on OPEC headquarters that resulted in tension-filled flights back and forth from Algiers to Tripoli as he attempted to flee to Baghdad.
Throughout, he surrounded himself with various adventurers and killers and many women. The film portrays him as sophisticated and intelligent with the capacity to be charming but always dangerous. He imposed his will on men and women with utter belief in his right to leadership while boasting that he knew he would die violently and it could happen at any time.
Assayas is assured in showing how Carlos manipulated people and organisations, and the small details of how he planned and carried out his raids are meticulously examined and made to serve dramatic ends.
He and his cast succeed in bringing the huge number of characters to life, and in Venezuelan actor Ramirez he has found a performer who captures the man's enormous ego, considerable charm and manifest criminality. Carlos gives voice to idealism and claims his actions are to help the oppressed, but he lives high on the hog and there's always plenty of money, women and luxury.
Venue: Festival de Cannes, Out of Competition; Cast: Edgar Ramirez, Alexander Scheer, Nora Von Walstatten, Ahmad Kaabour, Christopher Bach; Director: Olivier Assayas; Writers: Olivier Assayas, Dan Franck; Directors of photography: Yorick Le Saux, Denis Lenoir; Production designer: Francois-Renaud Labarthe; Costume designer: Jurgen Doering; Editors: Luc Barnier, Marion Monnier; Producer: Daniel Leconte; Production: Film En Stock, Egoli Tossell Film; Sales: StudioCanal; Not rated; running time, 333 minutes.
This review appeared in The Hollywood Reporter.