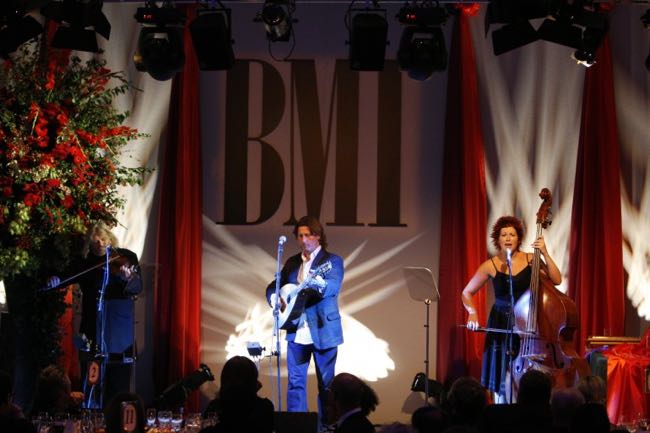 By Ray Bennett
Peter Gabriel was in a philosophical mood as he accepted the accolade of BMI Icon in London this week. The British music industry crowd gave him two standing ovations as he spoke of what the honour means to him.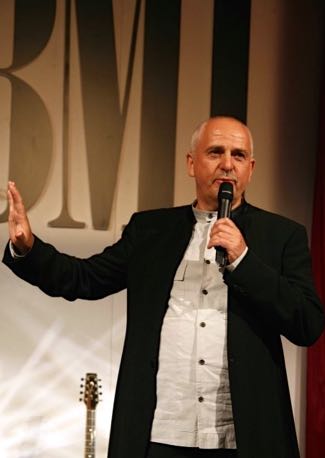 He said, "It means a lot because it's about songwriting. When I realised I was not going to be the world's greatest drummer, that's when I knew it was about the songs. When I saw the list of previous honorees, I'm very proud to be among them."
Other BMI Icons include Ray Davies, Paul Simon, Brian Wilson, the Bee Gees, James Brown, Dolly Parton, Van Morrison, and Crosby, Stills & Nash.
BMI doesn't often have entertainment at its London event but at Gabriel's request, the folk duo Show of Hands – Steve Knightley, Phil Beer, joined by Miranda Sykes (pictured) – performed a lively set that was very well received.
I had a great time at a table with ebullient songwriter Ashley Ingram, left, once of the group Imagination. The British musician and producer cowrote Des'ree's infectiously optimistic hit "You Gotta Be," for which he picked up a prize marking four million plays on American radio.
Ingram is now based in Toronto where he runs a popular music school. He telephoned his mum in Northampton during the evening to tell her about the banquet. He said, "She just wanted to be sure that I hadn't been late getting here."
As the evening wound down, I spotted Alan Price get up to leave. Price, is one of the great songwriters and his song score for the film "O Lucky Man" shamefully did not receive Academy Award recognition. He picked up a prize on the night for 5 million plays of his arrangement of "The House of the Rising Sun" by the Animals. I have almost all his records and I've always wanted to interview him.
I approached him in the spacious lobby of the Dorchester Hotel Ballroom. "I'm a journalist and a lifelong fan … " I said. He didn't say a word. He didn't even look at me. He turned on his heels and scurried off into the night.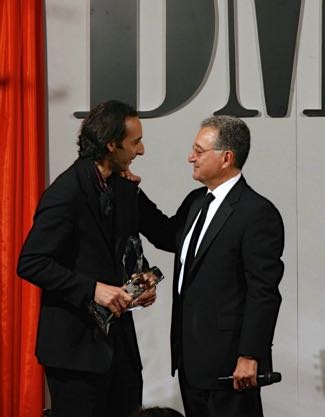 In the awards, Golden Globe-winning composer Alexandre Desplat (pictured left with Del Bryant), Grammy-winning composer David Arnold, and composing brothers Harry and Rupert Gregson-Williams were among the winners.
The film and television music prizes were among honors handed out to members of Britain's Performing Rights Society and other European rights services for top play in the U.S. in 2006 at the American music rights organization's annual London shindig.
"Unwritten," by Danielle Brisebois and Natasha Bedingfield, picked up the Robert S. Musel Award for Song of the Year.
BMI president and CEO Del Bryant at a private gathering ahead of the event, said the non-profit organization has had three consecutive years of record results: "It's been an exceptional year, with $840 million in earnings for performing rights. Radio in the United States is having a rough time and so are record companies. This is a hedge against the problems we're having with the mechanicals."
Bryant reminded Gabriel that the first song he registered with BMI, almost 40 years ago, was titled "Where the Sour Turns to Sweet." The songwriter's songs have appeared in numerous films and he composed the score for Martin Scorsese's "The Last Temptation of Christ" and Phillip Noyce's "Rabbit-Proof Fence".
In this year's film prizes, Desplat was honored for his Golden Globe-winning score for John Curran's "The Painted Veil" and his music for Stephen Frears' "The Queen," which picked up Oscar and BAFTA nominations. The French composer scored Ang Lee's latest, "Lust, Caution," and Chris Weitz's upcoming fantasy adventure "The Golden Compass."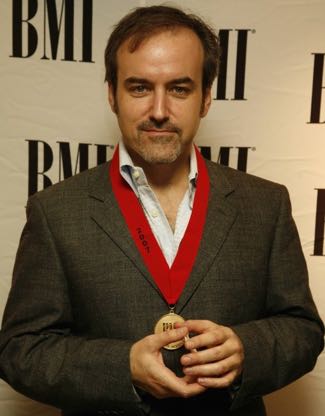 Arnold (left), a Grammy winner for "Independence Day," was cited for his score to "Casino Royale." He composed the music for three previous James Bond films and is on board for the untitled "Bond 22" plus the animated "Agent Crush" and comedy "How to Lose Friends and Alienate People." Arnold, who is also very busy in the pop world working with such acts as the Kaiser Chiefs, has scored TV's "Stargate SG-1" since 1997.
Rupert Gregson-Williams was honored for the Adam Sandler comedy "Click" and DreamWorks Animation's "Over the Hedge." Previous films include "Hotel Rwanda" and "I Now Pronounce You Chuck and Larry." He has Jerry Seinfeld's animated "Bee Movie" just about to open with Paul Weiland's comedy "Made of Honor" and another Adam Sandler comedy, "You Don't Mess With the Zohan," coming up.
Harry Gregson-Williams won for the Aardman/DreamWorks animated film "Flushed Away" and Tony Scott's Denzel Washington thriller "Deja Vu." His credits include such DreamWorks hits as "Antz" (1998), "Chicken Run" (2000), and "Shrek" (2001) with John Powell. He scored "The Chronicles of Narnia: The Lion, the Witch and the Wardrobe" (2005) and he is at work on "The Chronicles of Narnia: Prince Caspian" due in 2008, both directed by Andrew Adamson for Walt Disney.
Also honored was John Murphy for Michael Mann's "Miami Vice." His credits include Danny Boyle's "28 Days Later" and "Sunshine," and Juan Carlos Fresnadoillo's "28 Weeks Later." Edward Shearmur ("Factory Girl," "The Other Boleyn Girl") was recognized for his Emmy-winning music for the TV series "Masters of Horror."
The BMI TV awards went to Pete Townshend for the three "CSI" series, and also to "Grey's Anatomy" and "House," with cable prizes going to "Dexter" and "The Hills."
2007 BMI LONDON AWARDS
Film Music
"Casino Royale," David Arnold (PRS)
"Click," Rupert Gregson-Williams (PRS)
"Deja vu," Harry Gregson-Williams (PRS)
"Flushed Away," Harry Gregson-Williams (PRS)
"Miami Vice," John Murphy (PRS)
"Over the Hedge," Rupert Gregson-Williams (PRS)
"The Queen," Alexandre Desplat (SACEM)
TV Music
"CSI," Pete Townshend (PRS)
"CSI: Miami," Pete Townshend (PRS)
"CSI: NY," Pete Townshend (PRS)
"Grey's Anatomy," Carim Clasmann (PRS), Galia Durant (PRS)
"House," Robert Del Naja (PRS), Grantley Marshall (PRS), Andrew Vowles (PRS)
Cable Awards
"Dexter," Rolfe Kent (PRS)
"The Hills," Natasha Bedingfield (PRS)
Emmy Award
"Masters of Horror," Edward Shearmur (BMI)
Golden Globe Award
"The Painted Veil," Alexandre Desplat (SACEM)
The Robert S. Musel Award
"Unwritten," Natasha Bedingfield (PRS), Danielle Brisebois (BMI)
EMI Music Publishing Ltd. (PRS)
Natasha Bedingfield
College Song
"Crazy"
GianFranco Reverberi (SIAE), GianPiero Reverberi (SIAE), Cee-Lo Green (BMI)
Universal Music Publishing Ricordi srl (SIAE)
Warner/Chappell Music Publishing Ltd. (PRS)
Gnarls Barkley
Internet Award
"You're Beautiful"
James Blunt (PRS), Amanda Ghost (PRS), Sacha Skarbek (PRS)
Bucks Music Group Ltd. (PRS)
EMI Music Publishing Ltd. (PRS)
James Blunt
Dance Award
"Dare"
Damon Albarn (PRS), Jamie Hewlett (PRS)
EMI Music Publishing Ltd. (PRS)
Gorillaz featuring Shaun Ryder
Here's BMI and more on Gabriel, Show of Hands, and Ingram