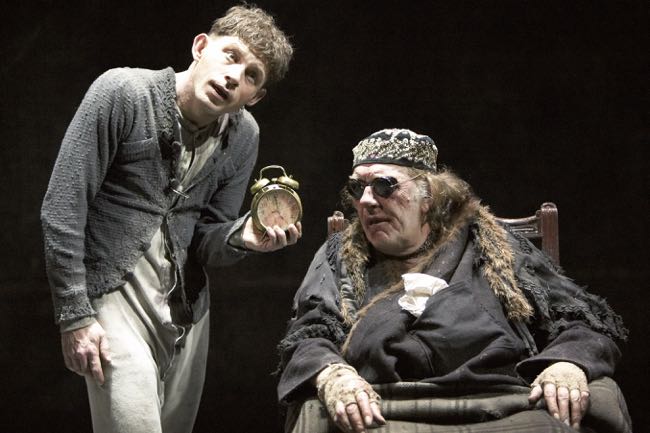 By Ray Bennett
LONDON – John Fowles, author of "The Magus" and "The French Lieutenant's Woman", once pictured Samuel Beckett as he goes home to Mrs. Beckett after a long day spent writing. He puts on his slippers and sits down to supper, and says something like, "Well, dear, found no meaning to life again today."
Which is why it's a profoundly good thing for the playwright's legacy that in this first big West End presentation of "Endgame" in years, it's in the hands of three men who appear gratifyingly to take the play as a riotous piece of nonsense.
If you don't know what's going on before you arrive to see the enigmatic and surreal "Endgame," you won't be any the wiser for seeing it.
Beckett liked to claim that his work was pointless and he even has his characters deride those who seek meaning in who they are or what they do. Most of the audience appear to know the piece, as they might a movement by Brahms, and they are there just to see how well it's played.
For the uninitiated, it's like watching a sport you didn't grow up with in a culture you don't know. You always seem to miss the action and wonder why there's cheering. Or it's like being at a display of modern art where everyone else is nodding, yes, or sighing in awe, but you can't see the faces for the cubes.
The setting for "Endgame" is a high-ceilinged dungeon a bit like the one at Chillon where Lord Byron was a prisoner except the windows are too high up to see out of without a ladder and there are no pillars to be chained to except in the mind.
It's not Lake Geneva outside, however, but a nameless zero in a landscape of nothing as the world is ending. The effect, as has been observed before, is of being inside the skull of the last man alive.
There are four people in the dungeon, two of whom are old, have no legs, and live their dread lives in garbage cans, with the lids on most of the time. They babble about "yesterday" and occasionally ask for a biscuit, but are otherwise ignored and left to die. Beckett laid no claims to subtlety either.
At the center of this sparse post-apocalyptic fragment of nightmarish life is Hamm, a little bit Lear, a little bit Falstaff, and a little bit Mr. Creosote looking for that last wafer thin mint. Wheelchair bound and blind behind dark glasses, and wrapped in nasty looking shawls and blankets with a bloody handkerchief on his head, Hamm bullies all he surveys.
Which is to say he bullies the only other person in the place, Clov, who may be Hamm's son but is certainly his servant and who cannot sit down. Clov runs the larder and controls the painkillers, running his wounded legs at the shriek of Hamm's whistle to give Hamm a ride around the grim floor of the dungeon, or climb the ladder to peer through a telescope at the nothingness outside. But he won't kiss, Hamm, oh no, nor even give him his touch.
They do talk, however, mostly about the meaninglessness of life, the cruelty of an absent God, the emptiness of existence, the wish never to have lived, and the desire to die. The usual things.
Director Matthew Warchus sets everything up behind a huge shabby curtain with drum rolls leading into the action. Lee Evans, who plays Clov, is an eccentric standup comedian and movie star ("Mouse Hunt," "There's Something About Mary") whose comic instincts derive straight from Chaplin and Keaton. Wearing tired longjohns, Evans invents an entirely new way to stand, one that suggests cruciate ligaments irreparably torn, pain constant. With an awkward walk, his extended routine to set up the ladder in order to look out the windows is pure music hall.
Gambon ("Harry Potter and the Prisoner of Azkaban," "Gosford Park") is a giant of the London stage and his Hamm is a vast stricken beast, wailing and railing, and occasionally blithering in piteous nostalgia for things he cannot recall. "Do you believe in the life to come?" he says. "Mine was always that."
With Warchus's help, Gambon and Evans re-invent the play. Beckett wrote it in French and translated it only later into English. Here, it is played in Irish accents and lines such as "You weep and weep for nothing so as not to laugh," take on a mordant humor.
With the Irish music in their voices, Gambon's especially, Beckett's Gallic nihilism becomes a Celtic rage against the dying of the night. Not perhaps what the playwright intended, but a good deal more entertaining.
Venue: Albery Theatre, runs through April 24; Cast: Michael Gambon, Lee Evans, Liz Smith, Geoffrey Hutchings. Playwright: Samuel Beckett; Director: Matthew Warchus; Designer: Rob Howell; Lighting: Mark Henderson; Music: Gary Yershon; Sound: Paul Groothuis; Presented by Sonia Friedman Productions and Matthew Mitchell.
This review appeared in The Hollywood Reporter. Photo by Manuel Harlan.