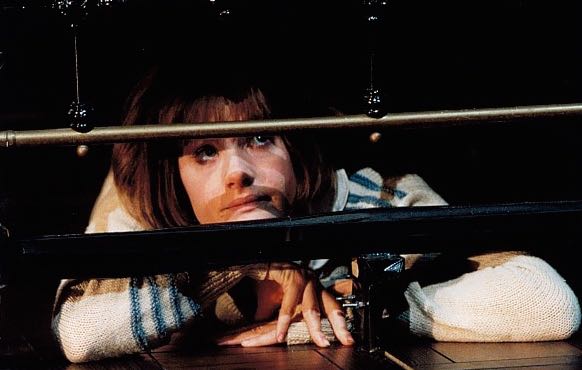 By Ray Bennett
LONDON – In the moving and brilliantly acted new play "Calico" by Michael Hastings, James Joyce's daughter Lucia (Romola Garai, pictured above) falls in love with Samuel Beckett. She is caught, therefore, between a father who uses words too much and a lover who barely uses words at all.
Joyce (Dermot Crowley) and Beckett (Daniel Weyman), however, not only have strange and extraordinary imaginations but also the ability to harness them in the service of famous literary works, and that is called genius. Lucia's fantasies are banal and out of control, and that is called madness.
Garai, in her West End debut, is unforgettable as Lucia. At once juvenile and nubile, she plays incipient madness as something that grips the soul as well as the mind. Her awkward body pines for solace as her imagination races and her tongue spills out words that in the company of geniuses simply tumble into the dirt.
The entire cast is formidable with Crowley's Joyce a half-blind mad poet filled with pain; Staunton's Nora a fireplug of confused outrage; and Weyman's Beckett well-meaning but hapless and ineffectual.
It is 1928, and Joyce and his partner of 23 years, Nora Barnacle (Staunton, pictured below, right, with Crowley and Garai), the mother of his son Giorgio and daughter Lucia, have finally settled in Paris after many restless years of peripatetic exile from Ireland. He has already published "Dubliners", "A Portrait of the Artist as a Young Man" and "Ulysses", works that Nora says, "no-one can read with words no-one understands".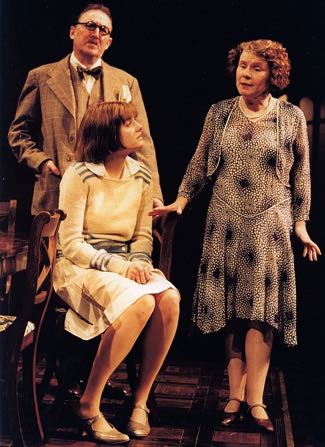 Joyce is working on a massive project that will be called "Finnegans Wake" and even though Lucia is slave to his every whim, he decides he needs a new "secretary of words". Beckett, a sickly 22-year-old lecturer, takes on the unpaid job. Lucia, who is also a modern dancer of the Isadora Duncan ilk, responds by declaring that Beckett is her once and future husband and promptly declares her love.
Her loosening grip on sanity, however, soon has her venture onto the streets of Paris alone in the middle of the night and literally play with fire. In what might have been something like Tourette's syndrome, she is given to sudden bouts of spewing obscenities that she instantly forgets.
She steals into Beckett's room and peels naked before everyone in the family living room as her bewilderment grows. But when she speaks of herself as Mrs. Beckett and of their child together, the young man plays along compassionately. He knows it's fantasy but he fears she doesn't and when he stops playing she's dismayed that he thinks she cannot see it too, and so the circle becomes vicious.
Meanwhile, brother Giorgio, the sanest one of the bunch but an untalented opera singer, is keen to marry a married American whose New York ways outrage Nora.
As Hastings portrays it, the Joyce household is a perfervid hothouse of literary brilliance fanned by lust, guilt and hypocrisy. Nora's admission that she and Joyce never married emerges along with histories of feverish masturbation, hints of whoredom, and intimations of incest. And the question is: will the family break or will Lucia?
Director Edward Hall is masterful in knowing always what to emphasise in a busy play well served by designer Francis O'Connor's sliding, split-level set. The household might be filled with Irish madness but it is played out in very French brass beds and rumpled sheets.
Hastings suggests a tyranny of the brilliantly gifted over the ordinary and untalented. "I only know how to say nothing," Beckett tells Lucia, and our hearts break for her even if his doesn't.
Venue: Duke of York's Theatre, runs through May 29; Cast: Robert Portal, Daniel Weyman, Jamie Beamish, Romola Garai, Dermot Crowley, Imelda Staunton, Issy Van Randwyck, Helen Washington, Elaine Heathfield; Playwright: Michael Hastings; Director: Edward Hall; Designer: Francis O'Connor; Lighting: Ben Ormerod; Sound: Matt McKenzie for Autograph; Music: Mick Sands; Movement: Cathy Marston; Presented by Sonia Friedman Productions, Maidstone Productions and Matthew Mitchell.
This review appeared in The Hollywood Reporter.