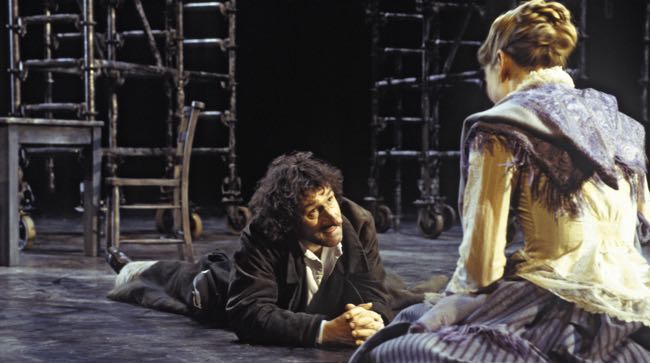 By Ray Bennett
LONDON – There are many things that need to be right in a production of "Cyrano de Bergerac" and among the most essential, right off, is Cyrano's nose. If we don't buy the poet's prominent proboscis, we won't buy his poetry or his panache.
Jose Ferrer had an Oscar-winning nose in the 1950 movie; Steve Martin's was rapier-like to match his wit in the 1987 "Roxane"; and Gerard Depardieu's was robustly Gallic in the 1990 "Cyrano."
In the National Theatre's new production, Stephen Rea has a rough and ready olfactory device reminiscent in its ruggedness of another Academy Award-winning snout, the strapped-on attachment worn by Lee Marvin as Kid Shelleen's evil twin brother Strawn in "Cat Ballou."
It's a completely successful nose, however, that is emblematic of a street-smart and enthusiastically vulgar adaptation of Edmond Rostand's play by Irish poet Derek Mahon. Under Howard Davies's rudely vigorous direction, the setting becomes an incongruous but fascinating melding of County Down and Gascony.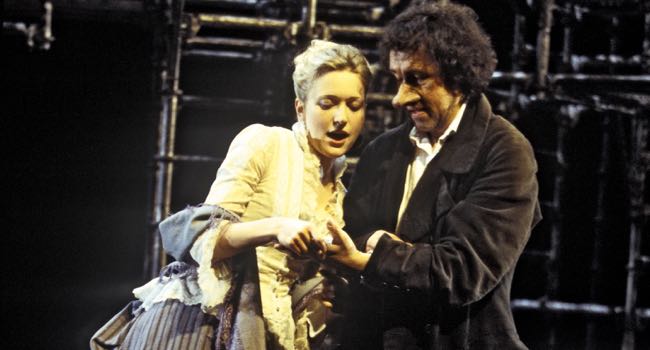 The stage is dominated by a vast scaffold construction like an immense set of monkey bars on which the players prance and dance, tumble and fight. It becomes a fortress, a theatre, or a mansion. At times it appears to be a giant space station out of "Star Trek" and that's fitting as the story does not appear fixed in time
Stephen Rea's Cyrano is less of a stylish Gascon swashbuckler and elegant wit and more of a Northern Irish roughneck who's handy with cutting blade and quick tongue. Rea's world-weary demeanor and hangdog expression work well with Mahon's obscenity-laced verse and his romantic odes to the lovely Roxane (Claire Price, pictured with Rea) are laced with pessimism.
Cyrano is an obstinate man. "I like to be difficult; hostility keeps my backbone straight," he says. He duels ruthlessly with any man who mentions his extreme features and keeps the Cadets de Gascogne well contained with his humor and willingness to brawl.
Roxane alone gets under his skin. "A star danced at her birth," he says. But he believes she could never love him so when she falls for the inarticulate but handsome cadet Christian, Cyrano gladly spins the golden phrases that win her heart.
These, too, reflect a working-class sensibility and when Cyrano stands in for Christian in the famous balcony scene, calling up to her from the shadows below her window, Rea reveals the pain of the impersonation as much as the love within.
Director Davies employs the large space of the National's Olivier stage for big musical numbers involving the cadets' swordsmanship and later creates a spectacular battle sequence with great movement, lighting and crashing sound effects.
William Dudley's inventive set also includes two walkways that reach out over the stalls so that characters emerge speaking from behind the audience. It both enlarges the action and allows for moments of great intimacy.
Aside from Cyrano, few characters stand out from the winning ensemble. Zubin Varla's Christian appears mostly bewildered, both by Roxane's apparent love for him and the threat of death. Malcolm Storry delivers the snap and arrogance of Count de Guiche, who also covets Roxane. Claire Price makes the object of everyone's attention flighty and fractious at first but she grows to be quite moving in her understanding and acceptance of what fate hands her.
But it's Rea and his feeling for words that make this "Cyrano" memorable. He speaks his lines as if making them up on the spot and while romantics may wish for a lighter, more debonair character, his wry and rueful countenance rings true.
Venue: National Theatre, runs through June 24; Cast: Cast: Stephen Rea, Claire Price, Zubin Varla; Malcolm Storry, Anthony O'Donnell, Nick Sampson, Katherine Manners; Playwright: Edmond Rostand, a new version by Derek Mahon; Director: Howard Davies; Set designer: William Dudley; Costume designer: John Bright; Music: Dominic Muldowney; Movement and dance: Christopher Bruce; Fight director: William Hobbs; Lighting designer: Paul Anderson; Sound designer: Paul Groothius; Company voice work: Patsy Rodenburg.