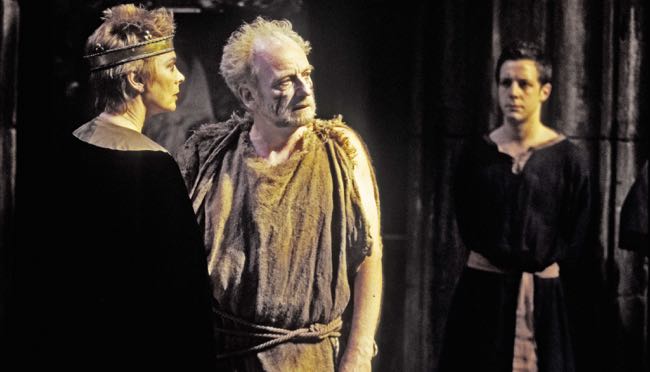 By Ray Bennett
LONDON – It's a not so fine madness that has an unnamed present day Italian aristocrat believing for 20 years he is the medieval German King Henry IV in Luigi Pirandello's steely fable, here in a new version by Tom Stoppard.
It was a fall from a horse while dressed as the Teutonic monarch during a pageant that brought on the delusion that has led to the loss of his lover, Matilda (Francesca Annis), to his rival Belcredi (David Yelland) and a life of pampered seclusion.
It is to his theatrically dressed home that a group including Matilda, Belcredi and a psycho-babbling shrink arrives intending to shock him out of his bewilderment. Since Himself, as his acolytes refer to the nobleman, is known to be fixated on a portrait of Matilda dressed as a medieval duchess, the notion is to surprise him with the very much alive Matilda along with her look-alike daughter Frida in period costume.
Pirandello's great joke, embellished usefully by Stoppard, is that, once the conspirators are out of earshot, Himself bellows: "What a bunch of wankers!" In fact, he has been recovered from his madness for eight years but chooses to perpetuate the illusion of his delusion: "I decided to stay mad, to live as a madman of sound mind."
Still, he allows the conspirators to act out their own pageant and the issue of masks and madness becomes profound leading to an act of violence that shatters any complacency on the matter.
Christopher Olam's imposing set, spare but with tall columns; Adam Cork's spirited music and sound score; and the mix of Olam's period costumes and Armani modern dress, combine to put the senses successfully off kilter.
Francesca Annis, as the vain but anxious Matilda, and David Yelland, as her elegantly jealous lover Belcredi, smack of cocktails in St. Moritz and contrast nicely with the sackcloth-clad "madman".
When Ian McDiarmid enters as "Henry IV," he appears frail and lost, his voice plaintive but cunning and high like Maggie Thatcher's. He simpers in his pretended insanity but bemoans his fate and keeps potential violence close to the surface. When he sheds his pretence, the emergence of a forceful and vengeful man is vivid and convincing.
Stoppard loves to entertain and he writes brilliantly for actors. McDiarmid takes his words and captivates entirely with his grasp of the subtleties between pretended madness and pretended sanity, and the treacherous gulfs between the two.
In director Michael Grandage's firm hands, with ample use of the Donmar space, memories of the fancy-dress show where the fateful fall took place are seen from different viewpoints and life's own rich and complex pageant is explored in the process. "The life we live as puppets," sighs the king. What at first seems like a flight of fancy as a rich man indulges himself in games becomes a powerful examination of the way people masquerade as something other than their true selves while not always knowing who they really are.
Venue: Donmar Warehouse, runs through June 26; Cast: Ian McDiarmid, James Lance, Stuart Burt, Neil McDermott, Nitzan Sharron, Brian Poyser, Orlando Wells, David Yelland, Robert Demeger, Francesca Annis, Tania Emery; Playwright: Luigi Pirandello, a new version by Tom Stoppard; Director: Michael Grandage; Set & costume designer: Christopher Oram; Contemporary wardrobe: Giorgio Armani; Lighting designer: Neil Austin; Music & sound score: Adam Cork; Sound designer: Fergus O'Hare. Presented by the Donmar Theatre, supported by Stuart and Hilary Williams.
This review appeared in The Hollywood Reporter. Photo by Ivan Kyncl.