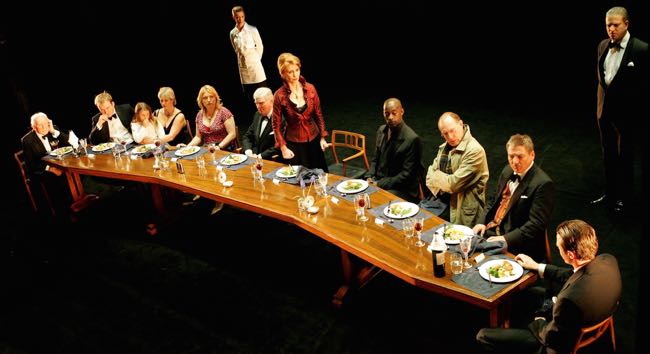 By Ray Bennett
LONDON – Thomas Vinterberg's "Festen," a deeply affecting 1998 Danish film about the birthday party from hell, has been adapted into an emotionally shattering play in the hands of London's Almeida Theatre Company.
Dramatized by David Eldridge and directed by Rufus Norris, "Festen" holds to the disciplined form of Vinterberg's "Dogme" philosophy and with cleverly balanced scenes, masterful stagecraft and brilliant acting provides a superb evening of theater.
The setting is a country house where a rich man named Helge (Stephen Moore) is marking his 60th birthday and has gathered his family, friends and colleagues for a weekend of celebrations. Pompous and full of self-regard, Helge requires his guests to fawn over him and play traditional games that make him the center of attention and respect despite the strain on the enforced gaiety caused by the recent suicide of his eldest daughter, Linda.
Helge is encouraged by his dutiful and blinkered wife Else (Jane Asher) and his youngest son Michael (Rory Kinnear) whose boorish behavior has blackened his reputation to the point of not being formally invited to the birthday party.
But the dead woman's twin brother Christian (Luke Malby) is not prepared to allow his father's festivities to pass without comment. When it's his turn to make a toast, Christian offers his father a choice of two speeches he might make. Helge indulges his son confidently but is unprepared for the storm about to be unleashed.
With a fury made greater by lifelong repression, Christian reveals how his father routinely and unrepentantly raped and abused him and his sister as they grew up, and was responsible for Linda's death.
What becomes just as shocking is that the father absorbs these accusations blithely and his wife barely notices them as Christian is hustled away by Helge's associates and Michael, who is ever willing to ingratiate himself.
Hypocrisy has such a grip on these people that they resort to the formalities of the occasion to gloss over Christian's outburst even when he returns to the gathering to repeat and expand them.
Following the structure of the film, Eldridge is able to make the proceedings even more powerful on stage than onscreen due to the immediacy of some extraordinary acting. Given how busy the story is in following the arrival of various guests and their own reactions over the weekend, it's astonishing how clearly Norris keeps things. Several characters deliver their own two-handed dialog within the same setting and it's never confusing. As the tension grows and the family begins to tear itself apart, the play becomes more gripping than any thriller that comes to mind.
Malby and Kinnear are breathtaking as very different brothers who confront the rotten core of their upbringing in opposite ways. But the entire cast is splendid and designer Ian MacNeil is to be credited with making the settings both manageable and nightmarish.
Venue: Lyric Theatre, runs through Jan. 15; Cast: Luke Mably, Lisa Palfrey, Rory Kinnear, Andrew Maud, Claire Rushbrook, Jane Asher, Stephen Moore, Ruth Millar, Michael Thomas, Sam Beazley, Sam Cox, Andrew Frame, Patrick Robinson, Sinead Goodall, Clemmie Hooten, Alice Knight; A dramatization by David Eldridge based on the Dogme film and play by Thomas Vinterberg, Mogens Rukov and Bo Hr. Hansen; Director: Rufus Norris; Designer: Ian MacNeil; Costume designer: Joan Wadge; Lighting: Jean Kalman; Music: Orlando Gough; Sound: Paul Arditti; Almeida Theatre Production presented by Marla Rubin and Bill Kenwright.
This review appeared in The Hollywood Reporter. Photo by Keith Pattison.