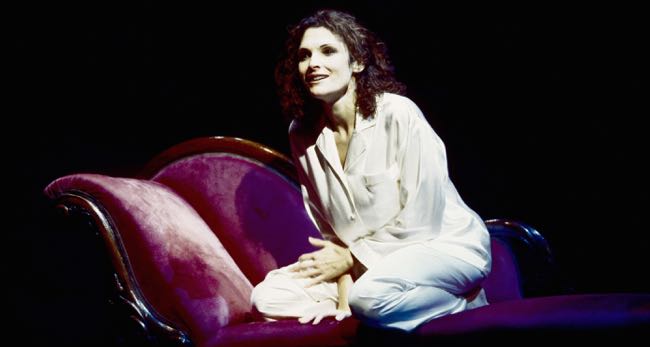 By Ray Bennett
LONDON – Few places can match the buzz and excitement of a big city hotel lobby and that electric air of expectation is fully caught in the opening number of Michael Grandage's scintillating restaging of "Grand Hotel: The Musical."
On an empty stage with a backdrop of images redolent of Berlin between the wars, Grandage, designer Christopher Oram and choreographer Adam Cooper move a large cast in and out of the spotlight to create a spellbinding mix of words, music and dance.
Drawn from Vicki Baum's novel and the 1932 movie starring Greta Garbo and Joan Crawford, the musical made its first appearance in 1958 with music and lyrics by Robert Wright and George Forrest. In the late '80s, Tommy Tune turned it into a long-running Broadway spectacular with additional music and lyrics by Maury Yeston.
Grandage's new, pared-down production at the Donmar Warehouse eliminates everything but the costumes and lets the music and action take over. With overlapping songs and dialog, the many characters are succinctly introduced, some of them glamorous and sophisticated, others poor and naive, but all of them hungry and needing something, mostly cash.
There is a retired army doctor (Gary Raymond) who meets his daily needs via a needle in his arm. His dissolute eyes monitor the daily flux of guests and each evening he elects to stay on at the Grand Hotel for just another day. "Life is not a tramcar you can run after and catch," he cautions.
Mary Elizabeth Mastrantonio (pictured) is the ageing ballerina Elizaveta Grushinskaya, the Garbo role, on her eighth farewell tour and forced to dance yet again because the money is running out. She falls for the smooth Baron Felix (Julian Ovenden), unaware that he is out to steal her jewels to settle gambling losses. Mastrantonio has a show-stopping number, "Bonjour Amor," in which she beautifully captures the essence of a woman rediscovering love but fearful of putting too much trust in it.
The Baron has also befriended a young typist (Helen Baker in the Crawford role) who is pregnant and has reluctantly accepted the generosity of a bloated businessman (Martyn Ellis) who wants more for his money than typing.
A popular fellow, the Baron has also taken under his wing a Jewish bookkeeper (Daniel Evans) who has cashed in his savings and moved to the Grand Hotel to die.
The stories interweave with lively breaks every now and then for a Charleston or athletic tap-dance by cabaret performers Paul Hazel and Joseph Noble. While leaning towards soap opera, the stories hold up and thanks to the eye-pleasing design and movement and some splendid singing, this 1920s Berlin hotel is positively grand.
Venue: Donmar Warehouse, runs through Feb. 12; Cast: Mary Elizabeth Mastrantonio, Gary Raymond; Julian Ovenden, Helen Baker, Martyn Ellis, Daniel Evans, Paul Hazel, Joseph Noble; Book: Luther Davis; Music & lyrics: Robert Wright & George Forrest; Additional music & lyrics: Maury Yeston; Based on: Vicki Baum's "Grand Hotel" by arrangement with Turner Broadcasting Co.; Director: Michael Grandage; Designer: Christopher Oram; Lighting designer: Hugh Vanstone; Choreographer: Adam Cooper; Musical director: Jae Alexander; Sound designer: Terry Jardine for Autograph.
This review appeared in The Hollywood Reporter.