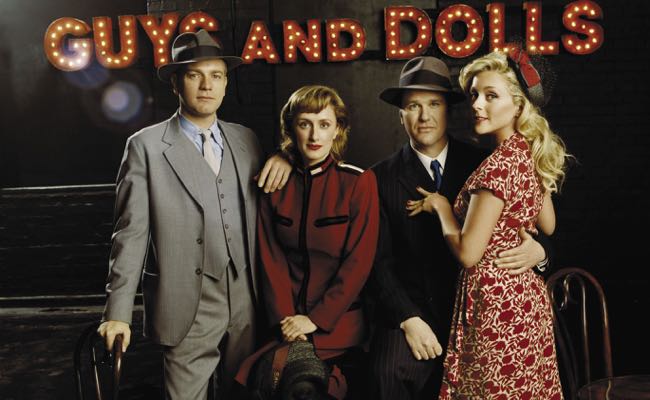 By Ray Bennett
LONDON – Movie star Ewan McGregor has chosen well for his West End musical debut as Frank Loesser's American classic "Guys and Dolls" spreads the heavy lifting across the entire cast and director Michael Grandage has assembled a splendid ensemble in a winning production.
Loesser's melodic songs boast very clever and often funny lyrics and the show is greatly helped by a solid book by Jo Swerling and Abe burrows. The colorful Broadway characters created by Damon Runyon are softhearted bad guys and goodhearted bad girls, and every one's a dreamer.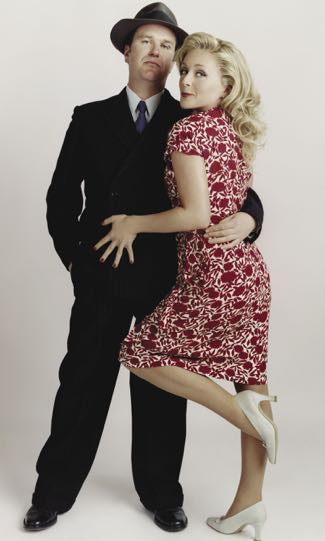 McGregor (above left) plays Sky Masterson, the role Marlon Brando played in the 1955 movie, with Douglas Hodge as Nathan Detroit, the Frank Sinatra part. They are both gamblers but while Masterson's expertise clads him in fine suits and takes him to exotic places with glamorous women, Detroit is an amiable loser just savvy enough to run "The Oldest Established Permanent Floating Crap Game in New York," which provides for one of the big numbers in the show.
Detroit has run out of places to hold his crap game and he badly needs $1,000 to pay for a place. Fortunately, Masterson is attracted to complicated wagers and when Detroit bets that he cannot get a woman of his choosing to accompany the charmer to Havana, Cuba, he accepts.
The woman in question, however, is a sergeant in the Salvation Army named Sarah Brown (Jenna Russell, pictured above second left) and Masterson's work is cut out for him. There's as much chance of him getting the sergeant to Havana as there is of Detroit's long-time fiancé Adelaide (Jane Krakowski, above with Hodge) getting the lug to the altar.
The quartet of star-crossed lovers sing and dance their way through several of the best show tunes that ever caused an audience to hum itself out of a theater before the predictably sentimental finale.
McGregor can certainly carry a tune and he hits the high notes as required. He delivers his big number, "Luck Be a Lady" with enormous brio. He can also hoof well enough not to cause havoc with the dancers but his main contribution is his considerable star wattage and immediate likeability.
Hodge has the affably rumpled look of a Bowery Boy who can sing and dance, and he presents a pleasing combination of blustering buffoon and winsome innocent.
Russell is sweetly convincing as she goes from straight-laced missionary to rum-fueled wild-girl in the pulsating number "Havana," and makes Masterson's passion for her believable.
Krakowski, a Tony winner and former costar in TV's "Ally McBeal," is the biggest crowd pleaser with some of the sexiest and most entertaining tunes including "Adelaide's Lament" about how being in love can give you a cold.
The show stopper "Sit Down You're Rocking the Boat." delivered by the entire cast led by Martyn Ellis as Nicely Nicely Johnson, is placed conveniently toward the end, guaranteeing that the audience will leave the theater not just humming but dancing.
Venue: Piccadilly Theatre, runs through March 4;  Cast: Ewan McGregor, Jane Krakowski, Douglas Hodge, Jenna Russell, Martyn Ellis, Cory English, Niall Buggy, Patrick Brennan, Sevan Stephan; Music & lyrics: Frank Loesser; Book: Jo Swerling and Abe Burrows; Based on a story and characters of Damon Runyon; Director: Michael Grandage; Designer: Christopher Oram; Choreographer: Rob Ashford; Lighting designer: Howard Harrison; Donmar Warehouse Production presented by Howard Panter for Ambassador Theatre Group, David Ian for Clear Channel Entertainment in association with Tulchin/Bartner Productions, Arielle Tepper and David Binder.
This review appeared in The Hollywood Reporter.