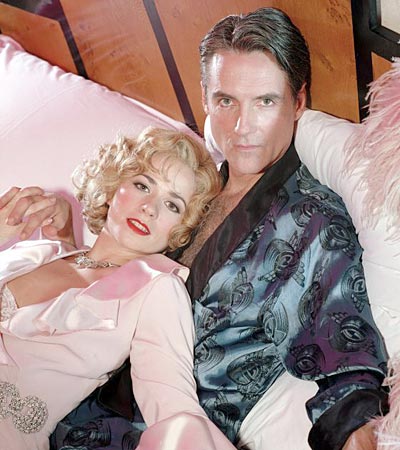 By Ray Bennett
LONDON – Such is the current taste for musicals built around well-known pop songs that one with larger ambitions, such as "Beautiful and Damned," comes as a surprise.
If what you seek from a musical is to be able to leave humming an instantly catchy tune, then this one is not for you but it remains sumptuous entertainment with fine performances, splendid song-and-dance numbers and gorgeous design and costumes.
Kit Hesketh Harvey's book draws on popular knowledge of '20s writer F. Scott Fitzgerald (Michael Praed) and his wife and muse Zelda (Helen Anker, pictured with Praed). He becomes, as someone says, America's greatest novelist and she becomes America's greatest novelty. They meet when Zelda is 18, a Southern belle who is "the provocative center of every party." Scott is from Eastern stock with poetry in his soul and alcohol in every other body part.
We follow as they marry and take off on a whirlwind journey that is part moveable feast and part giant bender as Fitzgerald's novels reflect the giddiness of the Jazz Age. From the suffocating South to the freedoms of Paris and the Riviera, we see American ex-pats at play and meet the likes of Ernest Hemingway.
It is all framed in the context of a heartbroken and bewildered Zelda locked up in a psychiatric institution grappling with the conundrum that her own writing talent may have been what made Fitzgerald and destroyed her. It sounds like heavy stuff, and it is. The musical numbers often spark out of deep drama and that's not the easiest task for Les Reed and Roger Cook, who wrote the music and lyrics.
The lack of twinkling melodies may ultimately doom the show but the songs are sturdy with evocative lyrics and they are well sung. Michael Praed looks the part of the dashing young writer as captivated with himself as he is with the beautiful Zelda but also as brutal as any self-possessed writer can be. Helen Anker conveys Zelda's carefree spirit with zest and poignantly captures the warped path it takes to brazen exhibitionism and self-destruction.
Director and choreographer Craig Revel Horwood keeps a vivacious cast very busy with some big production numbers to balance the intimate moments. David Burt adds fine support as both Zelda's father and a snarling Hemingway, and Susannah Fellows, as Zelda's mother, and Heather Douglas, as a friend, catch the spirit of things nicely.
Most impressive is the look of the production whether it's an Alabama garden complete with magnolia blossoms and Spanish moss, the Biltmore and Astoria hotels, Cap d'Antibes or Hollywood. They used to say that an audience never left a show whistling the costumes, but Christopher Woods' design is so pleasing to the eye that it does almost make up for songs that aren't quite as captivating.
Venue: Lyric Theatre Hammersmithm, runs through Aug. 14; Cast: Michael Praed, Helen Anker, David Burt, Susannah Fellows, Valerie Cutko, Heather Douglas, Katie Foster-Barnes; Original concept: Roger Cook and Les Reed; Music & words: Les Reed & Roger Cook; Book: Kit Hesketh Harvey; Additional material: Laurence Myers; Director and choreographer: Craig Revel Horwood; Designer: Christopher Woods; Lighting designer: Nick Richings; Sound designer: Nick Lidster for Autograph; Wigs designer: Richard Mawbey; Presented by Laurence Myers in association with Charles, Mary & Julian Dobson by arrangement with Really Useful Theatres.
This review appeared in The Hollywood Reporter.