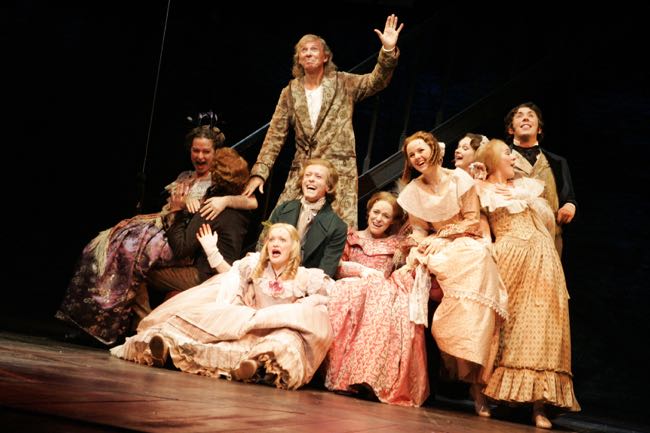 By Ray Bennett
LONDON – Tommy Steele was Britain's first rock and roll star in the 1950s and while his music was more pop than rock he claimed a lifelong place in the affections of British fans that makes his unlikely casting in the title role of "Scrooge" a charming success.
Steele has retained the cheeky effervescence of his upbringing in London's East End so that he never convinces as Charles Dickens' nasty old miser but it really doesn't matter. Over the decades, he has transformed himself into a winning entertainer so that there's even a plaque in the celebrated Palladium Theatre hailing him for headlining more shows than anyone else on that star-studded stage.
With his toothy grin and habitual blink, Steele remains spry at a year less than 70, and both his comic timing and pleasing voice are in fine fettle. He carries the production just as Oscar-nominated Albert Finney did in the original 1970 film version.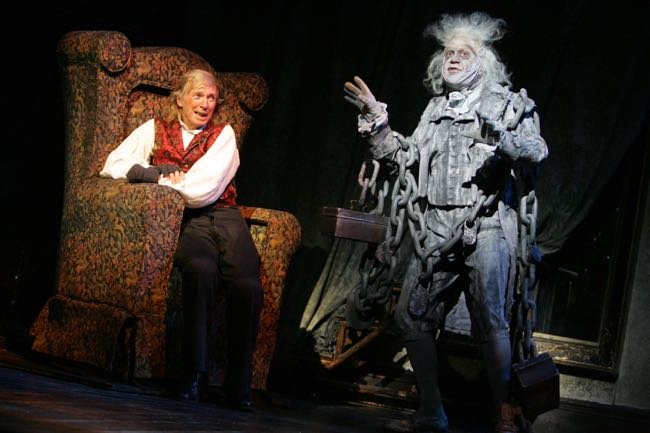 Leslie Bricusse also was Oscar-nominated for the film's script and music, and for the show's most tuneful song, "Thank You Very Much." It wasn't performed onstage until 1992 with Bricusse's former partner Anthony Newley in the cast.
Their partnership, of course, produced an array of wonderful songs from the stage hits "Stop the World, I Want to Get Off" and "The Roar of the Greasepaint, the Smell of the Crowd." Newley was performing the latter on Broadway when Steele was starring there in "Half a Sixpence."
Bricusse without Newley, however, is less than half the whole team but stage director Bob Thomson injects more oomph into the proceedings than Ronald Neame managed with the film.
Illusionist Paul Kieve has been brought in to make the appearance of the familiar ghosts quite spectacular and Barry Howard, Gemma Page, James Head and Ian Sanders make the most of them although Sanders is hidden beneath the mask of a giant grim reaper. A large cast of children also adds to the fun.
Like Bricusse, designer Paul Fansworth spurns the darker aspects of Dickens' tale, preferring to emphasize the more appealing aspects of the Christmas story. Choreographer Lisa Kent's dance arrangements are similarly breezy and the whole show is designed less as an examination of Victorian poverty than an occasion for carol singing and jollity.
As such, so long as Steele is around to keep things merry, "Scrooge" will continue as one of the warmer chestnuts of season.
Venue: London Palladium, runs through Jan. 14; Cast: Scrooge: Tommy Steele, Barry Howard, Glyn Kerslake, Tom Solomon, Claire Parrish, Alex Gaumond, Gemma Page, James Head, Susan Humphris, Laurence Belcher; Book, music & lyrics: Leslie Bricusse based on "A Christmas Carol" by Charles Dickens; Director: Bob Tomson; Design: Paul Farnsworth; Illusions: Paul Kieve; Choreography: Lisa Kent; Lighting design: Nick Richings; Sound design: Mick Potter; Musical director: Stuart Pedlar; Presented by Bill Kenwright.
This review appeared in The Hollywood Reporter.