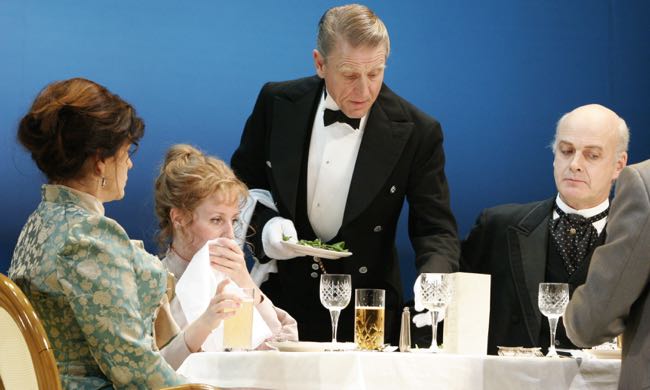 By Ray Bennett
LONDON – Anyone who has seen "Pygmalion" (or "My Fair Lady") will know what kind of sexual politics to expect from George Bernard Shaw's less well-known and well-crafted but similarly engaging comedy of manners, "You Never Can Tell," now at London's Garrick Theatre.
The play might lack characters as fully formed as Henry Higgins and Eliza Doolittle, but in the hands of director Peter Hall and with a fine cast topped by the reliably entertaining Edward Fox (pictured above centre), it holds up remarkably well.
Coincidence plays a large part in Shaw's tale of an exiled woman named Mrs. Clandon (Diana Quick) and her three children who return to England with a desire to re-enter polite society only to discover that this is hindered by their lack of a husband and father.
Gloria (Nancy Carroll, below centre) is especially keen to acquire respectability. A charming young dentist named Valentine (Ryan Kiggell) woos her and there also is on hand a gruff and difficult gentleman called Mr. Crampton (Ken Bones), who might fit the bill. Mrs. Clandon and Mr. Crampton: could there be a connection?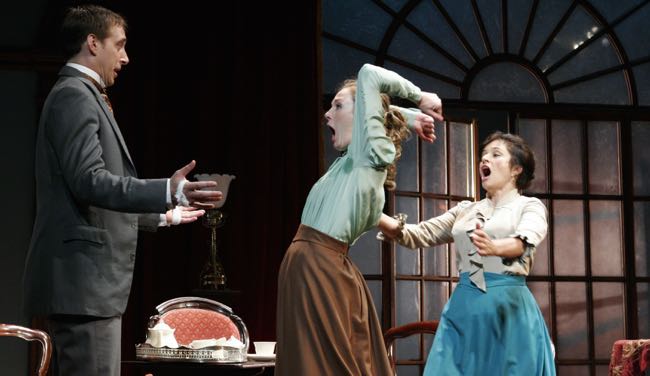 The primary setting is a quite proper English seaside hotel, which explains the presence of an exceedingly proper and supremely wise waiter played by Fox, who anticipates every mundane need and usually has the solution to the most difficult questions.
There are some echoes of "The Importance of Being Earnest" in the plot although Shaw's touch lacks the genius wit of Oscar Wilde. He does imbue his characters with unexpected traits, however, and both Kiggell and Carroll have fun with their roles as sweethearts who are a bit more calculating than they at first seem.
Quick brings her usual power to the part of the forgetful mother and Bones is convincing as a man who compartmentalizes his life. The coincidences might prove too much if not for their conviction and blithe way with prickly dialogue.
Fox is a comedic master who can deliver lines that seem to well up from deep inside a mischievous mind and emerge fully formed with a sting in their tail. Matthew Dunphy and Sinead Matthews, who are delightful as Mrs. Clandon's ingenious twins, match Fox's experienced grasp of the absurd.
Matthews, especially, has wonderful comic timing and a unique vocal delivery that one day might inspire a clever writer to build a character around her so she may become the star she is certainly destined to be.
Venue: Garrick Theatre, runs through March 11; Cast: Edward Fox, Diana Quick, Ken Bones, Nancy Carroll, William Chubb, Matthew Dunphy, Ryan Kiggell, Sinead Matthews, Michael Mears; Playwright: George Bernard Shaw; Director: Peter Hall; Scenic designer: Kevin Rigdon; Lighting designer: Peter Mumford; Costume designers: Kevin Rigdon, Trish Rigdon; Sound designer: Gregory Clarke; Theatre Royal Bath Productions presents the Peter Hall Company production.
This review appeared in The Hollywood Reporter.