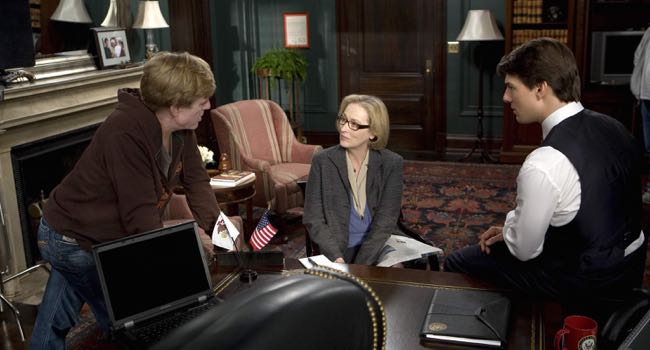 By Ray Bennett
LONDON – The title of Robert Redford's "Lions for Lambs" comes from a comment made by a German officer in World War I about the bravery of British soldiers compared to the criminal stupidity of their commanders.
The film, which had its world premiere Monday at the London Film Festival, makes clear that Redford feels the same way about the current political leadership of the U.S. and the men and women now fighting and dying in the name of their country.
In sober and unemotional fashion, Redford and writer Matthew Michael Carnahan set out the arguments for and against America's military incursions in Iraq and Afghanistan, leaving it for the audience to ponder a response. They leave no doubt, however, where they stand.
Box office response to films that deal with the U.S. government's strategies in the Middle East so far suggests that the public is not eager to grapple with the topic onscreen. Redford's film will appeal to those who feel that today's military sacrifices are being made on false premises, but its responsible tone could draw a more widely appreciative audience.
Clocking in at about 90 minutes, the film has three settings, two of which involve discussions on the merits of commitment to activism and politics far removed from the field of battle. The third shows two Special Forces volunteers trapped on a snowy mountain in Afghanistan and surrounded by the enemy.
Redford plays Dr. Stephen Malley, a lecturer at an unnamed California university, who is attempting to persuade a bright but undisciplined student named Todd (Andrew Garfield) that he should apply his talents to help solving the problems of the day.
Meryl Streep is Janine Roth, a veteran television reporter whose skills include taking shorthand and the ability to land an exclusive interview with hotshot Sen. Jasper Irving (Tom Cruise). Irving has his eye on the White House, and what he has to reveal is a new strategy that involves sending small Special Forces teams deep into mountainous territory to prevent Sunni and Shia insurgents from uniting.
In fact, that strategy has already been launched. When a Chinook helicopter attempts a landing in a dangerous area, it comes under fire and two soldiers are pitched out into harm's way. Arian Finch (Derek Luke) and Ernest Rodriguez (Michael Pena), both from deprived communities but believers in the American Dream, are exactly the kind of youngsters that Malley lionizes.
The film cuts back and forth among the three scenarios as the senator tries to convince the reporter that his way is right, the professor does the same with the student and the two grunts try to stay alive.
The debate between the politician and the journalist comes off best as both actors get under the skin of their characters, with Cruise snapping out details with charming efficiency and Streep showing the reporter's increasing skepticism with typical subtlety.
Pena and Luke are fine in a classroom sequence that reveals their selfless idealism, and they do what's required in combat scenes made uglier by also being viewed via satellite.
Redford wears his heart on his sleeve in the scenes between the professor and the effortlessly smart kid. Garfield is also fine, but the encounter suffers from being polemical and as a result lacks drama.
Politicians, the media, educators, military commanders and a docile public all come under fire in a well-made movie that offers no answers but raises many important questions.
Cast: Robert Redford; Meryl Streep; Tom Cruise; Peter Berg; Michael Pena; Derek Luke; Andrew Garfield; Director: Robert Redford; Screenwriter: Matthew Michael Carnahan; Director of photography: Philippe Rousselot; Production designer: Jan Roelfs; Music: Mark Isham; Costume designer: Mary Zophres; Editor: Joe Hutshing; Producers: Robert Redford, Matthew Michael Carnahan, Andrew Hauptman, Tracy Falco; Executive producers: Tom Cruise, Daniel Lupi, Paula Wagner. Running time, 92 minutes.