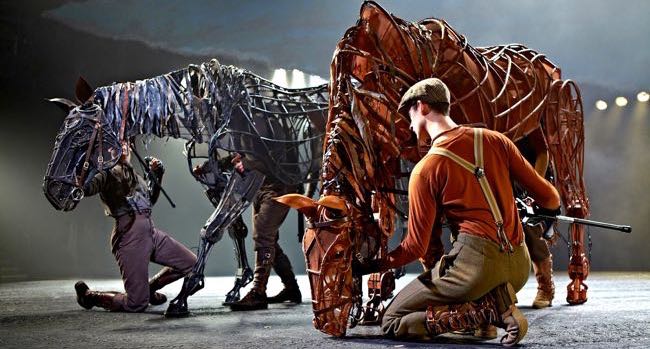 By Ray Bennett
LONDON – It's an imposing puppet made of bamboo, nylon, bicycle chain and leather, and its three human operators are clearly visible, but not long into the National Theatre's captivating production of "War Horse," the steed in the title is a living, breathing force onstage.
Playwright Nick Stafford has adapted the popular novel by Michael Morpurgo about a half-thoroughbred hunter named Joey that goes from a Devon farm into the heat of battle in World War I.
The horse relates his adventures in the first person in the book, but Stafford wisely abandons that conceit for the play, letting the story unfold through dialogue. First seen as an awkward foal, Joey is bought at auction by a farmer whose son, Albert (Luke Treadaway), becomes his devoted master.
Sold to the army when war breaks out, Joey ends up in the midst of some of the worst carnage in history as cavalry charges are mown down by machine gun fire. Eight million horses were killed in the First World War, and at every step Joey threatens to become one of them.
Albert enlists at 16 in order to join the yeomanry but instead spends his time trying to survive in the infantry while Joey lands on the other side of the front line. There, he has the great fortune to come under the care of a German officer who loves horses, and his chances of survival become brighter.
The production is a triumph of design, with the marvelous puppets — including several horses, a goose, vultures and even a little girl — rendered not only credible but touching. Created by South Africa's Handspring Puppet Company, each creature is manipulated by three people who make the sounds and provide the subtlest movements to make them all seem real.
Directors Marianne Elliott and Tom Morris combine realistic drama with sublime surrealism to convey the rustic warmth of the Devon countryside and the stark clamor of the battlefield. Designer Rae Smith keeps the stage bare using a black backdrop with a vast white slash on which animated images show ships at sea and troops advancing.
Paule Constable's lighting design and Christopher Shutt's sound design are essential elements in the power of the production, helped greatly by Adrian Sutton's evocative music and John Tams' appropriate folk songs.
Treadaway as Albert, Thusitha Jayasundera as Albert's mother and Angus Wright as the caring German officer stand out among the humans, but it is the spectacular horses that make this show a surefire hit.
Venue: National Theatre, runs through Jan. 12; Cast: Luke Treadaway; Jamie Ballard; Thusitha Jayasundera; Angus Wright; Playwright: Nick Stafford; Based on the novel by: Michael Morpurgo; Directors: Marianne Elliott and Tom Morris; Set designer: Rae Smith; Puppets: Basil Jones and Adrian Kohler; Lighting designer: Paule Constable; Music: Adrian Sutton; Video designers: Leo Warner and Mark Grimmer; Sound designer: Christopher Shutt; Presented by the National Theatre in association with Handspring Puppet Company.
This review appeared in The Hollywood Reporter.