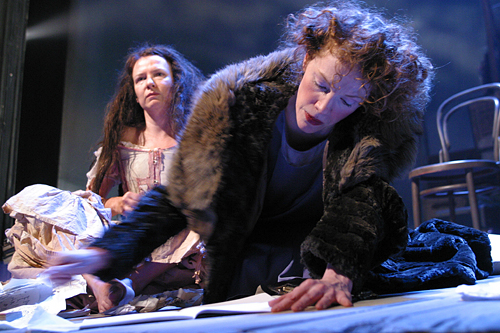 By Ray Bennett
LONDON – She was the mad Creole woman in the attic, the tormented creature whose existence gave Charlotte Bronte's "Jane Eyre" its dark, Gothic power. She was Mr. Rochester's first wife, Bertha, and her trapped rage haunts the pages of that celebrated novel.
She haunted Jean Rhys even more. Born, like Bertha, in the West Indies, to a white Creole mother, Rhys was sent to England in 1907, when her life took many dark turns before writing provided an escape. Still, it wasn't until 1966 that she published her great novel, "Wide Sargasso Sea," which tells the story of Bertha before she became Mrs. Rochester.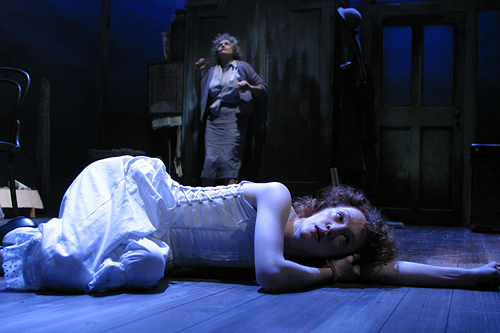 Polly Teale's extraordinary play "After Mrs. Rochester" tells the story of Rhys' own life and her obsession with Bronte's Creole madwoman in a manner so vivid and evocative that it sparks an urgent need to rediscover both novels.
Rhys is an aging, gin-soaked recluse in Devon when we meet her. But she's not alone as she has with her constantly Mrs. Rochester, a creature of her imagination made manifest on the stage. And as she writes, there is her young self to talk to and to remind her of the days and nights of the Sargasso Sea.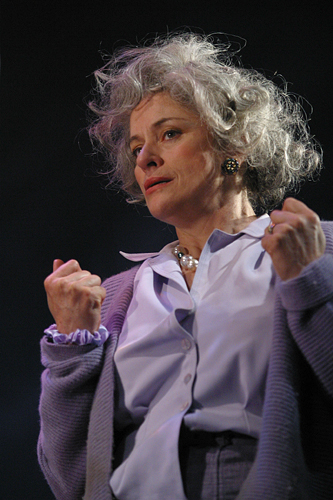 Many others stride through her writing room, too: her repressed and strict mother and well-meaning father, the Creole friends of her childhood, the men who choose and then abuse her and the characters from "Jane Eyre" that inspire her. "Charlotte Bronte never tasted a mango," she says, "or saw one rot in the heat."
Teale recounts the alienation Rhys felt as a child in the West Indies and the echoes she found in Bronte's writing. And then being sent to cold England, where, flopping as an actress, she becomes a chorus girl, an escort and then a "kept woman." There is an abortion, men who mistreat her and end up in jail, and then a daughter she cannot keep. Jean drinks and has fights and spends time in Holloway Prison for assault.
The play shows all this over two hours with the older Jean always onstage and her younger self living her life, her alter ego always there too. Her daughter also arrives as she strives to finish her classic novel, and at the heart of the play is their acceptance of each other.
Diana Quick (above right) is a ruined glory as Jean, her voice cracked, clothes rumpled, stockings askew. It's a magnificent performance. Madeleine Potter (top), as the young Jean, shows us what she was: vital but vulnerable, her fragile beauty obscuring the strength within. Sarah Ball is a marvel as Mrs. Rochester. At first unmoving at Jean's feet, she becomes a tangible presence, an often feral manifestation of Jean's torments and dreams. From something still and stiff, Ball becomes fluid and sensuous. While she is acting constantly throughout the play, she never upstages anyone.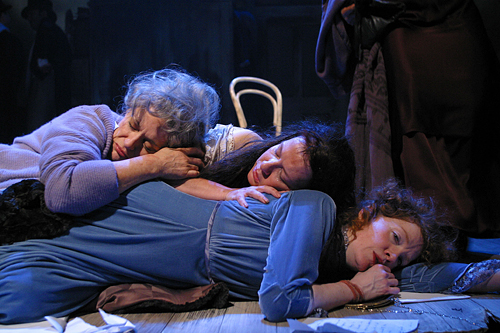 The remainder of the cast is uniformly fine and each takes more than one role. Hattie Ladbury is striking as both Jean's frightened mother and the tolerant wife of one of Jean's admirers. Amy Marston draws eerie parallels between Jean's daughter and Jane Eyre. Syan Blake is blithe as a childhood friend and bleak as another kept woman in London. David Annen makes clear the lines and distinctions between Jean's father and one of her lovers, while Simon Thorp brings full measure to Mr. Rochester and another lover.
The play is produced by Shared Experience, a theatrical company noted for its attention to all elements of dramaturgy, and the production achieves a resonance that is every bit the equal of a great motion picture. The credits include one for dramaturgy, by Nancy Meckler, and for movement, by Leah Hausman.
Teale directs her own work and they combine to create an astonishing harmony of words and motion. The lighting, too, by Chris Davey, is remarkable as it achieves the tones and subtlety of great cinematography.
A critic is quoted in the play to say of Rhys's book that it is "frighteningly alive, dark and truthful". The same can be said of "After Mrs. Rochester".
Venue: Duke of York's Theatre, runs through Oct. 25; Cast: David Annen, Sarah Ball, Syan Blake, Hattie Ladbury, Amy Marston, Madeleine Potter, Diana Quick, Simon Thorp; Playwright-director: Polly Teale; Designer: Angela Davies; Movement director: Leah Hausman; Dramaturgy: Nancy Meckler; Composer: Howard Davidson; Lighting designer: Chris Davey; Ambassador Theatre Group & Maidstone Prods. present a Shared Experience production.
This review appeared in The Hollywood Reporter.