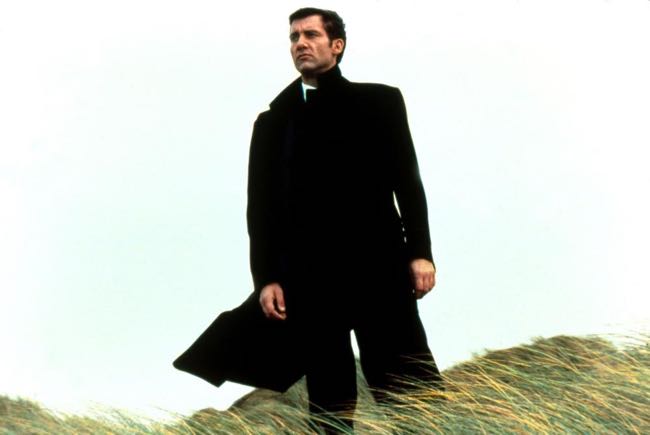 By Ray Bennett
EDINBURGH – "Most thoughts are memories, and memories deceive," says Will Graham, the central character played by Clive Owen (above and below) in director Mike Hodges' new film. In Graham's case, the deceptive memories are of a violent life that he seeks to erase.
Hodges, whose recent "Croupier" was well received, remains best known for his underworld classic "Get Carter," starring Michael Caine. Like that film, "I'll Sleep When I'm Dead" is about a toughened criminal who returns to his home to find out why his brother is dead. The new film is a far more mature work, however, filled with slow menace but also deep regret over life's inevitabilities.
With the summer blockbusters proving limply familiar, the rich character development and inventive surprises here may prove satisfying to audiences prepared to take on a film that takes for granted their understanding that in some stories the ending doesn't need to be told.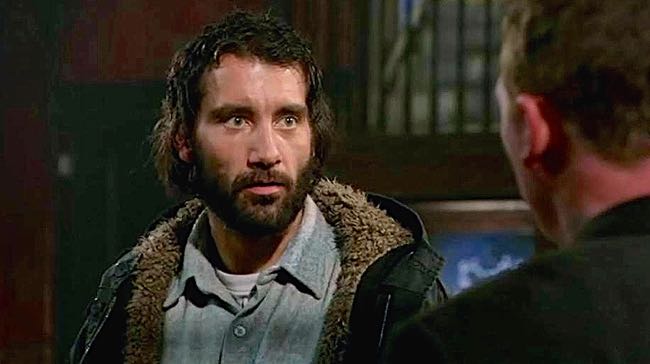 "Will Graham was the hardest man I've ever known," says one of his London crew, but Graham has been gone from that city's criminal underbelly for three years, living in a van, working pickup jobs as a logger in faraway forests. He left his charming scoundrel of a brother, Davey, and elegant mistress, Helen (Charlotte Rampling, below), and the manor he ran with an iron fist has been taken over by another hard man named Frank Turner (Ken Stott).
But Davey, played by Jonathan Rhys Meyers ("Bend It Like Beckham"), has been selling cocaine to the beautiful people and his insouciance and winning charm catch the resentful eye of a bad man. Boad, played by Malcolm McDowell, is well off and married but his ferocious envy leads him to assault and bugger Davey, who is destroyed by the rape and commits suicide.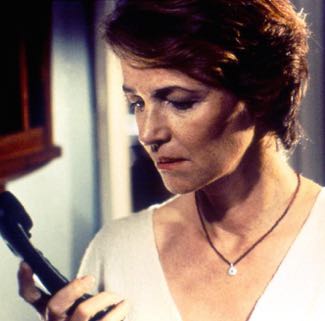 Away in his solitude, Graham's constantly churning memories prompt him to call Davey and when he hears nothing he returns to London. When Helen is puzzled by what she sees in Graham's bearded, haunted features, he says: "It's grief for a life wasted. And now there's Davey, another fucking wasted life. And I'm going to find out why."
But while Graham pursues the man responsible for his brother's despair, the new hard man on the patch is looking for Graham. "Frank is bad to the bone; he's going to come for you," he is told. The conflict is laid out in almost mythic terms with the fate-driven purpose of a classic western or samurai tale. "Don't ever underestimate Will Graham," Frank says. "He's a fierce man who'll go the distance."
It takes strong and believable actors to deliver such lines and in Owen Hodges has a leading man entirely capable of taking on that responsibility. Already noted for "Croupier" and currently filming the title role in Jerry Bruckheimer's "King Arthur," Owen has a star-making role here, handsome but intelligent and all coiled anger, and he grabs it. He's already been tipped as the next James Bond and although he may be too big a star by the time Pierce Brosnan steps down, there's a scene in "I'll Sleep When I'm Dead," when Graham emerges clean-shaven and expensively tailored, that suggests 007 is his for the taking.
Rhys Meyers, too, further enhances his career with an eye-catching performance as the flamboyantly smooth-edged ruffian younger brother. Rampling adds to her recent catalogue of intriguing women and McDowell plays his villain with understated fury. Stott and Jamie Foreman, as Davey's buddy Mickser, are equally strong.
Trevor Preston's screenplay charts a course that leads to unforeseen paths along the way to a conclusion that we can imagine but do not see. A key aspect of the story that he explores in ways that prove unsettling is that Davey is found to have ejaculated when he was raped. That apparently common occurrence throws a massive and confusing wrench into the self-regard of the male-bonding tough guys. The finish, too, is enigmatic but in the hands of Hodges (right) with his masterful touch in conveying how deep run the rivers of regret, "I'll Sleep When I'm Dead" will take its place with "Get Carter" as a classic British gangster film.
Venue: Edinburgh International Film Festival;  Cast: Clive Owen, Charlotte Rampling, Jonathan Rhys Meyers, Malcolm McDowell, Ken Stott, Jamie Foreman, Sylvia Syms; Director: Mike Hodges; Writer: Trevor Preston;  Director of Photography Mike Garfath; Production Designer: Jon Bunker; Music: Simon Fisher-Turner; Costume Designer: Evangeline Averre; Editor: Paul Carlin; Producers: Mike Kaplan, Michael Corrente; Executive Producer: Roger Marino; Production: Mosaic Film Group, Revere Pictures, Will & Company; A Paramount Classics Release; A Revere Pictures/Seven Arts presentation; Rated: UK: 15; running time: 103 minutes. DVD release: UK: Momentum Pictures, US: Paramount.
This review appeared in The Hollywood Reporter.