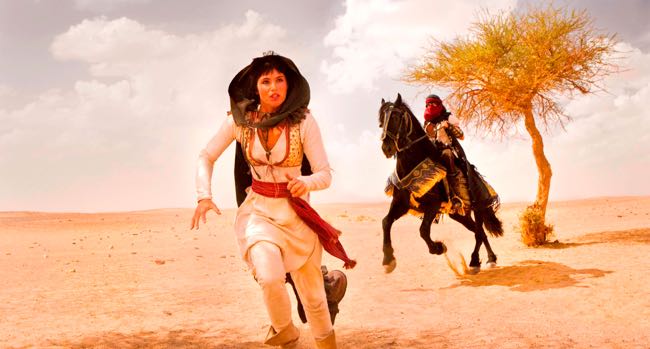 By Ray Bennett
LONDON – Aimed squarely at youngsters and families, "Prince of Persia: The Sands of Time," which had its world premiere in London on Sunday, is a handsome, fast-paced and innocuous adventure that's easy to take but lacks epic scale.
Based on a 2003 Ubisoft videogame, the film has dash and flourish with adequate performances and expert effects that keep a far-fetched tale buoyant without leaving any lasting impression.
Its PG-13 rating seems unmerited as the fun and games are pitched at 10-year-olds and teenagers might find it a bit tame. Film buffs could enjoy it as a nostalgic throwback to the antics of Douglas Fairbanks and Errol Flynn. Box office should be healthy without going through the roof.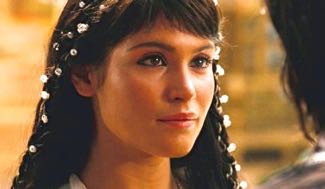 The setting is an imagined version of ancient Persia and it's all swords and horses, wind and sand, mighty cities and noble princes. The maguffin is a dagger that unleashes sands that can make time reverse, and in the wrong hands could bring about earth's destruction.
Jake Gyllenhaal plays Dastan, an acrobatic warrior who was adopted as an orphaned child by the benevolent King Sharaman (Ronald Pickup) and raised with two princes Tus (Richard Coyle) and Garsiv (Toby Kebbell). Guided by the king's silky brother Nizam (Ben Kingsley), they lay siege to a city called Alamut where it is believed are hidden weapons of mass destruction.
That's about as topical as the film gets, as the focus moves quickly to the fabled dagger, and intrigue between the princes and their advisors. Much rests on the appeal of Gyllenhaal, a serious actor who is buffed up seriously for the role. He's certainly fit, and the British accent he uses to match the rest of the cast works fine, but there's something a touch hangdog in Gyllenhaal's demeanor that is probably intended to show self-deprecation but instead can appear insipid.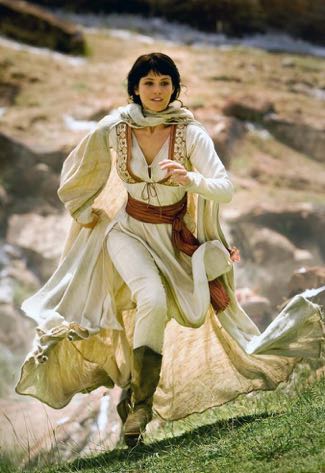 Gemma Arterton plays Tamina, a princess who knows more about the dagger than she lets on, and director Mike Newell works hard to make their encounters sexy and exciting as sandstorms swirl, but there's not much lust in the dust.
Arterton, who suffered a classic Bond Girl exit in "Quantum of Solace," brings exotic looks and great energy to the role and it will raise her profile, but she appears too intelligent for such silly stuff.
Producer Jerry Bruckheimer has loaded his crew with top-notch talent, and the picture gleams as a result. Kingsley, as the resentful brother of the king, and Alfred Molina as a conniving entrepreneur who runs ostrich races, are reliable in providing the necessary menace and comic relief. Another Brit, Steve Toussaint, makes an impression as an expert knife thrower from Africa but his fate is all too predictable.
A trio of film editors, Michael Kahn, Martin Walsh and Mick Audsley, deserve full marks for the exciting pace of the picture and they make the most of John Seale's cinematography, which is inventively framed and beautiful to see.
Harry Gregson-Williams provides an orchestral score that matches the sweep of the adventure and keeps its IQ from sliding too far down the scale.
Opens: UK: May 21, US: May 28 (Walt Disney); Cast: Jake Gyllenhaal, Gemma Arterton, Ben Kingsley, Alfred Molina; Director: Mike Newell; Director of photography: John Seale; Production designer: Wolf Kroeger; Music: Harry Gregson-Williams; Costume designer: Penny Rose; Editors: Michael Kahn, Martin Walsh, Mick Audsley; Producer: Jerry Bruckheimer; Executive producers: John August, Patrick McCormick, Eric McLeod, Jordan Mechner, Chad Oman, Mike Stenson; Production: Walt Disney Pictures, Jerry Bruckheimer Films; Rated PG-13, running time 116 mins.
This review appeared in The Hollywood Reporter.