By Ray Bennett
"Wherever there is Pat, there is laughter, and his laugh can be heard across several counties," said Imelda Staunton on Sunday at the Royal Albert Hall concert of film music by the great Scottish composer Patrick Doyle.
The BAFTA-winning actress ("Vera Drake") was one of several performers and filmmakers there to celebrate Doyle's Music From the Movies and raise money for leukemia research.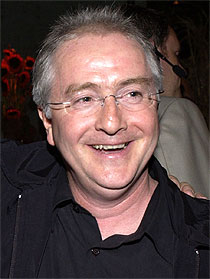 They all spoke as much about his spirit as his music. Robbie Coltrane said: "Pat Doyle is probably the funniest man I've ever met in my life." Director Mike Newell ("Harry Potter and the Goblet of Fire") called him a "phenomenal little wizard."
Judi Dench said that his score for Kenneth Branagh's "Henry V" spoke to "all those who fear the loss of hope."
Doyle thanked his family and friends for seeing him through his own illness: "I have been blessed by inheriting the gift for music from my father and mother. I am the luckiest man alive."
Here's how my review of the concert Patrick Doyle: Music from the Movies begins in The Hollywood Reporter:
LONDON — Scottish film composer Patrick Doyle's charity fundraiser had more than average resonance as the man who scored most of Kenneth Branagh's films and such others as "Sense and Sensibility," "Indochine," and "Carlito's Way" has successfully battled leukemia.
The concert was directed by Branagh and featured many of the actors and filmmakers associated with films featuring Doyle's music including Emma Thompson, Alan Rickman, Robbie Coltrane, Richard E. Grant, Judi Dench, Mike Newell and Regis Wargnier.
Belgium's Dirk Brosse led the London Symphony Orchestra and Chorus in almost three hours of sumptuous themes that play as well in the concert hall as they do in the motion pictures.
The first score Doyle wrote after his treatment was for Regis Wargnier's "East/West", a tale of sacrifice and loss in Stalin's Soviet Union. Baritone Anatolij Fokanov sang Doyle's evocative "The Land" from that score, raising the hair on the back of everyone's neck.
The composer's daughter Abigail Doyle performed "The Way It's Meant to Be" from Robert Altman's "Gosford Park" with great flair, and Beth Nielsen Chapman contributed the lovely "I Find Your Love", which she co-wrote with Doyle for "Calendar Girls" though it didn't make the finished film.
Thompson led "Sigh No More, Ladies" from "Much Ado About Nothing" playfully while pianist John Alley did justice to "My Father's Favorite" and soprano Janis Kelly did likewise on "Weep No More, My Sad Fountains", both from "Sense and Sensibility". Soloist Carmine Lauri's performance in the world premiere of the "Rosalind Violin Concerto", inspired by "As You Like It", resonated with passion.
Highlights of the evening were dramatic presentations by Derek Jacobi doing the "My thoughts be bloody" soliloquy from "Hamlet" and Branagh declaiming the "St. Crispin's Day" speech from "Henry V".
All of the guests were old pals of Doyle and their stories from the past 30 years added greatly to the entertainment. Not all of the stories were about Doyle, however. Rickman told of a note he received from Taiwanese director Ang Lee while filming "Sense and Sensibility". His note read: "Be more subtle. Do more." Patrick Doyle's music is both subtle and marvellously rousing. There's no doubt he will do more.