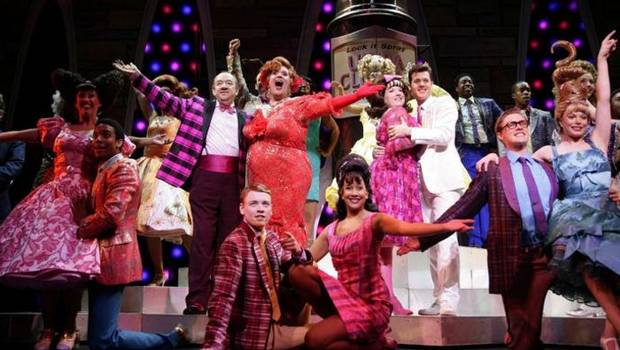 By Ray Bennett
"Hairspray" is still running in New York, and there has been a movie version starring John Travolta, but the 2003 Tony winner for best musical has finally made it to London's West End in all its frenetic, infectious glory.
Staged by the same crew responsible for its Broadway run, the show features an all-British cast starring veteran leading man Michael Ball as Edna Turnblad and actor-director Mel Smith as her husband, Wilbur. Newcomer Leanne Jones rocks the house as Tracy, the rotund and redoubtable 1962 dancing queen who wants to win a spot on Baltimore's top TV pop show.
The slick production has rounded the hard edges of John Waters' original 1988 movie, but Mark O'Donnell's book and song lyrics by Scott Witman and Marc Shaiman still carry plenty of punch. Tracy not only makes the case for the substantially circumferenced but also for integration, making the show a no-brainer where sentiment is concerned.
Shaiman's rollicking musical numbers are the kind that makes sitting down impossible, and the high-adrenaline cast takes Jerry Mitchell's lively choreography to the limit. Director Jack O'Brien maintains a good pace, though the first act, with its very simple plot, seems to take a while.
Not so for Act 2, however, which contains a fine showpiece for Ball and Smith titled "Timeless to Me." Ball plays Edna broadly but with respect, and his fine voice doesn't suffer at all from his being in drag. Smith (director of such films as "The Tall Guy" and "Bean: The Movie" and star of the long-running TV comedy series "Smith & Jones") does Wilbur as Jimmy Durante, and no worse for that.
As Motormouth Maybelle, Johnnie Fiori delivers the soulful number "I Know Where I've Been" with such emotional power and clarity that she almost stops the show. But the fast-moving "Hairspray" and "You Can't Stop the Beat" follow quickly to end the show at a furious tempo.
Tracie Bennett has a fine time as the racist former beauty queen Velma Von Tussle, Elinor Collett goes from ugly duckling to swan as Penny Pingleton and Ben James-Ellis makes the most of his Elvis impression as Link Larkin, and the entire cast give it all they've got.
Colorful, breezy and impossible to resist, "Hairspray" should provide London's Shaftesbury Theatre, which is known for a long list of flops, a hit at last.
HAIRSPRAY
Venue: Shaftesbury Theatre, runs through March 15; Cast: Michael Ball; Mel Smith; Leanne Jones; Ben James-Ellis; Tracie Bennett; Natalie Best; Elinor Collett; Johnnie Fiori; Adrian Hansel; Paul Manuel; Wendy Somerville; Rachael Wooding; Book: Mark O'Donnell; Music: Marc Shaiman; Lyrics: Scott Witman, Marc Shaiman; Based on the New Line film written and directed by: John Waters; Director: Jack O'Brien; Choreographer: Jerry Mitchell; Set designer: David Rockwell; Costume designer: William Ivey Long; Lighting designer: Kenneth Posner; Sound designer: Steve C. Kennedy; Presented by Stage Entertainment U.K., Margo Lion, New Line, the Baruch-Vietel-Routh-Frankel Group, Elizabeth Williams, James D. Stern/Douglas L. Meyer, Cynthia Stroum.
This review appeared in The Hollywood Reporter.