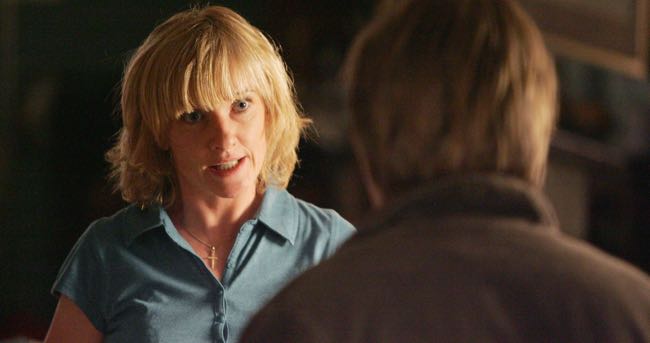 By Ray Bennett
LONDON – Marital strife fierce and unsettling comes flying in the opening scene of the first episode of Jimmy McGovern's new BBC series "The Street," and it sets the tone for a show that brings fresh imagination to the conventions of kitchen sink drama.
McGovern has demonstrated similar ingenuity in previous shows such as "Cracker" and "The Lakes," and he has assembled a top-flight cast and creative team to tell these new extraordinary tales of ordinary people.
The couple snarling at each other in the first scene are Angela Quinn (Jane Horrocks, pictured) and her husband Arthur (Daniel Ryan). He's in construction; she's at home caring for their three children. He's exhausted and wonders where the money goes and why she spoils the kids. She's exhausted and wonders if she'll ever have a life. "Lazy, soft sod," she yells. "Stupid cow," he screams.
David Blair, director of the first episode, puts them right in the viewer's face and it's tempting to turn away, as you would in real life, but McGovern's skill is in keeping us involved and the actors are so good that an everyday argument is immediately gripping.
Arthur has left for work, the children are at school and Angela is struggling with the washing machine when a pipe bursts and who should rush to help but hunky neighbor Peter Harper (Shaun Dooley). Something about wet clothes and a handy man leads to morning delights and the two of them are headed for the kind of complication in life that a writer like McGovern knows exactly what to do with.
Lovestruck Arthur is busy trying to catch a glimpse of Angela when he drives off to his own job as a salesman and he fails to see her daughter run out from behind a parked taxi. The girl ends up in a coma and McGovern spins his web out to snag many others who live on the street and witnessed the road accident.
These include Stan (Jim Broadbent), who is approaching his retirement at a factory unwillingly; taxi driver Eddie (Timothy Spall), who parked his cab where he should not have; and Peter's wife Eileen (Liz White).
McGovern is remarkable in being able to take familiar dramatic paths and still drive his stories to unexpected places. The camerawork and editing in the show is a match for most feature films, and when in the second episode Stan has to deal with retirement, the surrealism is as convincing as the realism. Future episodes will deal with others on the street as all their lives intertwine.
That McGovern could attract such an A-list cast for "The Street" comes as no surprise as their work here is equal to their best. It's a show that deserves to go way beyond its initial eight episodes and will be appreciated far and wide.
Airs: April 13 BBC1; Cast: Jane Horrocks, Jim Broadbent, Timothy Spall, Liz White, Shaun Dooley, Daniel Ryan, Christine Bottomley, Lee Ingleby, Neil Dudgeon. Creator: Jimmy McGovern; Directors: David Blair, Terry McDonough; Writers: Jimmy McGovern, Alan Field, Marc Pye, James Quirk, Arthur Ellison; Directors of photography: Daf Hobson, Ben Smithard, Steve Lawes; Production designer: Pat Campbell; Editors: Eddie Mansell, Charles Alexander; Music: Rob Lane. Producer: Ken Horn; Executive producer: Sita Williams; Production: ITV Productions.
This review appeared in The Hollywood Reporter.