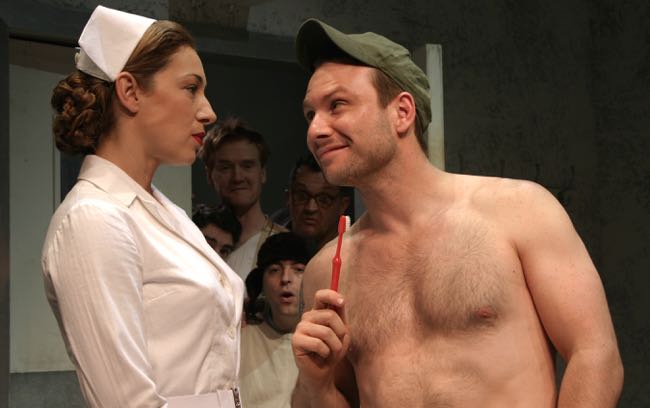 By Ray Bennett
LONDON – Alex Kingston has taken a demotion from the doctor's role she played on "ER" and has a change of uniform, but she's still very much in charge of things as the domineering Nurse Ratched in "One Flew Over the Cuckoo's Nest," which is back for another West End run.
The play was a critical and boxoffice London hit two years ago with Christian Slater in top form as the rebellious Randle P. McMurphy, Ken Kesey's doomed hero made famous earlier by Kirk Douglas and Jack Nicholson. Slater is among several cast members who return from that production while Kingston steps in for English actress Frances Barber.
Kingston (pictured with Slater) brings the feminine steel that made her a fiery "Boudica" but she sets aside the licentiousness of "Moll Flanders". Her Nurse Ratched does not have the shivery repressed sexuality that Barber gave the role, but she has more than enough bubbling inside her cruel demeanor to play off the credulous brashness that Slater gives to McMurphy.
Paul Ready does an excellent job as Billy Bibbit, the stuttering boy whose conflicted sexuality and fear of life make him easy prey for the manipulative Ratched.
Katy Tuxford's clever design is back with ceilings that crackle constantly and make the frightening power of the electrical shock machines in the basement a creature from horror stories. So too is Chris Davey's clever lighting design and Matt Clifford's nightmarish music and sound.
Playwright Dale Wasserman's moving adaptation of Kesey's novel remains in the capable hands of directors Terry Johnson and Tamara Harvey.
The power of the setting in a mental ward with inmates who, with one exception, are there voluntarily seldom fails to grip and the shame of how the system can breed monsters and crush spirits remains deeply affecting.
Venue: Garrick Theatre, runs through June 6; Cast: Christian Slater, Alex Kingston, Paul Ready, Owen O'Neill, Brendan Dempsey, Gavin Robertson, Alex Giannini, Ian Coppinger, Alan Douglas, Simon Chandler, Lizzie Roper, Cornelius Macarthy, Felix Dexter, Rebecca Grant, Katherine Jakeways; Playwright: Dale Wasserman, based on the novel by Ken Kesey; Directors: Terry Johnson, Tamara Harvey; Set designer: Katy Tuxford; Lighting designer: Chris Davey; Composer, sound designer: Matt Clifford; Presented by Nica Burns and Max Weitzenhoffer for Nimax Theatres, Ian Lenegan.
This review appeared in The Hollywood Reporter.