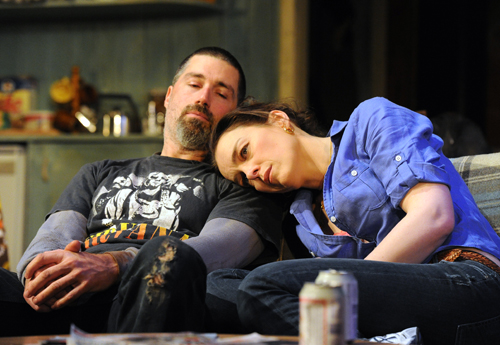 By Ray Bennett
LONDON – Compelling performances by Matthew Fox and Olivia Williams as battling siblings make Neil LaBute's new play "In a Forest Dark and Deep", in its world premiere in London's West End, more interesting than it really is.
A two-hander in which a secret is revealed slowly pits Williams as Betty, a successful intellectual, against Fox as Bobby, her redneck brother. It gives LaBute, who directs too, free rein to indulge in attacks from both sides on the other with Fox's Bobby given most of the good, which is to say politically incorrect, lines.
The problem with the play is that over about 105 minutes without an interval it does not provide sufficient depth of character and relies heavily on the performers to make up for it. "Lost" star Fox and Olivia Williams ("The Ghost Writer") do that skilfully and it is to their credit that interest is sustained in the fate of the pair.
Designer Soutra Gilmour provides a woodsy, book-filled set where Bobby arrives in a rain storm to answer Betty's plea for help in emptying the cabin of books and odds and ends before a new tenant moves in.
She is an accomplished teacher with a husband and children, and he is a carpenter twice divorced. Their relationship, however, is clearly abrasive and Bobby derides his sister's welcome as being the last call she made. It transpires gradually that he was the only one she asked. He drinks beer and comments freely with cheerful vulgarity on the cabin and its contents as Betty reveals more about the previous tenant, a young male student.
Books and magazines prompt Bobby to voice such opinions as anyone who reads the New Yorker magazine must be gay and authors such as Tolstoy and Hemingway are douche bags. The reason Betty has trouble defending herself is made apparent as more information is revealed about the previous tenant and her relationship with him.
This gives Bobby freedom to rant about her behavior as a young woman when she was sexually precocious and he had to put up with the constant gossip of men who'd been with her. There is a very faint suggestion of incestuous envy but LaBute steps away from it.
It's more that the brother is less intellectual but clings to a moral high ground while the sister is sophisticated but has no moral compass. This theme would have been more absorbing had LaBute better illuminated the characters. The direction of the play might also have been handled more subtly as the clues provided mean that many in the audience will conclude early that it can go only in one way.
Fox makes Bobby lean and threatening, capable of violence and witheringly self-righteous but willing to forgive, and Williams gives the duplicitous Betty an earthy sexiness to go with her clever wiles that have led her down a very dangerous path. It's not their fault that in the end it's very hard to care.
Venue: Vaudeville Theatre, runs through June 4; Cast: Matthew Fox, Olivia Williams; Playwright, director: Neil LaBute; Set designer: Soutra Gilmour; Lighting designer: Mark Henderson; Sound designer: Fergus O'Hare.
This review appeared in The Hollywood Reporter.