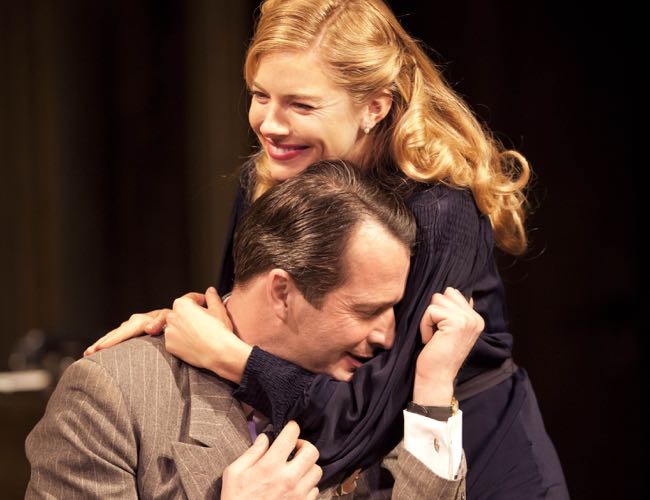 By Ray Bennett
LONDON – It's hill of beans time in Terence Rattigan's wartime drama Flare Path as three little people realize what their problems amount to in a world made crazy by nightly bombing raids as Britain fights alone against the Nazis.
Casablanca appeared a year after Rattigan wrote the play and the dilemma in his love triangle is less noble than in the Oscar-winning picture but it has just as much resonance. It's made up of a famous movie star who wants to reclaim his former lover from the Royal Air Force bomber pilot she married on the rebound in a whirlwind romance.
James Purefoy ("Solomon Kane") plays Peter Kyle, an English actor now a major Hollywood star who shows up at a small hotel in England to win back his love. Sienna Miller (pictured with Purefoy top, "Factory Girl") is Patricia, an actress who fled when Kyle's divorce was delayed and Harry Hadden-Paton is Teddy, the flyer she has married in haste.
Rattigan's plays, including "The Winslow Boy" and "Separate Tables", were made into films but his elegant stiff-upper-lip English style went out of favor when kitchen sink drama burst through in the 1950s.
This is the playwright's centenary, however, and British directors have returned to his work with "After the Dance" a success at the National last year and Cause Celebre due at the Old Vic. In "Flare Path", Tony and Olivier Award winner Trevor Nunn uses Rattigan's insightful characterisations to create a multi-layered view of war and what it does to people.
Rattigan drew on his own experiences as a tail-gunner in World War II to illuminate the way men react to doing battle in the air and the impact it has on their loved ones. It's no surprise that the play catches the never-say-die stoicism of the time but Nunn cleverly adds an element of hysteria to the determination to fly in the face of death and those who embrace it.
The hotel where the action takes place provides respite for pilots on active duty where they may spend a little time with their spouses. Patrica has come from London not just to visit but also to break the news to Teddy that she aims to leave him.
She is surprised when Kyle shows up, but it's clear that their passion for each other is mutual and that she really knows nothing about the pilot she has married. Her plans, however, are disturbed when Teddy is ordered out on a desperate bombing mission and that sets a crisis in motion.
Purefoy has movie star charm to spare but he goes beyond that to portray Kyle's vulnerability in moving scenes with Miller, who offers a penetrating study of someone torn between two impulses. Lithe and assured, Miller shows through tone of voice and the expression in her eyes how divided are her emotions.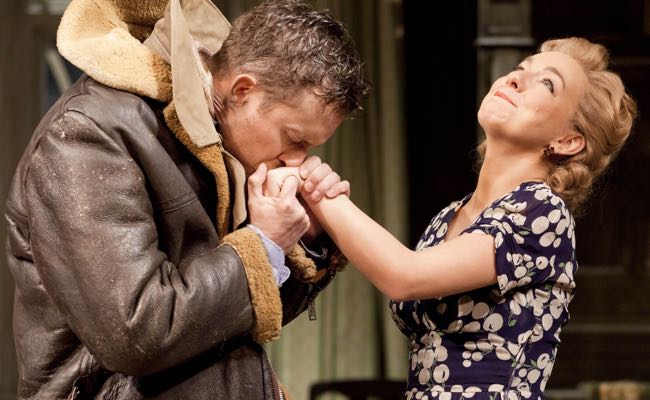 She has a powerful scene with Hadden-Paton as Patricia comforts the pilot who is stricken with fear over the constant peril in the air. Hadden-Paton keeps the histrionics firmly in check as Teddy breaks down and Miller provides sturdy support for his emotionalism.
The other fliers and their partners are their to provide contrast to the state of the three leads with Sheridan Smith and Mark Dexter (pictured above) outstanding as a bartender and the Polish count she has married. His mangled English provides much welcome laughter in the latter stages of the play and Nunn draws on these scenes to amplify the conundrum faced by the lovers.
Flare path is the term for the lights that guide planes on take off, and that is illustrated in a large video display above the stage enhanced by vivid lighting and sound as the bombers take off. There is a hazard, however, in that the enemy also uses the flare path to shoot down the planes as they take off. It's a clever metaphor for the story in the play, and Nunn and his players make the most of it.
Venue: Theatre Royal Haymarket, runs through June 4; Cast: Sienna Miller, James Purefoy, Sheridan Smith, Harry Hadden-Paron, Sarah Crowden, Joe Armstrong, Matthew Tennyson, Mark Dexter, Emma Handy, Clive Wood, Jim Creighton; Playwright: Terence Rattigan; Director: Trevor Nunn; Set and costume designer: Stephen Brimson Lewis; Lighting designer: Paul Pyant; Sound designer: Paul Groothuis; Projection desifner: Jack James; Music consultant: Steven Edis.
This review appeared in The Hollywood Reporter.