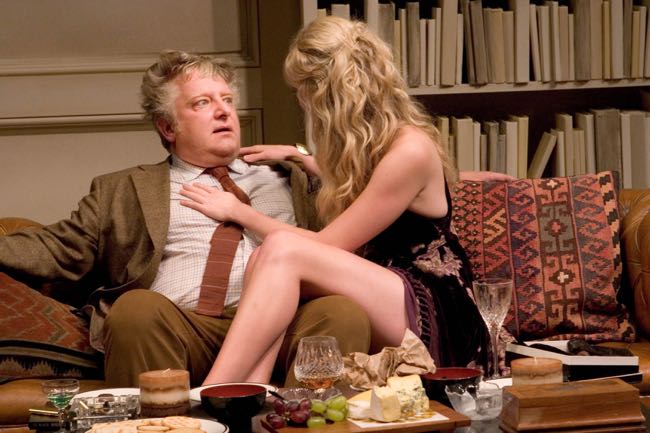 By Ray Bennett
LONDON – Christopher Hampton's bland 1970 sex comedy "The Philanthropist", revived at the Donmar Warehouse, boasts a wonderfully expressive performance by Simon Russell Beale but its story of a blinkered, shy and uncritical English professor who is inept with women splutters where it should sparkle.
Beale's character, Phillip, apparently was written to be the opposite of the hate-filled Alceste in "The Misanthrope" by Moliere but his genial goodwill to all things and all people has left him every bit as alone.
Phillip is a philologist who takes pleasure in words for their own sake rather than their meaning and is a wizard at anagrams. This characterization seems as if would be entertaining but Hampton gives the professor only two anagrams in the whole play.
Simon Russell Beale, however, makes it memorable despite the flaws in the play.
Venue: Donmar Warehouse, runs through Oct. 15; Cast: Philip: Simon Russell Beale, Danny Webb, Anna Madeley, Simon Day, Siobhan Hewlett, Simon Bubb, Bernadette Russell; Playwright: Christopher Hampton; Director: David Grindley; Designer: Tim Shortall; Lighting designer: Rick Fisher; Sound designer: Gregory Clarke; Produced by Donmar Warehouse in association with Ian Fricker.