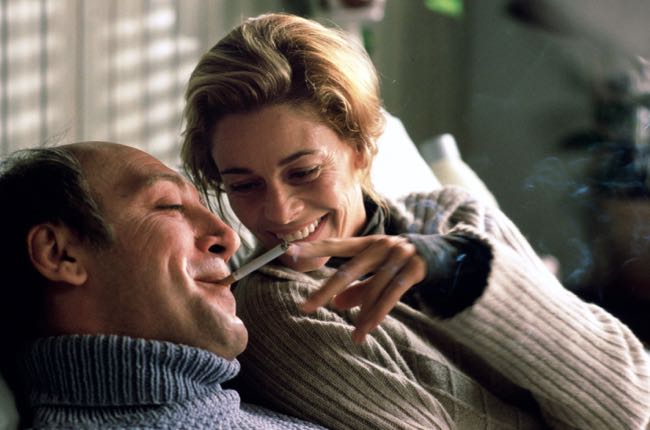 By Ray Bennett
VENICE – Why does Ramon Sampedro smile so much? He says, "When you can't escape and you depend on others so much, you learn to cry by smiling."
Ramon has been a quadriplegic for 28 years following a diving accident and he wants to end his life. Alejandro Amenabar's deeply moving drama "The Sea Inside" (Mar adentro) makes a powerful case for why he should be allowed to, and why he shouldn't.
Jarvier Bardem, Oscar-nominated for 1999's  "Before Night Falls", delivers an unforgettable performance as a talented and caring man who wishes to die with a dignity that is lacking in his life. He will surely gain the attention of Academy Award voters when the time comes and he may not be alone as the fine cast delivers at all levels, especially Mabel Rivera as Manuela, Ramon's devoted sister-in-law and chief caregiver.
With splendid production values and a universally touching theme, the picture should find receptive audiences in all territories. Amenabar cowrote the intelligent screenplay with Mateo Gill and also provided the atmospheric music with a little help from Carlos Nunez. The result is a film both poetic and profound.
Based on real events, Amenabar shows us how a vigorous and adventurous man is rendered virtually helpless and makes a persuasive argument for why that helplessness denies him a dignified existence, dependent as he is on his selflessly devoted family.
Bardem, a strapping actor, is made to look older and incapacitated not only by fine work by makeup specialist Jo Allen but by the actor's extraordinary ability to inhabit the character. The constant smile masks grief and anger and while Ramon can snap at his young nephew for getting his grammar wrong and be impatient with visitors he thinks are there for their own purposes, he remains a compassionate and loving man.
We find him in the care of his sister-in-law, the quite magnificent Mabel Rivera, at the home of his brother Jose (played wonderfully by Celso Bugallo), where he has access to a computer, telephone and television that he controls with his mouth and a stick. He is petitioning the Spanish government to allow him to commit suicide and has the help of an organization devoted to supporting that right, represented by the vivacious Gene (Clara Segura).
Gene brings in a lawyer to make Ramon's case. She is an elegantly beautiful woman named Julia, played with exquisite calm by Belen Rueda (pictured with Bardem). Julia has a degenerative disease and Ramon believes her affliction will allow her to represent him more forcefully. Also into his life comes a stranger named Rosa, played without guile by Lola Duenas, who has seen him on television and falls in love with him.
But Ramon falls in love with Julia, even though she is married, and together they plan a book of poems that he wrote when he was younger. None of this, however, causes any wavering in his determination to die.
For a film that will move audiences to tears, there are moments of great humor and wonderful sequences when Ramon's imagination allows him to take flight. The film will be taken as a plea for euthanasia, and it is that, but also it makes the case for those left behind and demonstrates that love, not dying, can be the greatest test of all.
Venue: Venice International Film Festival, In Competition; Cast: Javier Bardem, Belen Rueda, Lola Duenas, Mabel Rivera, Celso Bugallo, Clara Segura, Joan Dalmau, Alberto Jiminez, Francesc Garrido, Tamar Novas, Jose Ma Pou, Alberto Amarilla; Director: Alejandro Amenabar; Producers: Fernando Bovaira, Alejandra Amenabar; Screenwriters: Alejandro Amenabar, Mateo Gil; Director of photography: Javier Aguirresarobe; Art director: Benjamin Fernandez; Sound: Ricardo  Steinberg; Wardrobe: Sonia Grande; Special makeup design: Jo Allen; Music: Alejandro Amenabar with the special collaboration of Carlos Nunez; Sogepaq presents a Sogecine Himinoptero Production in co-production with UGC Images and Eyescreen with the collaboration of TVE, Canal+, TVG, FilmanovaInvest and the support of Eurimages/ICAA Not rated; running time, 120 mins.
This review appeared in The Hollywood Reporter.