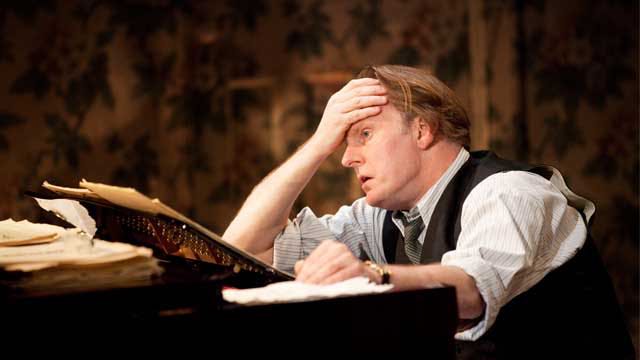 By Ray Bennett
LONDON – Simon Gray's "The Late Middle Classes" is an exquisite delineation of 1950s English pretensions when snobbery and prejudice strived to hold their own against the post-war shattering of illusions.
It's a brittle little tale that touches on bad parenting, infidelity, the class system, pedophilia and anti-Semitism and director David Leveaux misses not a scintilla of Gray's keen observation and subtle wit.
The play is framed by the visit of a man named Holly (Peter Sullivan) to the faded and musty home of his former piano teacher, an Austrian émigré named Brownlow (Robert Glenister, pictured above). Their interplay is indistinct but quickly gives way to a flashback to when Holly (Laurence Belcher) was a boy in short pants attending to his homework and concentrating intensely on his piano studies.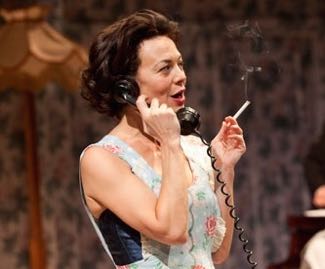 Holly's parents are cut clean from the cloth of the English middle class of the time, all posh vowels and clipped phrases. Celia (Helen McCrory, pictured left) chafes within the forced propriety of social mores, restlessly seeking tennis partners and demanding that her son say how much he loves her. Charles (also played by Sullivan) is a pompous bore whose work as a pathologist leaves him thirsty for his afternoon gin and tonic, and a taste for something on the side.
Gray gives them lines that mean little to the characters but speak volumes to the audience, and they are the source of much laughter in the first act. Celia makes amusingly vicious asides as she wheedles on the phone for company and the rare fresh egg from a neighbor while Charles stumbles hilariously over talking to his son about the facts of life.
It all seems perfectly innocent when Brownlow suggests that Holly should get out of his parents' hair and go to his home for his piano lessons. It becomes slowly apparent that there is something inappropriate about the teacher's feelings toward the boy but Gray lets suspicion merely hang in the air. Only Brownlow's mother, Ellie (Eleanor Bron) hints at anything untoward as she rambles in her heavy Austrian accent about the many times they have had to move.
Gray's view of the time is unblinking and director Leveaux underscores that by drawing acute performances from his cast. Glenister makes the piano teacher both sinister and sympathetic while McCrory and Sullivan bite off sentences as if speaking quickly somehow solves any dilemma. Bron manifests confusion of displacement and loss, and on press night Laurence Belcher, as Holly, displayed astonishing poise and a grip on his portrayal as vivid as Christian Bale's in "Empire of the Sun."
Venue: Donmar Warehouse, runs through July 17; Cast: Robert Glenister, Helen McCrory, Peter Sullivan, Eleanor Bron, Harvey Allpress, Laurence Belcher, Felix Zadek-Ewing; Playwright: Simon Gray; Director: David Leveaux; Set designer: Mike Britton; Lighting designer: Hugh Vanstone; Music: Corin Buckeridge; Sound designer: Simon Baker for Autograph.
This review appeared in The Hollywood Reporter.